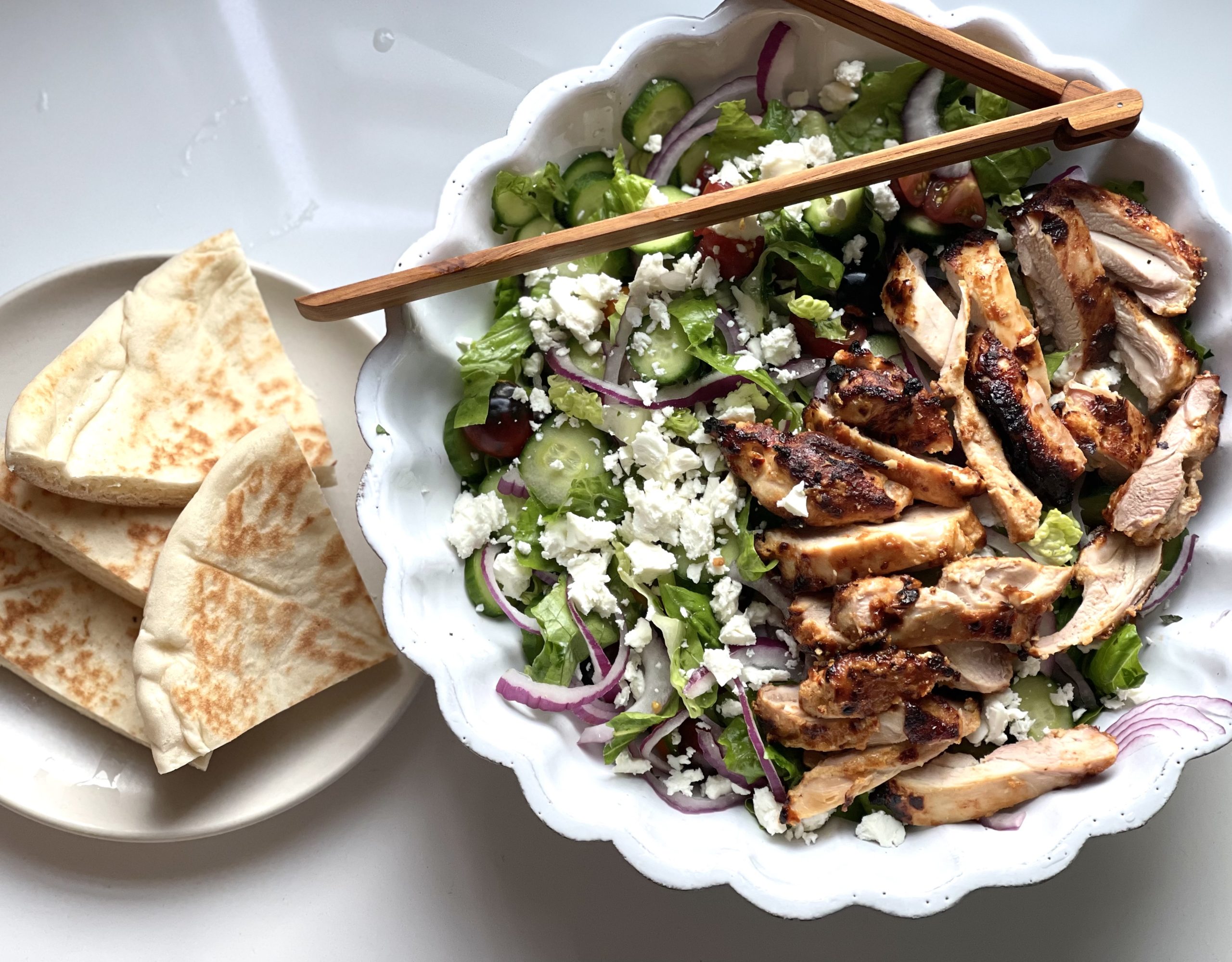 Chicken shawarma salad with tahini dressing
Chicken shawarma salad with tahini dressing
Ingredients
Chicken:
Two lemons, juiced
Zest from 1 lemon
3 garlic cloves, minced
¼ cup olive oil
1 teaspoon cumin
2 teaspoons paprika
1 teaspoon salt
½ teaspoon fresh ground black pepper
½ teaspoon crushed red pepper flakes
1.5-2 pounds boneless skinless chicken thighs
Salad:
1 head romaine
1 head butter lettuce
4 Persian cucumbers, sliced
1 pint cherry tomatoes, halved
1 small red onion, thinly sliced
½ cup crumbled feta
Lemon tahini dressing
¼ cup tahini
¼ cup olive oil
2-3 tablespoons cold water, more if needed
1 lemon juiced
1 tablespoon maple syrup or honey
½ teaspoon sea salt
Fresh ground pepper
Instructions
In a small bowl, add the lemon juice, lemon zest, olive oil, garlic, salt, pepper and spices and mix well. Add the chicken pieces, stir to coat, cover and refrigerate for a few hours, and up to overnight.
When ready to cook, preheat the broiler. Line a rimmed baking sheet with foil. Remove the chicken from the marinade and a spread pieces out in a single layer on the prepared baking sheet. Broil the chicken on the top rack, about 5-7 minutes per side, until chicken is cooked through and well colored and charred in spots. Check often to make sure chicken doesn't burn. Set aside to cool and then cut into strips.
While the chicken is cooling, prepare the salad. Wash and chop the lettuce and herbs and place in large salad bowl. Layer the tomatoes, cucumbers, onion and feta over the herb salad base. Top with the chicken.
To prepare the dressing, combine the olive oil, tahini, 2 tablespoons lemon juice, maple syrup, salt, and several twists of black pepper. Whisk until thoroughly blended.
Add the cold water, and whisk again, until creamy. Taste, and add more lemon juice (for zing) and pepper, if desired. If your dressing is too thick to drizzle, whisk in more cold water, 1 tablespoon at a time.
Toss the salad with tahini to taste.