Stove Top White Chili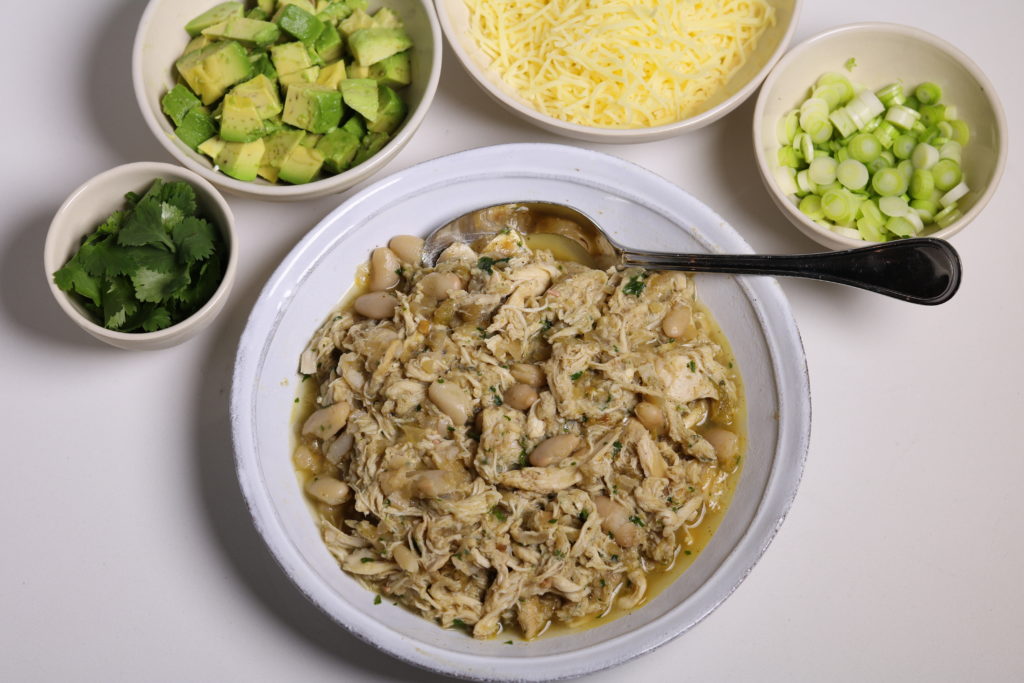 1½ pounds skinless chicken breasts or thighs (I like to use bone-in)
1 tablespoon oil
1 medium yellow onion, chopped
2 cloves garlic, minced
1 4-oz can diced green chilies
1 teaspoon ground cumin
1 teaspoon chili powder
½ teaspoon oregeno
1 teaspoon salt
fresh ground pepper
4 cups chicken stock
2-15 ounce cans white beans (great northern, cannellini) or 11/2 dried beans, soaked and cooked
½ cup chopped cilantro
juice of 1 lime
GARNISHES
tortilla chips
sour cream
grated cheddar
green onions
avocados
Heat oil in a large soup pot over medium heat.
Add the onions, garlic and green chilies and sauté until soft, about 5 minutes.
Add cumin, chili powder, oregano, salt and pepper and stir to coat well.
Add chicken stock and chicken and stir to mix well.
Bring to a boil, reduce to a simmer and cook for 20 minutes.
Remove chicken and shred. Add beans and cook another 30 minutes.
Before serving add cilantro and lime juice and salt and pepper to taste.