Chinese Chicken Salad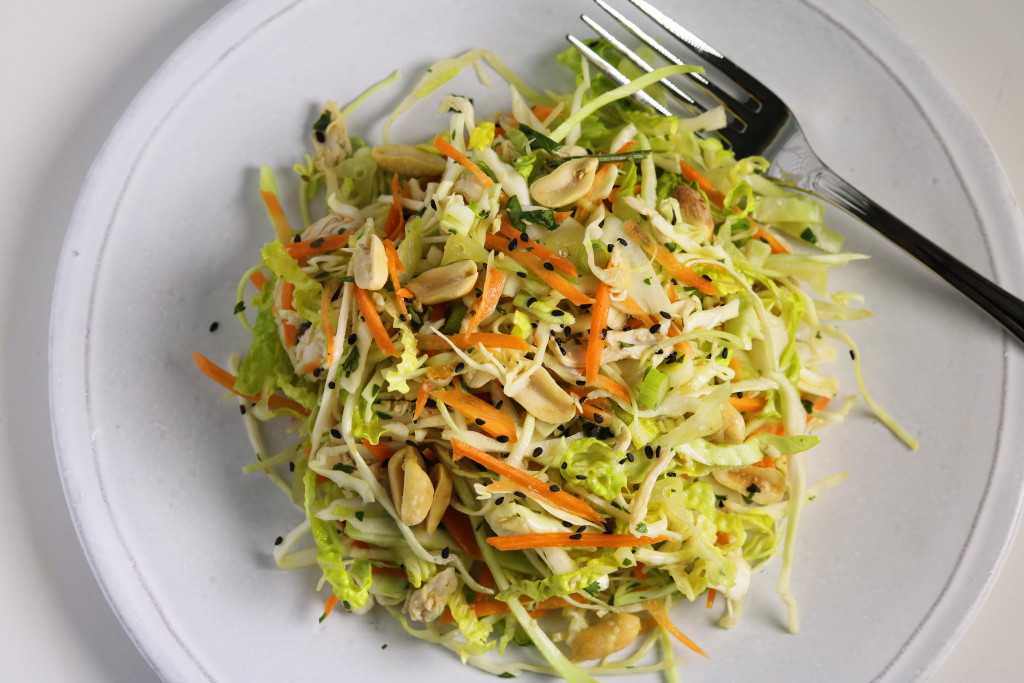 ½ head shredded napa cabbage (about 4 cups)
1 head romaine, thinly sliced
2 carrots, peeled and cut into matchsticks
5 scallions, white and light green part, chopped
¼ cup chopped cilantro
2 tablespoons black sesame seeds
½ cup roasted and salted peanuts or toasted slivered almonds
2 cups shredded chicken breasts (boiled or from a rotissiere chicken)
Dressing:
¼ cup rice wine vinegar
1 garlic clove, crushed
1 tablespoon sesame oil
1 tablespoon honey
1 teaspoon grated ginger
1 tsp soy sauce
Peel outer layers of cabbage. core it and thinly slice. Put in large salad bowl.
Wash romaine, dry and thinly slice leaves and add to the bowl.
Peel and cut carrots into matchsticks (I use a handheld julienne peeler)
Add chopped scallions, sesame seeds, and chicken to bowl.
Whisk all the dressing ingredients together in a small bowl.
Pour dressing over salad and toss well. Sprinkle nuts on top and serve.