Shrimp Tacos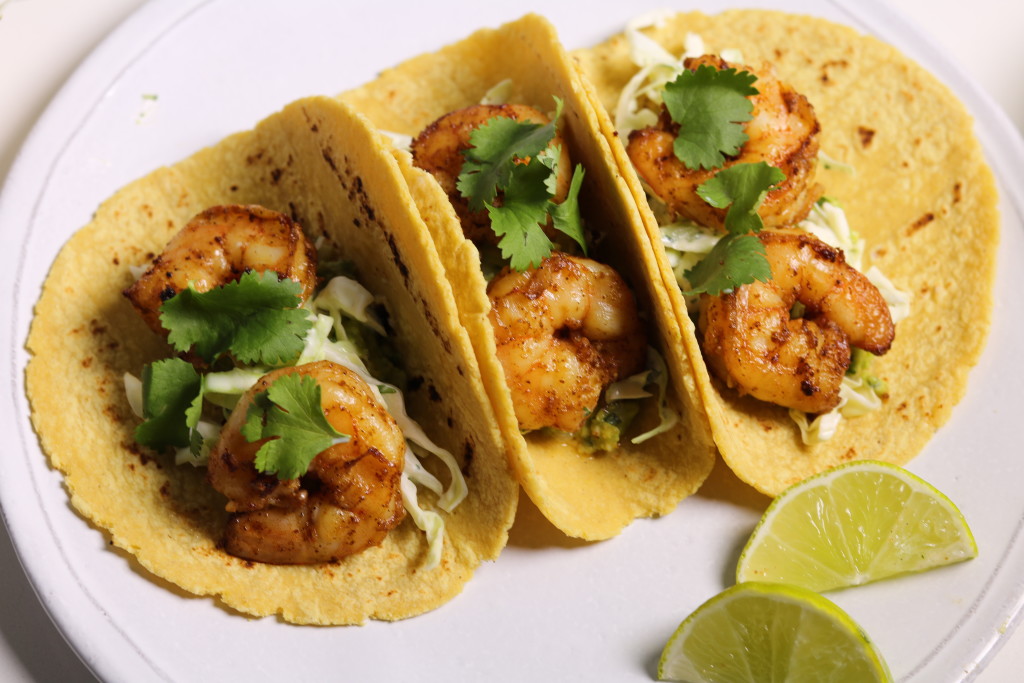 1 pound shrimp, peeled, deveined and tails removed
1 garlic clove, minced
1 teaspoon ground cumin
1 teaspoon chili powder
¼ teaspoon salt
¼ teaspoon cayenne pepper
2 tablespoons olive oil
Guacamole
2 ripe avocados. mashed
2 tablespoon minced white onion
2 tablespoons chopped cilantro
juice of 1 lime
½ teaspoon salt
Slaw
½ green cabbage, shredded
2 tablespoons yogurt or sour cream
2 tablespoons mayonnaise
juice of ½ lime
1 tablespoon chopped cilantro
pinch of salt
Combine olive oil, garlic, cumin, chili powder, salt, and cayenne in a medium bowl. Add shrimp and toss well to coat. Cover and refrigerate for 2-4 hours.
Mash to avocado in a medium bowl. Add onion, cilantro, lime and salt and mix well. Set aside.
Whisk together sour cream or yogurt, mayonnaise, lime juice, cilantro, and salt in a medium bowl. Stir in cabbage and mix well. Set aside.
Heat a grill pan over high heat. Coat pan with oil or cooking spray. Add shrimp; cook 2 minutes per side or until done.
Working with 1 tortilla at a time, heat tortillas over medium-high heat directly on the eye of a burner for about 15 seconds on each side or until lightly charred.
Place about 1 tablespoon guacamole on each tortilla, add a big spoonful of cabbage slaw and top a few shrimp. Garnish with cilantro and lime.