Chicken Satay with Peanut Sauce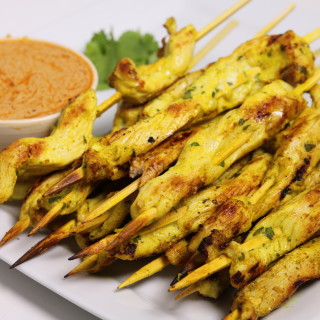 For the marinade:
½ cup coconut milk
2 garlic cloves, minced
2 teaspoons ginger, minced
1 tablespoon fish sauce
1 tablespoon red curry sauce
3 tablespoons light brown or coconut sugar
3 tablespoons low sodium soy sauce or tamari
½ teaspoon ground turmeric
½ teaspoon cumin
1 tablespoon chopped cilantro
1½ pounds boneless skinless chicken breasts or thighs
For the peanut sauce:
½ cup smooth peanut butter
2 garlic cloves, minced
1 teaspoon ginger, minced
2 tablespoons low sodium soy sauce or tamari
1 tablespoon light brown or coconut sugar
juice from 1 lime
1 teaspoon sesame oil
1 teaspoon sriracha
1 teaspoon red curry paste
2 tablespoons water
Whisk together all the ingredients for the marinade in a medium bowl.
Cut the chicken lengthwise into ½-inch-thick pieces and add to the marinade. Stir to coat the chicken, cover the bowl with plastic wrap, and refrigerate for at least 30 minutes or up to 24 hours. Meanwhile, whisk together all the ingredients for the peanut sauce, using water to thin if necessary.
Soak about 18 bamboo skewers in water for 20 minutes. Thread chicken onto skewers.
Pre-heat a grill or grill pan over medium heat and grill skewers 4 to 5 minutes per side, or until cooked through. Serve with peanut sauce.
Recipe by
Three Hungry Boys
at https://www.threehungryboys.com/2019/01/24/chicken-satay-with-peanut-sauce/