Greek Chicken Kabobs with Tzatziki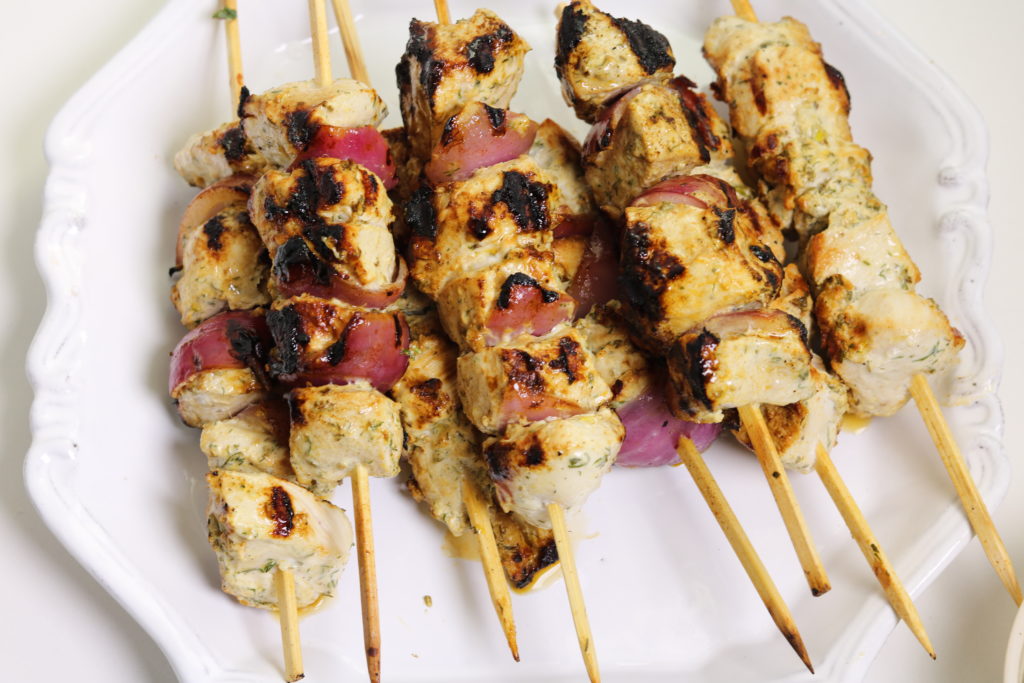 1 pound boneless, skinless chicken breasts
bamboo skewers
Marinade:
1 cup whole-milk greek yogurt
grated zest and juice from 1 meyer lemon
2 teaspoons ground cumin
2 tablespoons fresh mint
2 tablespoons coarsely chopped dill
1 teaspoon oregano
1 teaspoon sea salt
1 teaspoon finely ground pepper
Tzatziki
2 cups whole-milk greek yogurt
1 english cucumber
2 garlic cloves, minced
1 teaspoon lemon zest plus 1 tablespoon lemon juice
2 tablespoons finely chopped fresh dill
2 tablespoons finely chopped fresh mint
1 teaspoon salt
½ teaspoon finely ground pepper
Soak bamboo skewers in warm water while preparing chicken.
Cut chicken breasts into 1½ inch chunks.
Mix all the marinade ingredients together in a a shallow baking dish. Put the chicken pieces in the dish and turn so that each piece is fully coated. Let marinate in fridge for a few hours or overnight.
Meanwhile, while chicken is marinating, make the tzatziki.
Peel, seed and dice cucumber into ½ inch pieces. Place in colander and sprinkle with salt. place something heavy on top of cucumber and let drain for 20-30 minutes.
In a small mixing bowl, mix together yogurt, garlic, lemon zest, lemon juice, dill, mint, and pepper. Add the drained cucumbers and mix together well. Taste and adjust seasonings if needed.
When ready to cook, thread chicken on bamboo skewers, which a red onion slice between pieces. Heat your grill or grill pan to medium-high heat. Cook chicken until cooked though, or about 4 minutes on each side. Serve with Tzatziki, greek salad and couscous.
Recipe by
Three Hungry Boys
at https://www.threehungryboys.com/2020/04/27/greek-chicken-kabobs-tzatziki/