Roasted Tomato Basil Soup with Grilled cheese croutons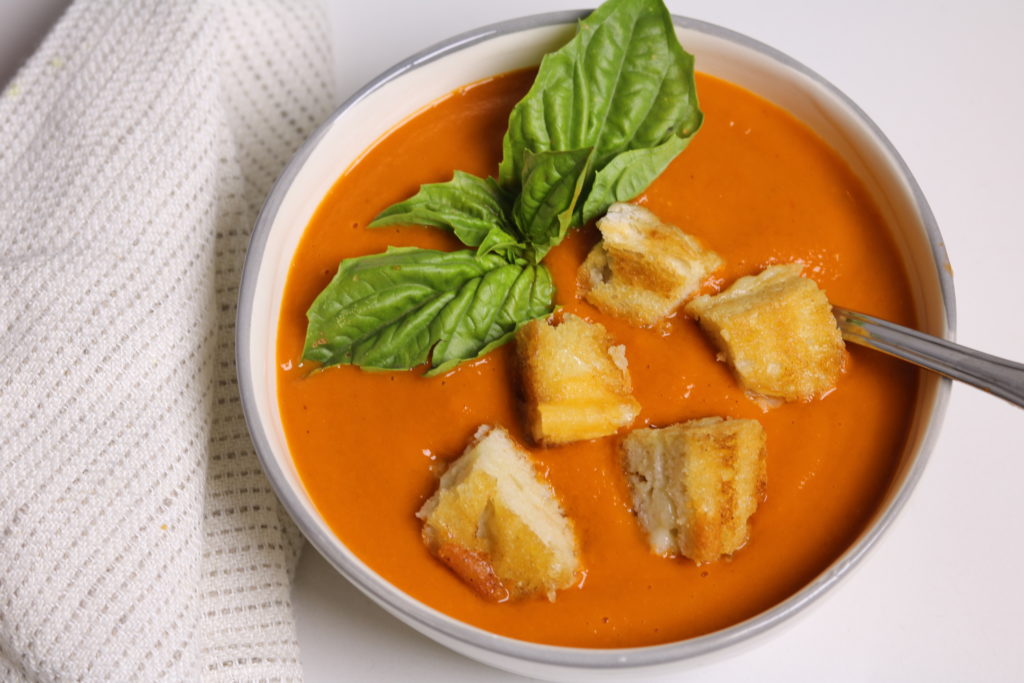 4 pounds early girl tomatoes
2 yellow onions, roughly chopped
4 cloves garlic, minced
1-quart chicken stock
1 can (28-ounce) tomatoes, with their juice
1 cups basil leaves (packed)
1 tablespoon salt
2 tablespoons sugar
½ teaspoon freshly ground pepper
¼ cup plus 2 tablespoons olive oil
2 tablespoons butter
good quality fresh sourdough bread
cabbot cheddar cheese
Preheat the oven to 400 degrees.
Wash and slice the tomatoes widthwise and gently squeeze out most of the seeds. Place in a bowl with olive oil, salt and pepper and coat well. Spread tomatoes evenly on a baking sheet and roast for 40 minutes.
Melt olive oil and butter in a large pot over medium heat and sauté onions and garlic for about ten minutes, until soft and fragrant. Add the can of tomatoes, basil, chicken stock and oven-roasted tomatoes and juice. Bring to a boil, reduce to a simmer and cook for 40 minutes. Let soup cool and puree with an immersion or regular blender. add salt and pepper if needed.
For the grilled cheese croutons: Put two pieces of cheese between two slices of sourdough bread and butter the outside of each. grill in a cast iron skillet or a panini machine, butter side down, until golden brown and cheese melted. Put on cutting board to cool. Cut sandwiches into ½ square croutons and sprinkle over soup.
Recipe by
Three Hungry Boys
at https://www.threehungryboys.com/2022/08/14/roasted-tomato-basil-soup/