Easy Pulled Barbecue Chicken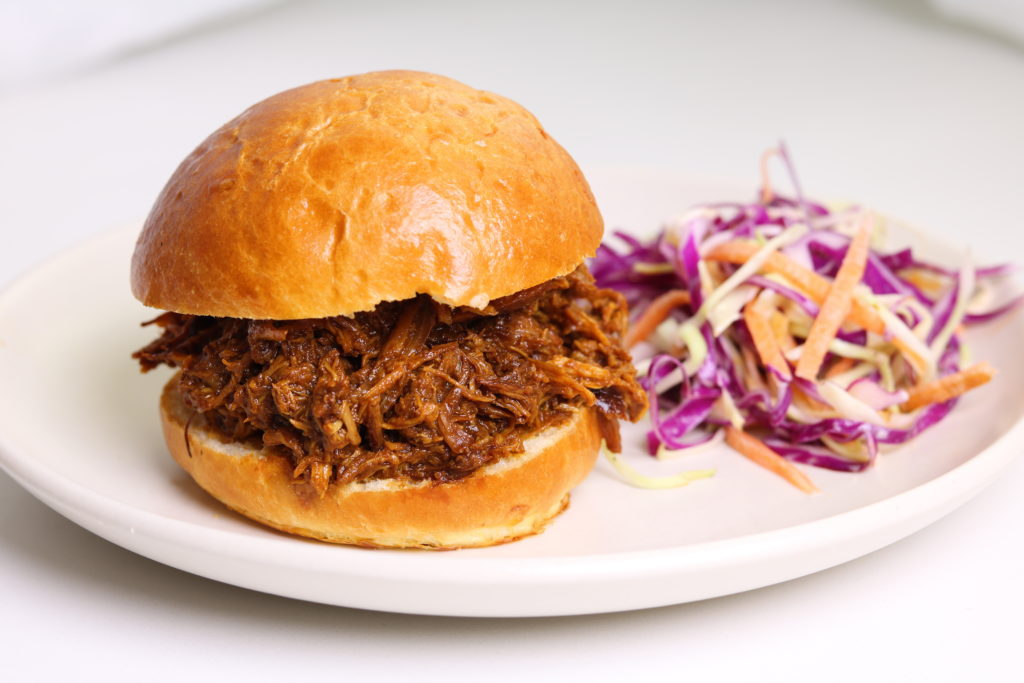 8 boneless, skinless chicken thighs
salt and pepper
1 tablespoon olive oil
½ yellow onion, grated with juices (should be about ¼ cup)
3 garlic cloves, minced
¾ cup ketchup
¼ cup apple cider vinegar
3 tablespoons molasses
2 tablespoons brown sugar
½ teaspoon salt
1 teaspoon ground dry mustard
1 tablespoon Worcestershire
coleslaw
½ head green cabbage, finely shredded
½ head red cabbage, finely shredded
2 large carrots, finely shredded
½ red onion, finely sliced
½ cup mayonnaise
3 tablespoons cider vinegar
2 tablespoons sugar
Salt and freshly ground black pepper
10 soft hamburger buns
Season both sides of the chicken with salt and pepper. Place in the bottom of a slow cooker.
Heat olive oil in a medium saucepan over medium heat. Add onion and garlic and saute for 5 minutes.
Add remaining ingredients and simmer for 15 minutes, until sauce thickens.
Pour sauce over chicken and set slow-cooker on low for 6 hours or high for 4.
Meanwhile, make the coleslaw. Put the cabbage, onion and carrot in a medium bowl. Whisk together mayonnaise, apple cider vinegar, sugar, salt and pepper in a small bowl. Pour dressing over cabbage mixture and toss well to coat.
When the slow cooker is done, shred the chicken using two forks and leave in slow-cooker to keep warm.
When ready to serve, lightly toast the buns, top with a large spoonful of chicken and some coleslaw and eat immediately.
Recipe by
Three Hungry Boys
at https://www.threehungryboys.com/2020/03/15/barbecue-chicken/