Mexican Steak Salad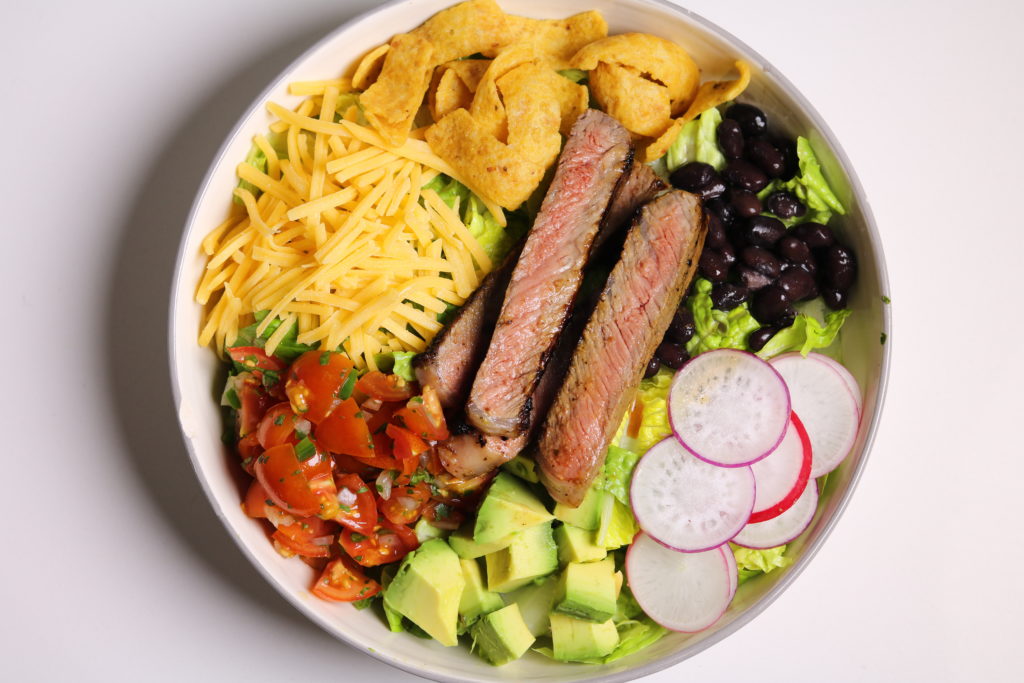 For the steak:
1½ pounds skirt steak
juice of 2 limes
3 garlic cloves, minced
1 teaspoon salt
1 teaspoon oregano
1 teaspoon cumin
1 teaspoon paprika
1 teaspoon chili powder
⅓ cup white vinegar
⅓ cup olive oil
2 tablespoons cilantro, chopped
For the Dressing:
1 cup loosely packed cilantro, stems removed and roughly chopped
1⁄2 cup plain Greek yogurt
2 tablespoons fresh lime juice (about ½ lime)
1 -2 garlic clove
1⁄4 cup olive oil
1 1⁄2 teaspoons white vinegar
1⁄8 teaspoon salt
For the Salad:
3 romaine hearts, quartered and chopped
1 (15-ounce) can organic black beans, drained, rinsed and patted dry
6-8 radishes, thinly sliced with knife or mandoline
1 cup shredded cheddar cheese
1 cup corn chips (I used Fritos)
2 avocados, cut into 1-inch cubes
½ cup fresh Pico de gallo
Mix all the marinade ingredients together in shallow dish. Add steak and coat well. Cover and refrigerate 1- 24 hours.
Oil a grill or heat a grill pan over medium heat. Add steak and cook for 2-3 minutes each side. remove from heat and let sit.
Place all the dressing ingredients in a food processor and run until smooth.
Place lettuce in the bottom of a large salad bowl. Place radishes, beans, avocado, cheese, corn chips, and salsa in different sections on top of the lettuce.
Thinly slice the steak and place on top.
Drizzle with dressing, toss and serve.