Crepes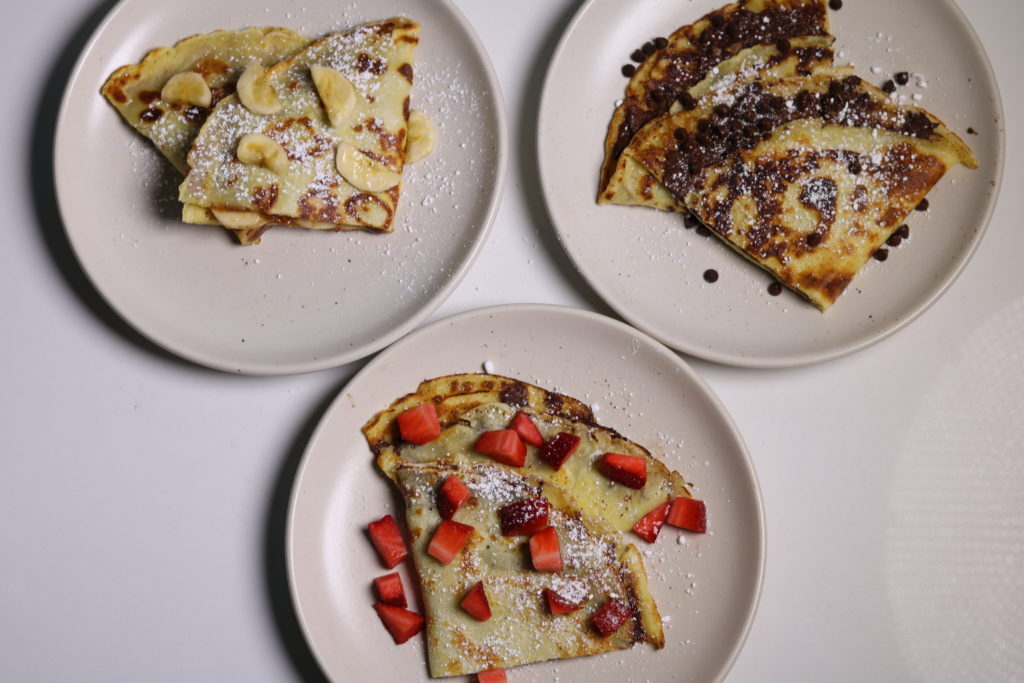 2 tablespoons butter, melted, plus more for cooking
2 cups milk
2 large eggs
1½ cup flour
1 tablespoon sugar
½ teaspoon baking powder
½ teaspoon salt
powdered sugar for dusting
fillings: fruit, nutella, almond butter, jam, whipped cream
Melt the butter in a small saucepan and let cool.
Add the milk, eggs, melted butter, flour, sugar, baking powder, and salt to a high powered blender. Blend for a minute, scrape down the sides and blend again until smooth.
Heat a crepe pan or non-stick frying pan over medium-high heat. When the pan is hot, spread butter over the pan. Pour in about ⅓ cup batter and tilt the pan so that the batter evenly covers the bottom in a thin layer. Cook the crepe until golden brown on the bottom, about 2 minutes.
Using a spatula, scoop up under the center of the crepe a carefully flip it. Add a large spoonful of you favorite filling onto the center of the crepe. Cook another 2 minutes, carefully slip the crepe, filling side up, onto a plate. Spread the filling evenly over crepe, add additional toppings, and fold into quarters. Place powdered sugar in a small strainer and lightly dust crepe and serve.