Salmon, Watercress, Avocado and Pumpkin Seed Salad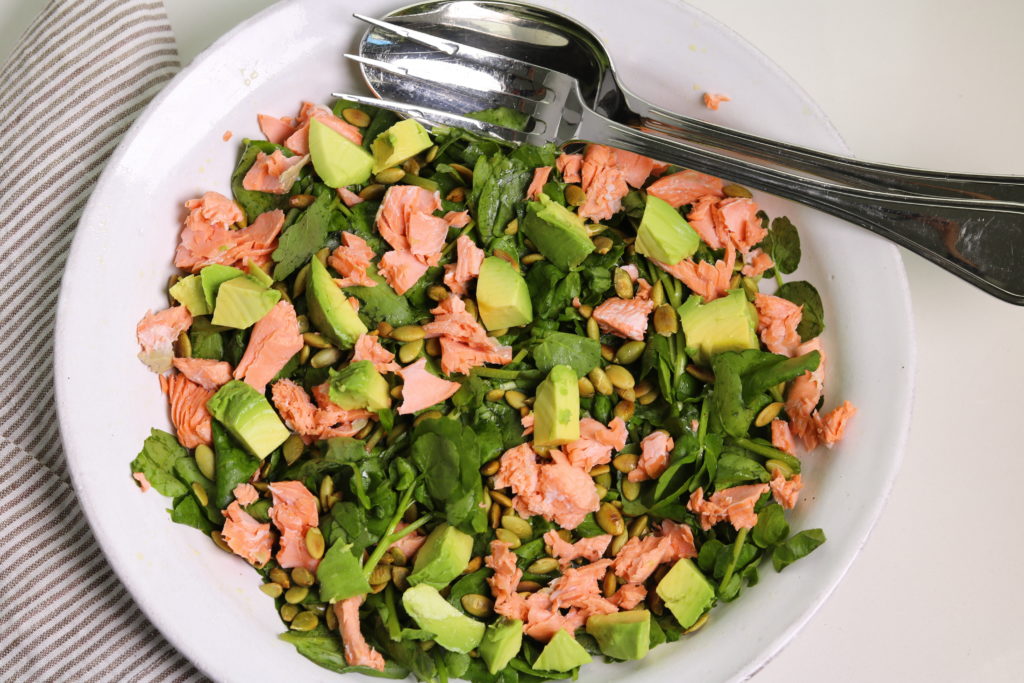 Author:
Liza Cannata, adapted from Nigella Lawson
2 wild skinless salmon fillets (approximately 8 ounces total)
2 scallions, ends trimmed
1 teaspoon black peppercorns
2 teaspoons lemon juice
2 teaspoons sea salt
¼ cup pumpkin seeds
1 bunch watercress, stems trimmed, washed and dried
1 small ripe avocado
2 tablespoons olive oil plus more for drizzling
1 tablespoon lemon juice
salt and pepper, to taste
Put the salmon filets in a medium frying pan. Cover with water and add scallions, peppercorns, lemon juice and salt. Bring to a boil. When bubbling, turn filets over and remove the pan from the heat. Let salmon sit for 7 minutes. Take the filets out of the water and let them cool completely.
While salmon is cooling, toast the pumpkin seeds in a heavy pan over medium heat. Watching carefully and shaking the pan, toast seeds until they brown. Remove to a clean plate.
Place watercress in a shallow bowl. whisk together lemon juice and olive oil and toss watercress.
Tear salmon into bite-sized pieces and add to watercress.
Top with pumpkin seeds and avocado. Sprinkle with sea salt and drizzle with olive oil and serve.
Recipe by
Three Hungry Boys
at https://www.threehungryboys.com/2022/05/09/salmon-watercress-avocado-pumpkin-seed-salad/