Spaghetti Squash with Late Summer Primavera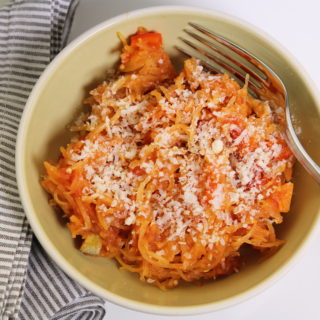 For the Squash Noodles:
1 medium spaghetti squash
2 teaspoons olive oil
salt and pepper
For the Primavera Sauce:
4 Tbsp olive oil
1 yellow onion, minced
3 garlic cloves, minced
1 28-ounce can crushed tomatoes
⅛ teaspoon red pepper flakes (optional)
1 tablespoon oregano
sea salt
fresh ground pepper
1 small eggplant, cut into 1-inch cubes
2 medium zucchini, cut into ½ inch cubes
1 red pepper, cored and cut into ½ inch dice
6 basil leaves, thinly sliced
Grated Parmesan optional (omit for vegan version)
Preheat the oven to 400 degrees and line a large, rimmed baking sheet with parchment paper.
Cut off the top and bottom ends of the spaghetti squash with a very sharp knife. Stand the squash upright on a stable surface and carefully slice through it from top to bottom to divide it in half.
Scoop out the spaghetti squash seeds with a large spoon and discard them. Drizzle the insides of each squash half with 1 teaspoon olive oil and rub it all over the inside. Sprinkle salt and pepper lightly over the interiors of the squash, then place them cut-side down on the prepared baking sheet.
Bake for 40 to 50 minutes, until the cut sides are turning golden and the interiors are easily pierced through with a fork.
Meanwhile, make your sauce. Heat 1 tablespoon of the olive oil in a saucepan and add the onions and garlic. Cook and stir without browning until soft, about 5 minutes. Add the tomatoes, oregano, pepper flakes, salt and pepper. Stir to blend, bring to a boil and simmer for 15 minutes.
Heat the remaining olive oil in a large skillet. When the oil is very hot, add the eggplant, zucchini, pepper, salt and pepper. Cook, tossing, until nicely browned and tender. Add vegetables and basil to the tomato sauce. Mix well, bring to a simmer and cook for 30-40 minutes, stirring every 10 minutes.
Once the squash is done baking, fluff the interiors with a fork to make the insides spaghetti-like and place in a large pasta bowl.
Pour desired amount of sauce over the squash noodles and toss gently. Adjust seasonings and sprinkle with parmesan cheese, if using.
Recipe by
Three Hungry Boys
at https://www.threehungryboys.com/2022/08/08/spaghetti-squash-with-late-summer-primavera/