Fajita Bowls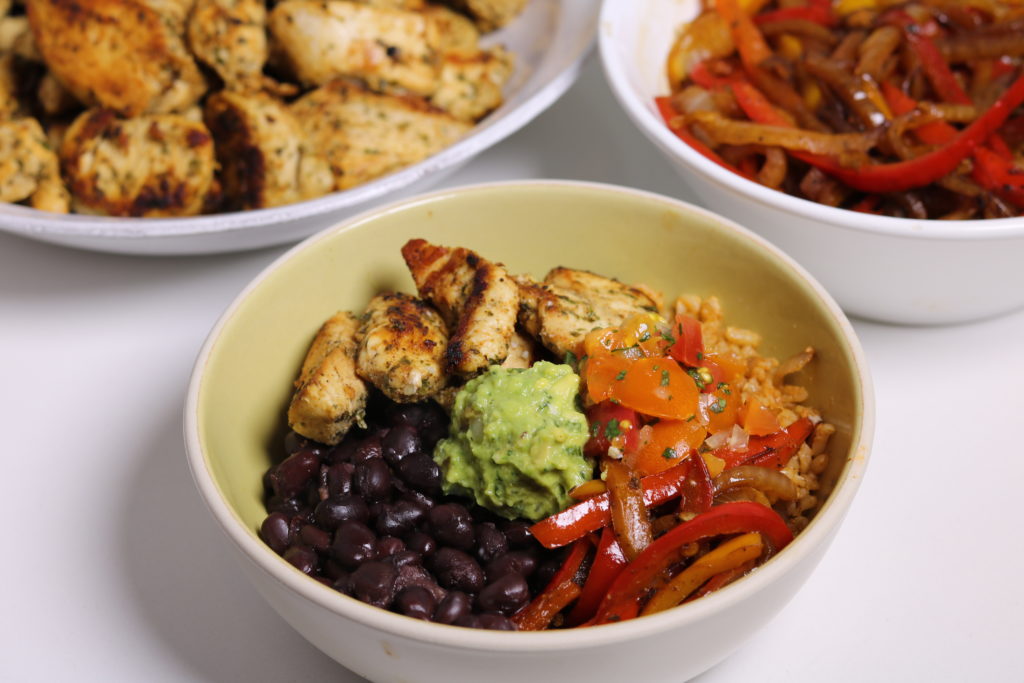 1 pound top sirloin steak (or boneless, skinless chicken breasts), cut into thin strips
2 red bell peppers, seeded and cored and cut into strips
2 yellow bell peppers, seeded and cored and cut into strips
1 yellow onion, peeled and cut into half moons
4 tbsp olive oil
juice of 1 lime
2 tbsp chopped cilantro
1 garlic clove, minced
½ tsp chili powder
½ tsp cumin
1 tsp salt
pinch of red chili flakes
brown rice (recipe follows)
toppings: black beans, cheese, chopped romaine, guacamole, salsa and cilantro
Put 2 tbsp olive oil, lime juice, garlic, and spices in a bowl and mix well. Add steak or chicken and toss to coat. Cover bowl and let sit for an hour room temperature (or longer in refrigerator).
Cut up peppers and onions and set aside.
Heat remaining 2 tbsp oil a skillet over medium-high heat, add meat and sauté until cooked through, about 5-10 minutes. Transfer to a plate and cover with foil.
Add the peppers and onions to same skillet and cook, scraping up spices from bottom of skilled. cook until soft, about 10 minutes. Add more oil if necessary.
Cook the Mexican brown rice (recipe below).
To serve, fill a bowl with rice or lettuce, add chicken or steak and top with black beans, guacamole, salsa, cheese and cilantro.
Alternatively, you can serve with warm tortillas. Just wrap tortillas in foil and put in a 350 degree for 5-10 minutes.