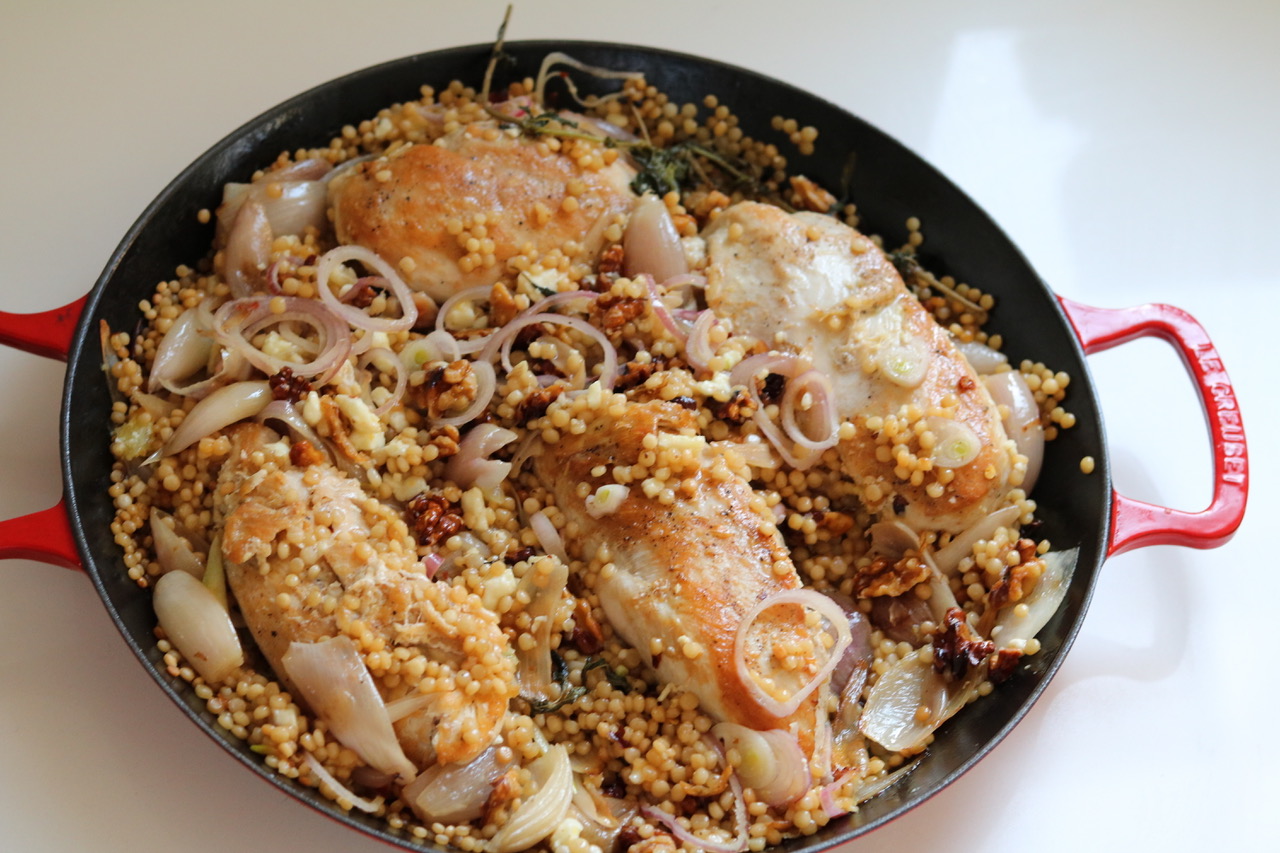 I have made this recipe about three times since I originally saw it in The NY Times cooking section about 2 months ago.  Each time it just gets better.   The original recipe calls for bone-in, skin-on chicken legs or thighs, but I substituted boneless, skinless chicken breasts to make it a little lighter.  Plus, the kiddos prefer white meat.  While the chicken is roasting, I always roast a side veggie seasoned with olive oil, salt and pepper.  Make sure to serve with a side of naan or pita! enjoy!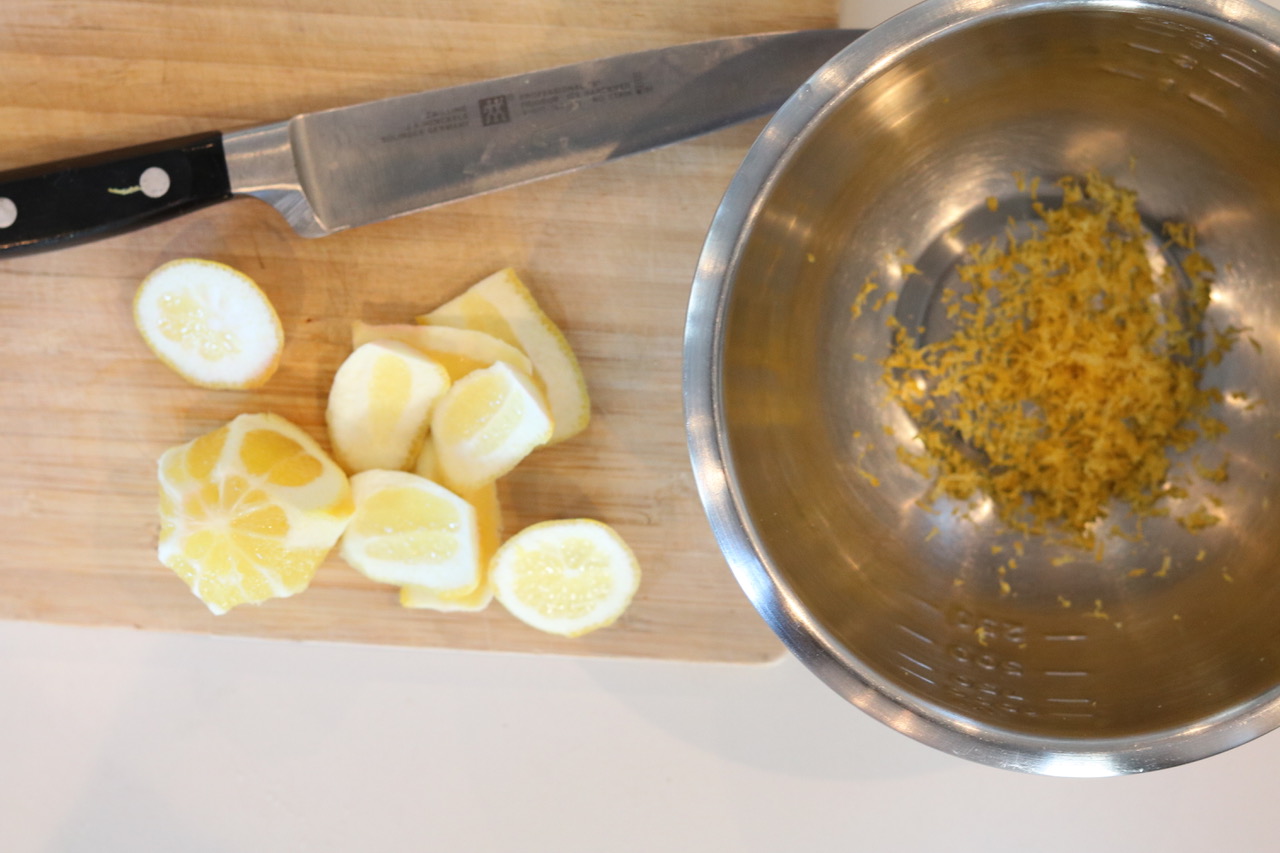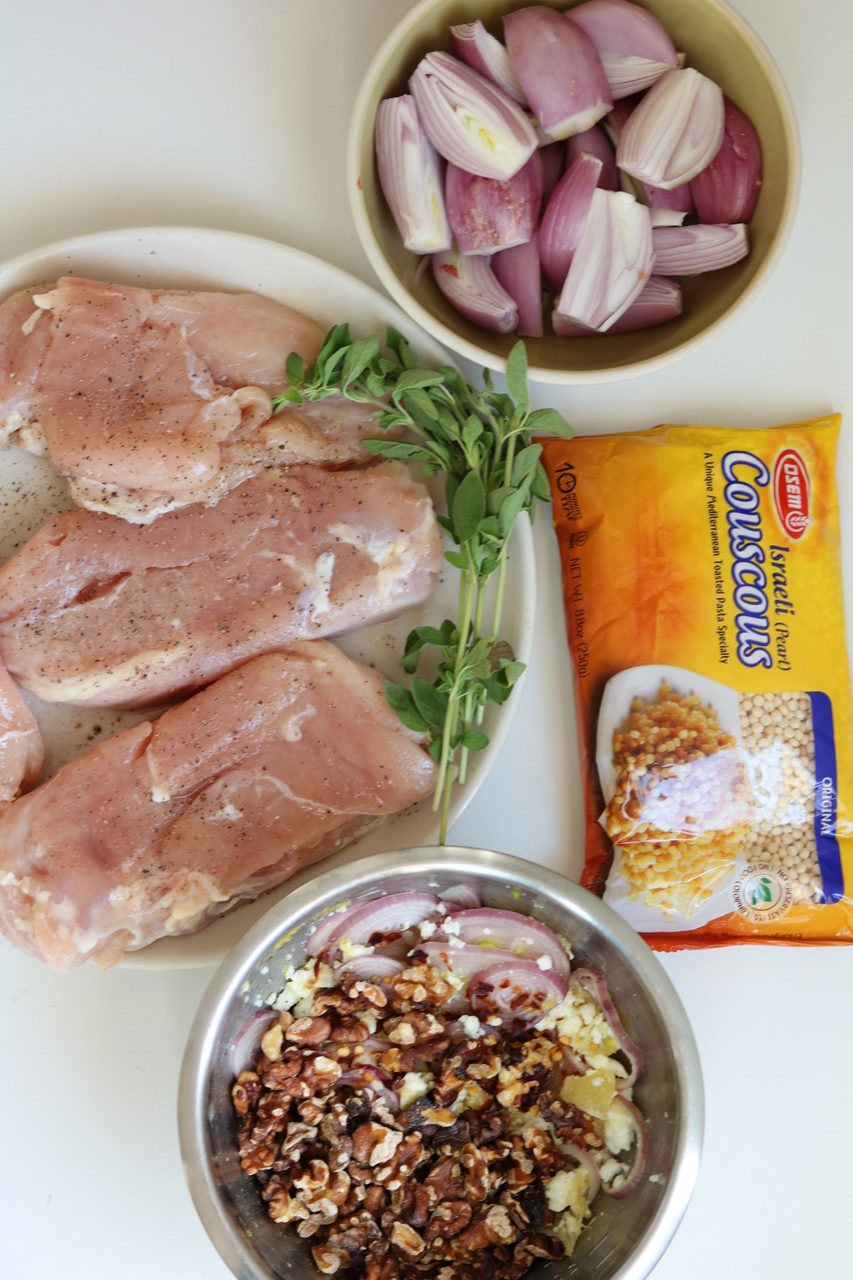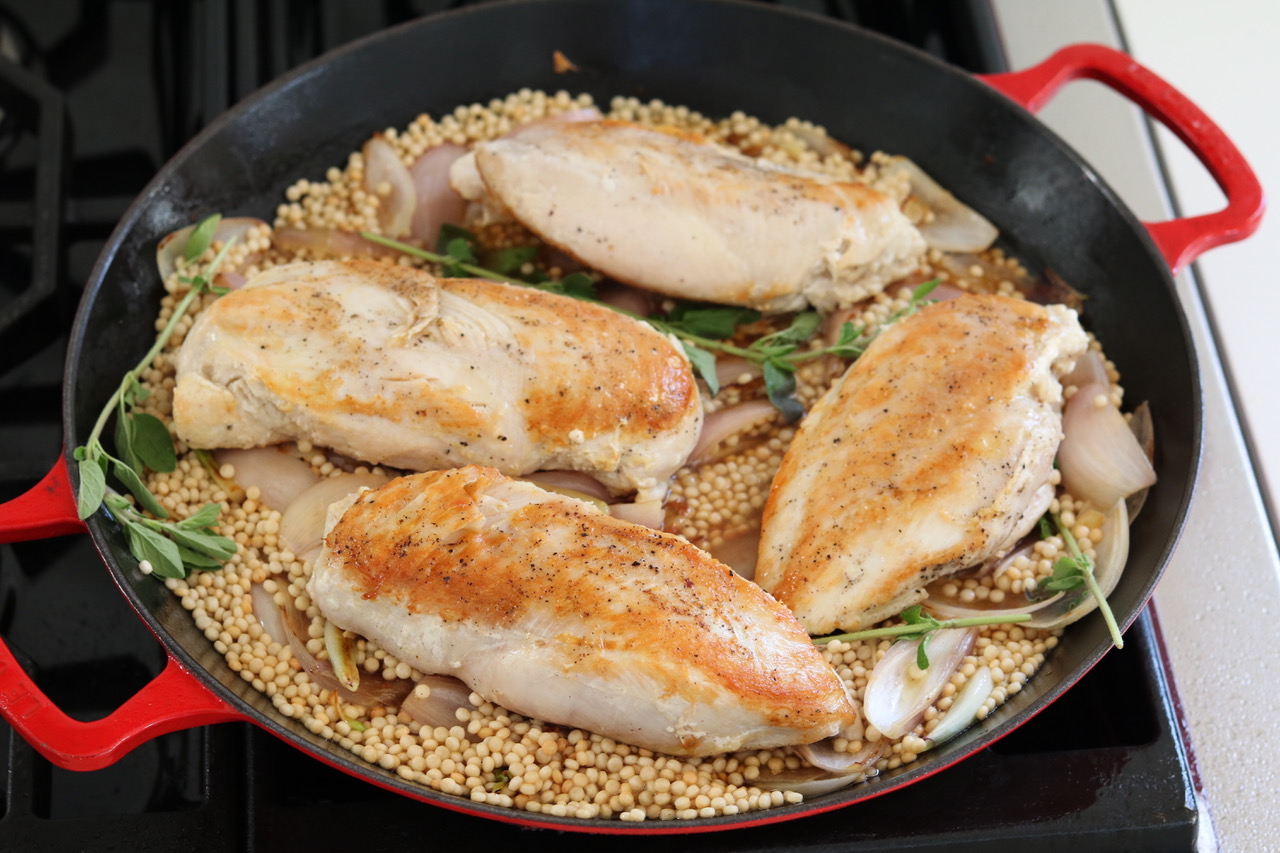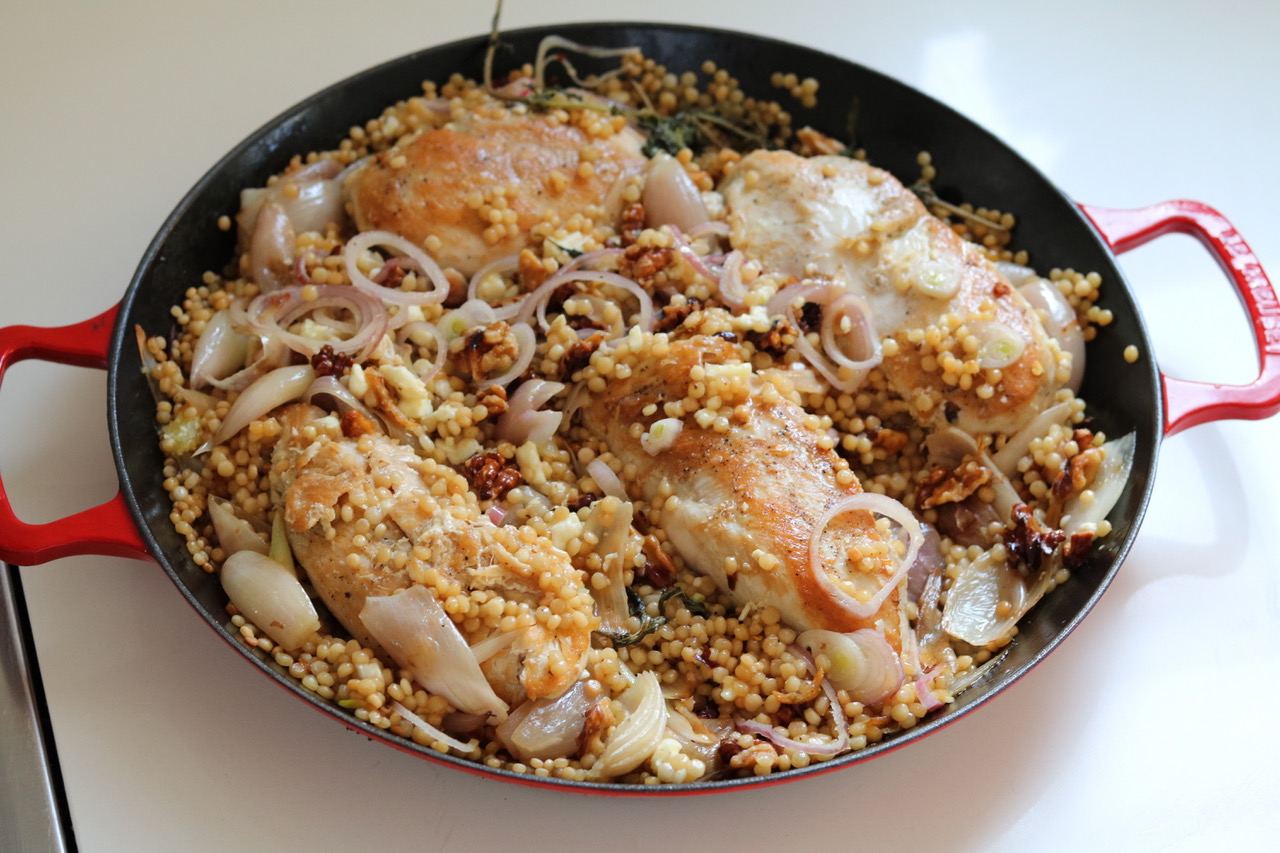 Skillet Chicken With Couscous, Lemon and Halloumi
Author:
Adapted from Yewande Komolafe
Ingredients
2 lemons
4 ounces halloumi, torn. (you can sub feta)
¼ cup walnuts (about 1 ounce), toasted and chopped
6 shallots, peeled, 1 thinly sliced into rings, the remaining 5 quartered lengthwise
¼ teaspoon red-pepper flakes
4 tablespoons olive oil
3 pounds boneless-skinless chicken breasts or thighs (about 4-6 pieces)
Kosher salt
1 ½ cups pearl couscous (7½ ounces)
1 ½ cups chicken broth
4 oregano sprigs
½ cup fresh parsley leaves and tender stems
Instructions
Heat over to 400 degrees.
Zest 1 lemon into a small bowl. Slice off the top and bottom of the zested lemon so that they're flat. Place the lemon upright on a cutting board, and, using a sharp knife, thinly slice off the white pith moving down the length of the lemon in sections. Discard the pith and roughly chop the flesh, removing any seeds you come across. Move the chopped lemon (about 2 tablespoons) and any juice to the bowl. Stir in the halloumi, chopped walnuts, 1 sliced shallot, red-pepper flakes and 2 tablespoons oil. Let marinate as you cook the chicken.
Pat the chicken pieces dry and season generously with salt. Heat the remaining 2 tablespoons olive oil in a large skillet over medium-high. Place the chicken pieces in skillet, and cook until golden brown, about 8 minutes. Flip the chicken pieces, and sear chicken to cook further for another 1 to 2 minutes. Transfer the chicken to a plate and set aside.
Add 1 tablespoon olive oil and add the quartered shallots to the pan and stir to coat in the pan drippings. Lower the heat to medium and cook until golden brown and just tender, about 4 minutes. Add the couscous and stir to coat in the shallot-flavored chicken fat. Add the broth, season with salt and bring up to a simmer.
Return the chicken to the skillet, skin-side up, along with any liquid from the plate. Add the oregano sprigs, cover with the lid or seal with foil, and place in heated oven and cook until the liquid is absorbed, the couscous is tender and the chicken is cooked through, about 15 to 20 minutes. Remove from oven, fluff the couscous and top with halloumi-walnut mixture.
Cut the remaining lemon in half, remove any seeds and squeeze over the entire pan. Garnish with a handful of fresh parsley and serve.