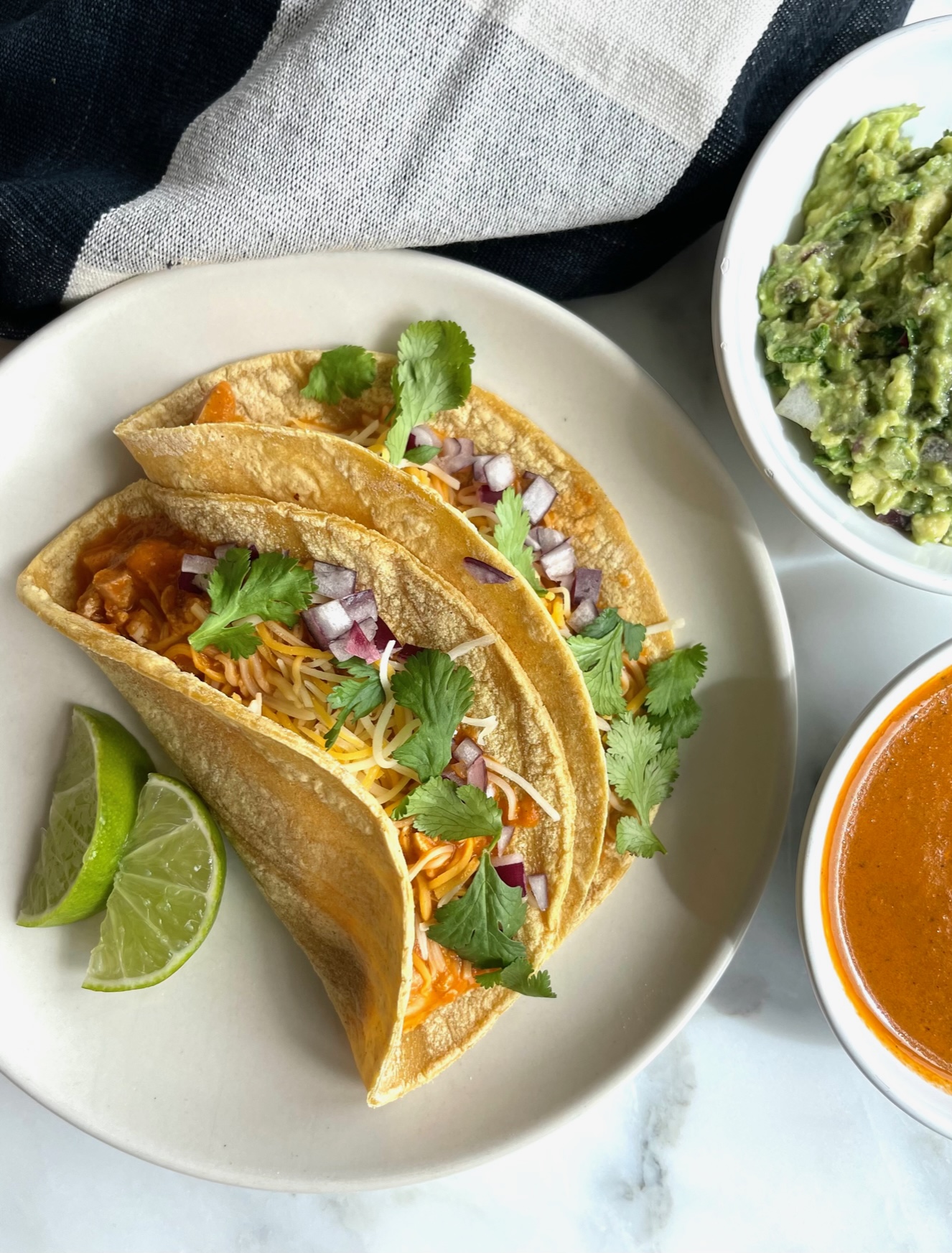 Chicken Tinga Tacos
Ingredients
1.5 pounds boneless skinless chicken breasts or thighs
2 cloves garlic, smashed
1 bay leaf
1 teaspoon salt
½ teaspoon peppercorns
Sauce:
1 tablespoon olive oil
1 onion, roughly chopped
2 cloves garlic, minced
1–2 chipotle peppers in adobo sauce, chopped, plus 1 teaspoon of adobo sauce
1 teaspoon dried oregano
½ teaspoon ground cumin
1-15 ounce can crushed fire-roasted tomatoes
¼ cup chicken stock
½ teaspoon kosher salt
12-16 corn tortillas, warmed
1 cup shredded jack cheese
For Serving:
2 ripe avocados, sliced or guacamole
¼ cup chopped fresh cilantro
½ cup diced red onion
1 lime, cut into wedges
Instructions
Place the chicken, garlic, bay leaf, salt, and peppercorns in a pot. Cover with water by one inch and bring to a boil and skim any foam that arises to the top. Reduce to a simmer, cover, and cook for 15 minutes, until chicken is cooked through. Turn off the heat and remove the lid and let the chicken cool in the poaching liquid.
Meanwhile, make your sauce. Heat oil in a large skillet over medium. Add the onion and sauté for 4 minutes or until tender, stirring occasionally. Add the garlic and cook for 30 seconds more. Stir in the chipotles, adobo sauce, oregano, and cumin, and toast for 1 minute. Add in the tomatoes, stock, and salt. Bring to a simmer, and cook for 7 minutes.
Place the tomato mixture in a high-powered or regular blender, and blend until smooth.
Return the blended sauce to the pan over low heat. Shred or chop the poached chicken and add it to the sauce cook for 5 minutes. Taste and add more salt if necessary.
To make the tacos, preheat the oven to 425° F.
Warm the tortillas in the microwave or dry skillet, until pliable. On a baking sheet, rub the tortillas with olive oil. Lay each tortilla flat and then layer evenly with cheese and chicken. Fold the other half of the tortilla over the filling, gently pushing it to stick. Transfer to the oven and bake for 5-6 minutes, then flip and cook another 5 minutes, or until the cheese has melted and the tortillas are crisp.
Prepare the garnishes. To assemble the tacos, open the tortillas and add the desired toppings. Serve with a lime wedge for squeezing.