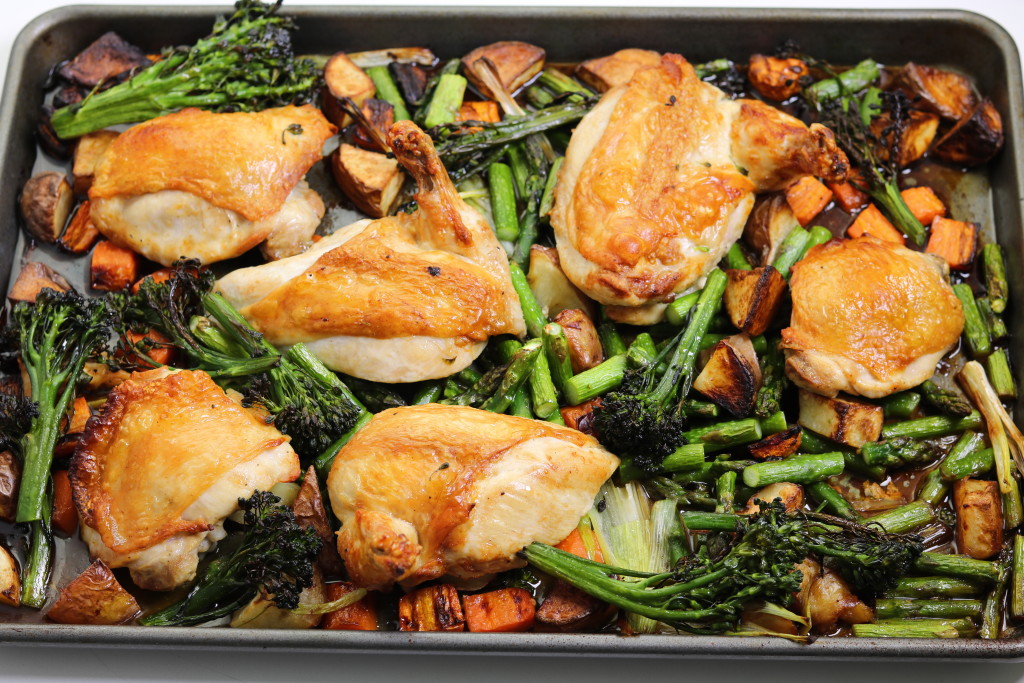 Cooking an entire meal on a single baking sheet is a great alternative to classic one-pot recipes.  This no-stress, no-mess chicken dish is a dream.  It's so easy. Arrange everything on the pan. Pop it in the oven and dinner's ready!  And you have ONE pan to clean.  Feel free to substitute any other veggies.  Enjoy!
One-Pan Roast Chicken with Spring Vegetables
One-Pan Roast Chicken with Spring Vegetables Prep time: 15 mins Cook time: 45 mins Total time: 1 hour Serves: 6 servings
Ingredients
3½ pounds skin-on, bone-in chicken pieces
1 lemon, halved
4 tablespoons olive oil
2 teaspoons salt
fresh ground pepper
1 pound fingerling or other small potatoes
1 bunch baby carrot, peeled
1 bunch brocolini
1 bunch scallions
1 bunch asparagus, trimmed
Instructions
Preheat the oven to 425 degrees F.
Rinse the chicken and pat dry. Season with 1 teaspoon salt, 2 tablespoons oil, juice from ½ lemon, and pepper.
Meanwhile, cut the potatoes and carrots into 1½ inch pieces. Toss the potatoes and carrots with 1 tablespoon olive oil and ½ teaspoon salt in a bowl and place on a rimmed baking sheet.
Place chicken, skin side up, on top of potatoes and carrots, arranging breast pieces in center and leg and thigh pieces around perimeter of sheet.
Roast chicken, potatoes, carrots for 20 minutes.
Meanwhile, cut asparagus and scallions into thirds and trim bottom ½ of broccolini stems. Toss the vegetables with remaining 1 tablespoon olive oil in a bowl and ½ teaspoon salt.
Remove the chicken from the oven and scatter the vegetables around it. Continue to roast until the vegetables are tender and the chicken is golden and cooked through, about 20 more minutes. Squeeze the remaining ½ lemon over the chicken and vegetables. Top with the chives and season with salt.