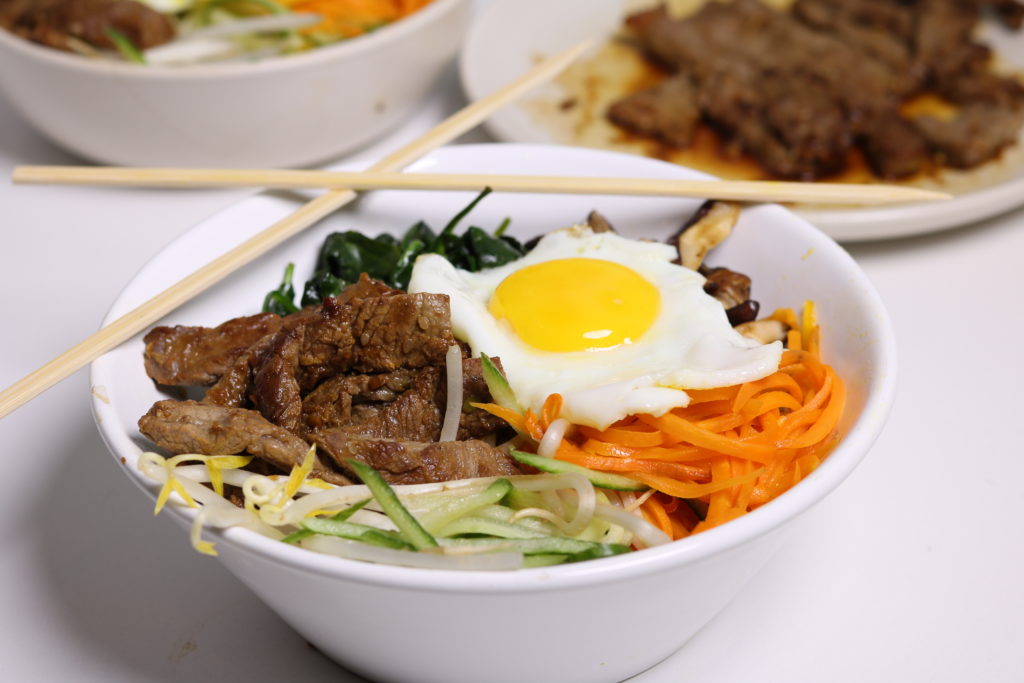 Do not be overwhelmed by this Bibimbap bowl.  Yes, it is Korean food, and yes, it looks like a lot of work, but it is actually a pretty simple meal that the whole family will love.  Bibimbap  (pronounced BEE-beem-bop) is a Korean dish that literally translates to "mixed rice with meat and assorted vegetables." This satisfying, nutritious, all-in-one meal usually includes a bowl of steamed white rice topped with at least three kinds of vegetables (usually spinach, bean sprouts, carrots, sprouts and mushrooms that are all individually prepared and arranged separately); one kind of meat (typically thinly sliced  beef); and a raw or sunny-side-up egg.  Everything is then mixed together before eating.  It is fun, healthy and the kiddos seem to love this meal (especially the fried egg on top!)  Enjoy!
Bibimbap
Ingredients
½ cup reduced-sodium soy sauce
½ Asian pear, grated with juices
2 scallions, thinly sliced
2 garlic cloves, minced
1 tablespoon brown sugar
1 tablespoon toasted sesame oil
1 teaspoon sesame seeds
2 teaspoons grated peeled ginger
1 pound thinly sliced (1/8-inch) boneless beef rib-eye steak or short ribs
6 cups steamed white or brown rice
2 cups bean sprouts
1 English cucumber, julienned
3 tablespoons sesame oil
4 carrots, peeled and julienned
1 bunch spinach, stemmed and chopped
1 pound shitake mushrooms, stemmed and sliced
6 eggs, fried sunny-side-up
kimchi
Instructions
Whisk first 6 ingredients in a medium bowl. Add beef; toss to coat. Cover; chill for 30 minutes or up to 3 hours.
Heat 1 tablespoon oil in a large skillet over medium-high heat. Add carrots and cook, tossing, until the carrots are slightly tender but still crisp, just under 1 minute. Transfer to a large plate. Add 1 more tablespoon oil to the same pan; add the mushrooms and cook until they wilt and begin to slightly brown, about 2 minutes. Season with salt and transfer to the plate. Add the remaining 1 tablespoon vegetable oil and the spinach to the pan. Cook, stirring, until wilted, season with salt and pepper and place on the plate with the rest of the vegetables. Cover with foil.
Meanwhile, heat 1 tablespoon oil in a large cast-iron grill pan over medium-high heat. Remove the beef from the marinade and shake off the excess. Working in batches to not overcrowd the pan, add the beef and cook without moving the meat, about 2 to 3 minutes on the first side. Flip and cook 1 more minute. Remove to a plate and cover with foil.
Heat 1 tablespoon oil in a large cast-iron or nonstick skillet over medium heat. Add steamed rice; pat out in an even layer. Cook, rotating skillet for even browning (do not stir), until rice is golden and crisp on the bottom, about 15 minutes.
Meanwhile, fry the eggs and set aside.
Divide rice among bowls. Top with beef, Bibimbap Mix-Ins, and eggs. Serve kimchi alongside.