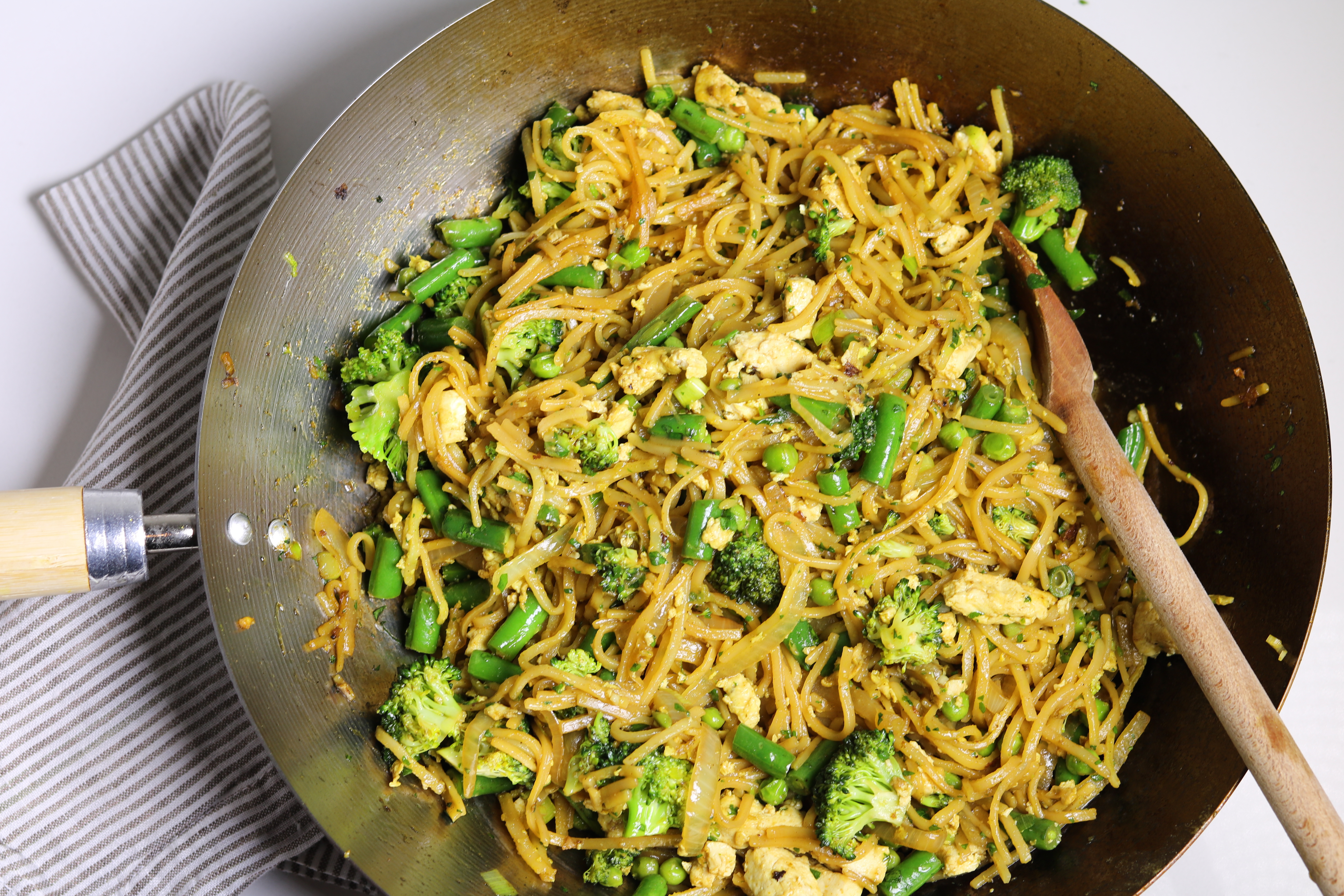 Once a week, usually Monday's,  I like to have a meatless dinner.  It makes me feel lighter and healthier and it's a nice way to start the week.  I couldn't think of a better meatless Monday than Gwyneth's Singapore Rice Noddles.  Gluten-free, full of veggies and completely satisfying, it is the perfect vegetarian dinner.  And, a bonus that it's ready in under 30 minutes and it is super kiddo friendly.  The only problem you'll have is having enough….make sure to double the recipe!  ENJOY!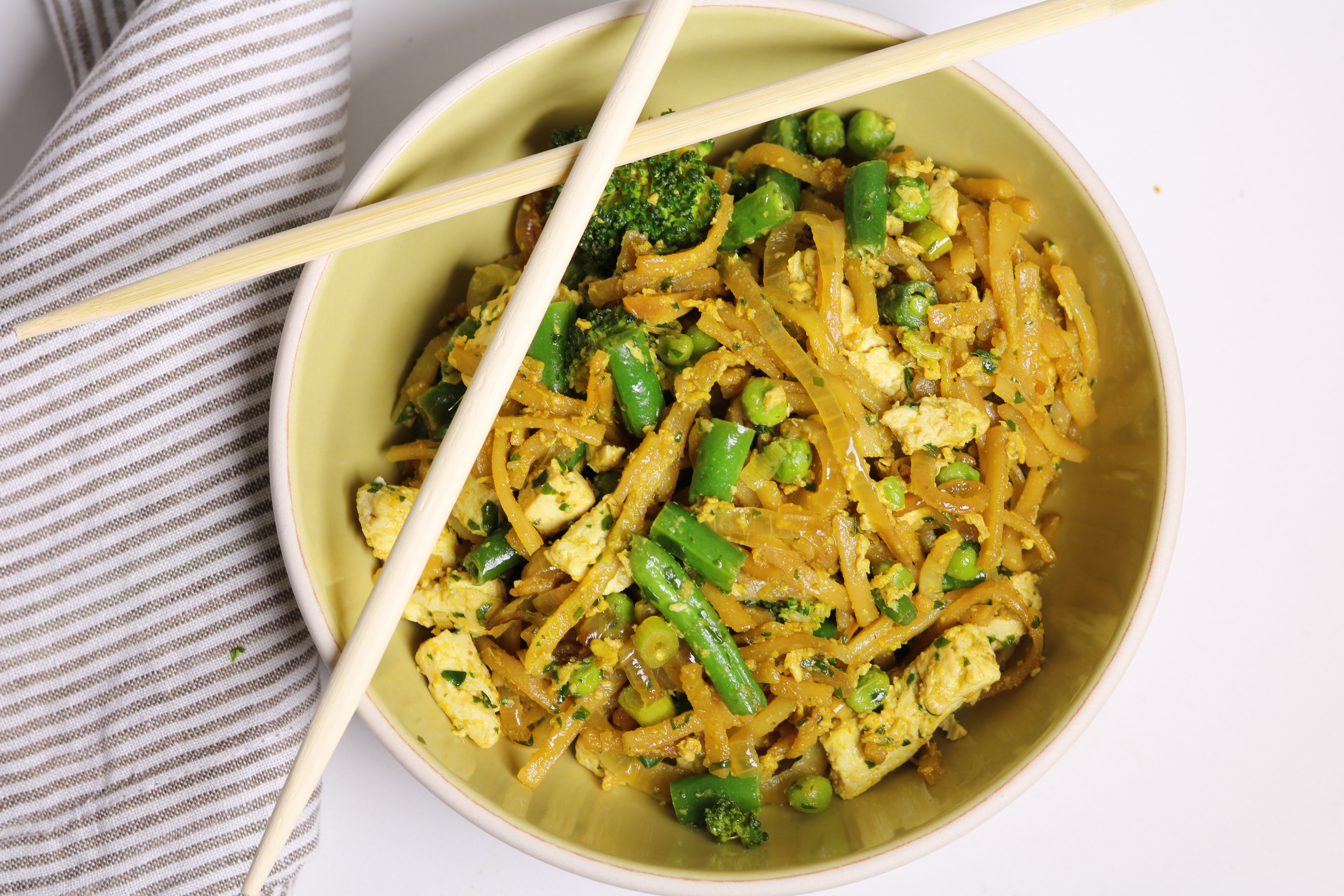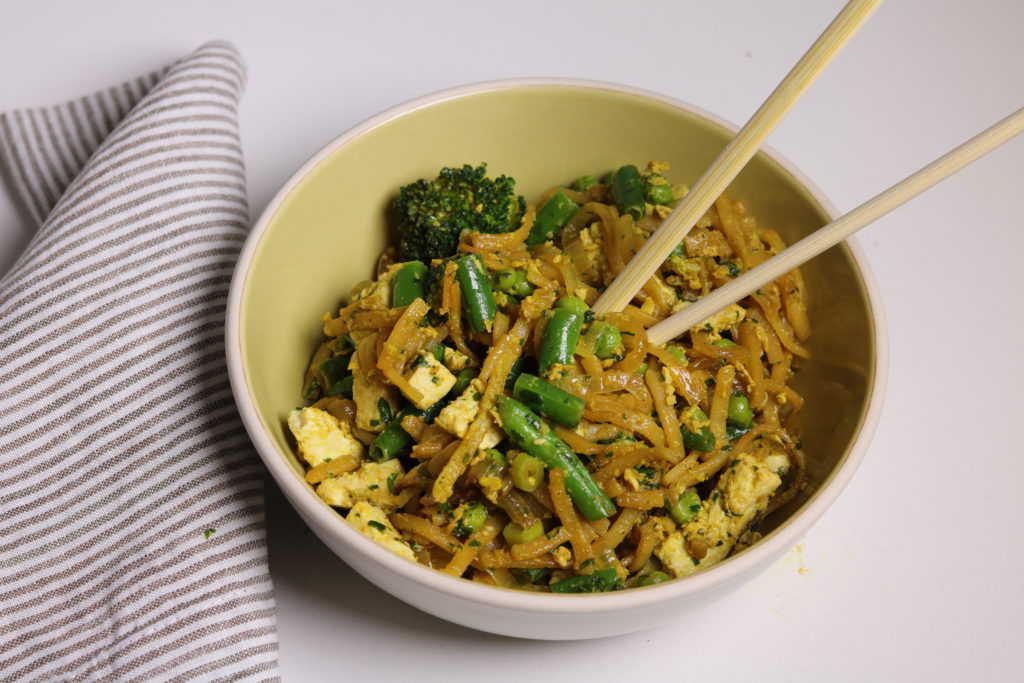 It's All Easy Singapore Rice Noodles
Ingredients
3½ ounces thin rice noodles
4 tablespoons peanut oil
2 tablespoons toasted sesame oil
1 medium yellow onion, halved widthwise and thinly sliced
½ cup chopped broccoli florets
½ cup chopped green beans (1/2 inch thick pieces)
½ cup fresh or frozen peas
7 ounces firm tofu, cut into 1-inch pieces
1 teaspoon curry powder
1 large egg, lightly scrambled
¼ cup tamari
2 scallions, thinly sliced
¼ cup chopped cilantro
salt
Instructions
Cook the rice noodles according to package directions, strain and set aside.
Meanwhile, heat a wok or large nonstick frying pan over medium-high heat.
Add 1 tablespoon of each of the peanut and sesame oils. When the oils are hot, add the onion and cook, untouched for a minute. Reduce heat to medium and saute, stirring occasionally, for 4 minutes. Transfer to a clean bowl.
Add another tablespoon peanut oil to the pan and add broccoli, green beans, peas, and tofu. Saute over high heat until veggies are just cooked and tofu is beginning to brown, about 2 minutes. Add more oil if anything is sticking to the pan. Transfer to the bowl with the onion.
Add 1 tablespoon of the peanut oil, the remaining 1 tablespoon sesame oil, the noodles, curry powder, and 2 tablespoons water to the pan and stir to combine.
Make a hole in the middle of the noodles, add the remaining 1 tablespoon of peanut oil, and add the egg. Stir vigorously with a wooden spoon until egg is almost cooked through and then mix with the noodles.
Add the tamari, scallions, and cilantro and stir everything to combine. Taste for seasoning and add salt if desired.