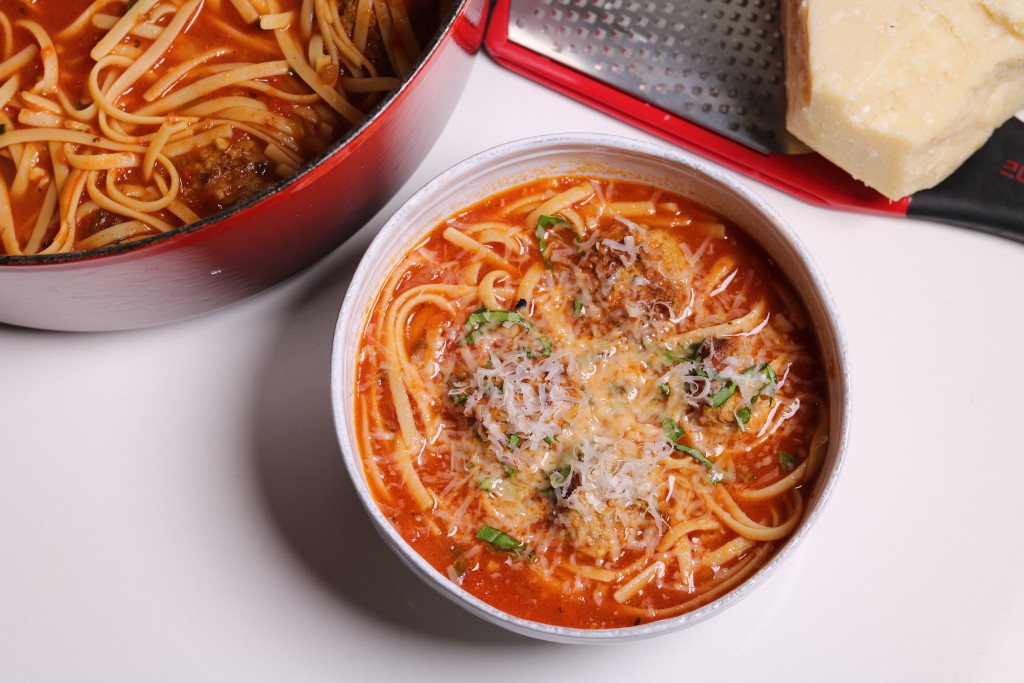 What is more kid-friendly than a nice, big bowl or spaghetti and meatball soup?  It's comforting, easy to eat and all in one pot!  The beauty of this dish is that you can make it ahead of time, and it's done.  No boiling pasta last minute, no straining….simply heat it up, and dinner is ready.  Ladle into big bowls, top with fresh parmesan cheese and snips of fresh basil and serve.  It also goes great with the Three Hungry Boys Chopped Italian Salad if you have the time.  Enjoy!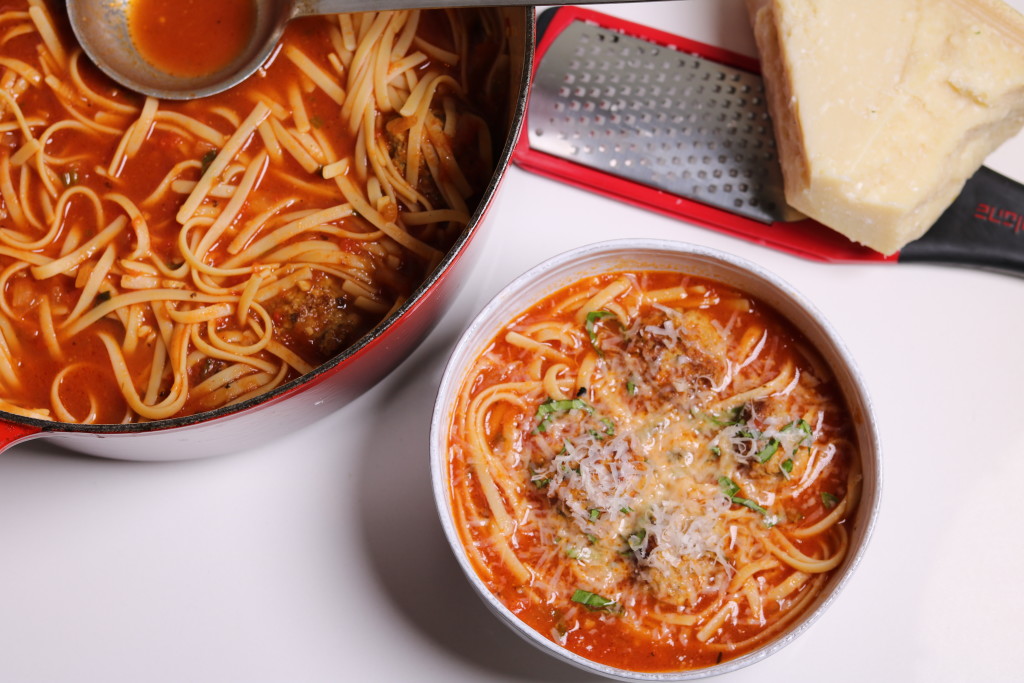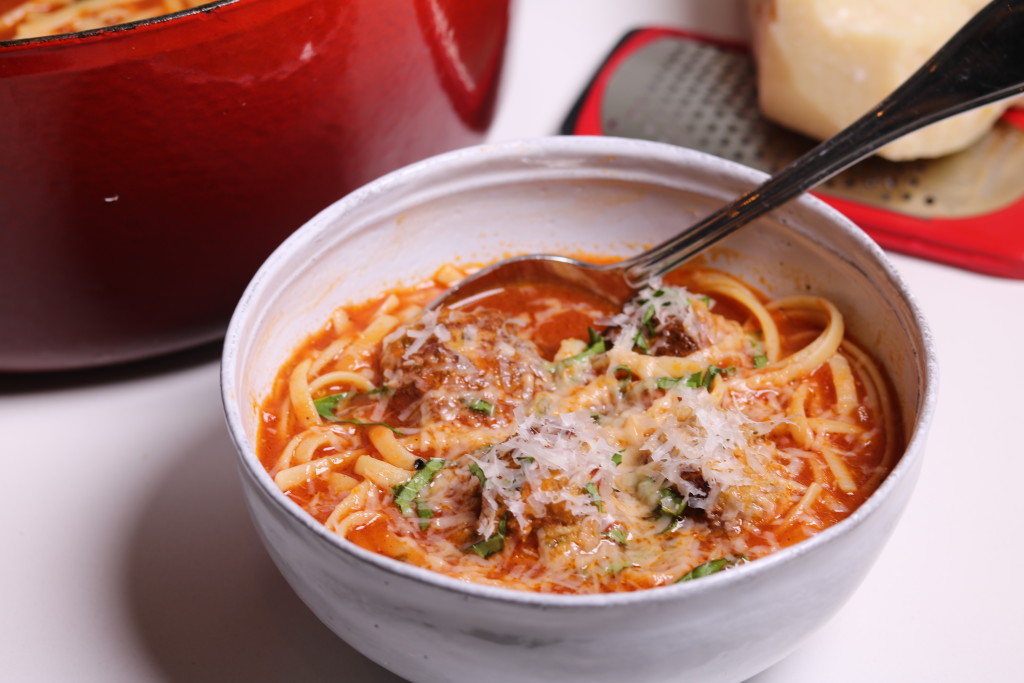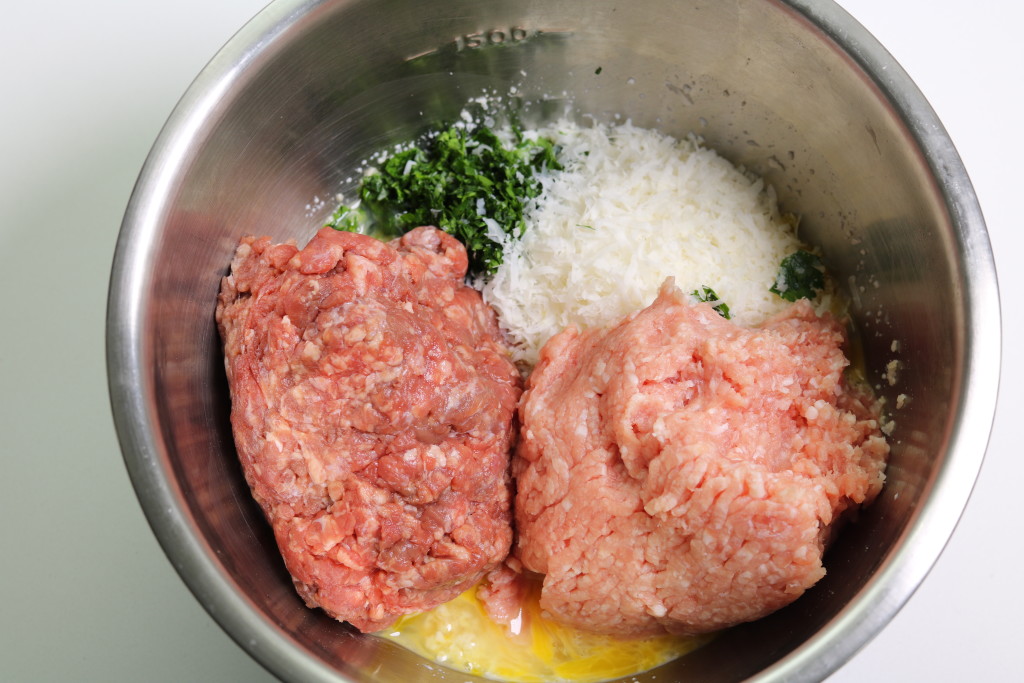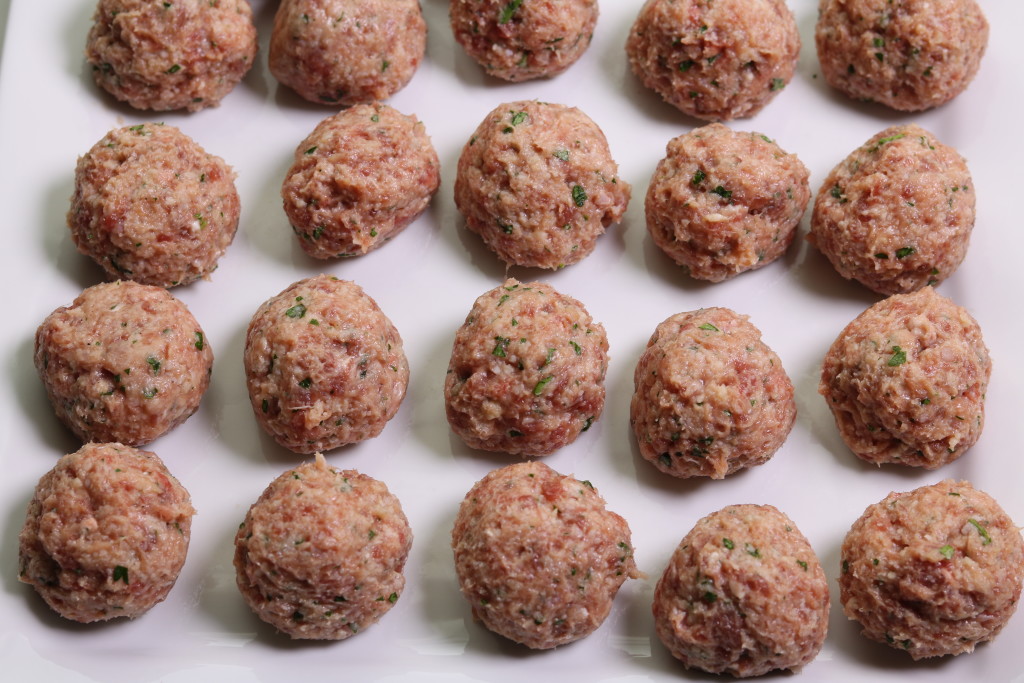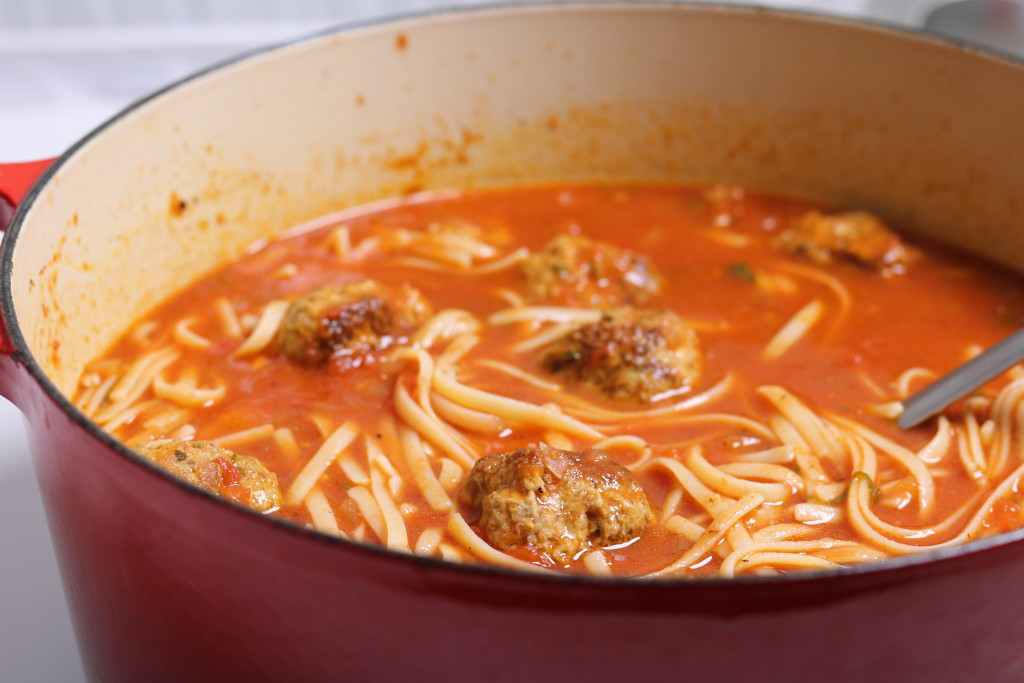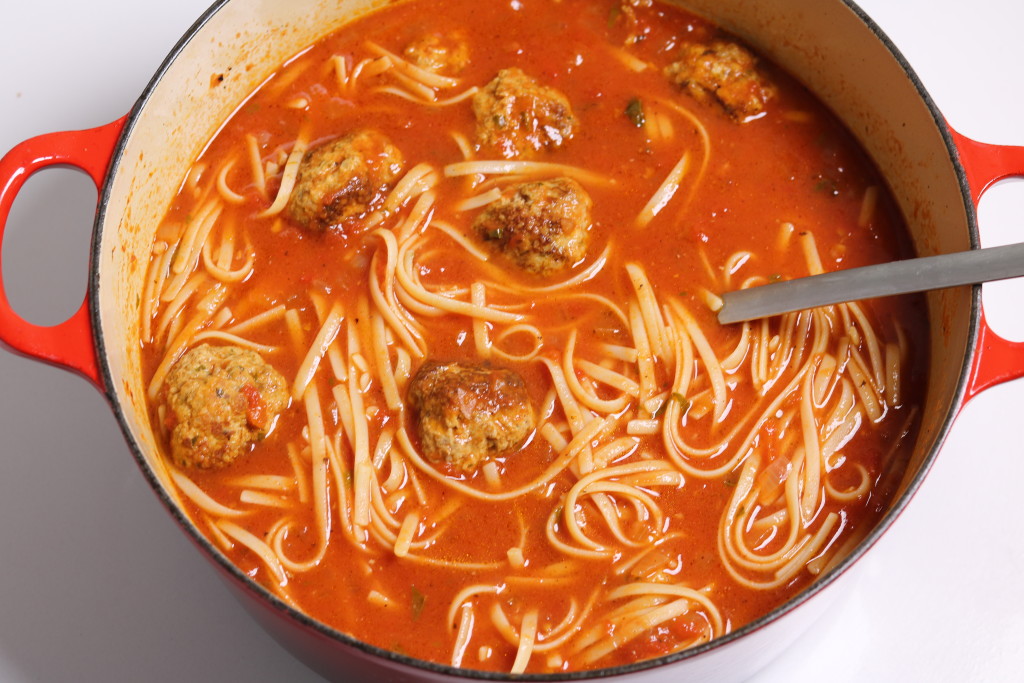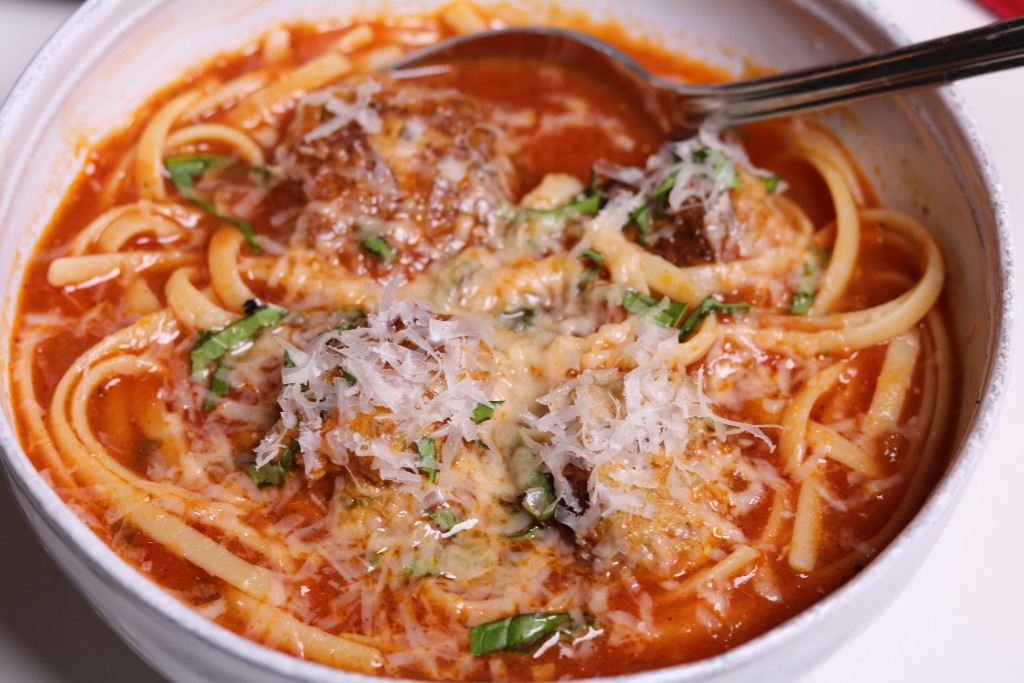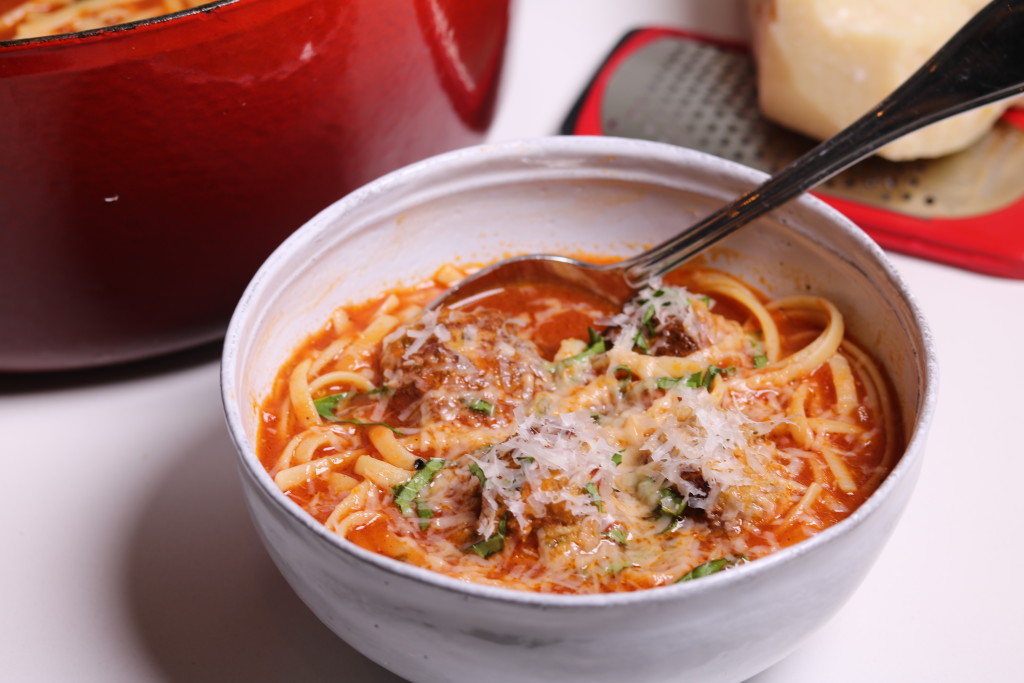 Spaghetti Meatball Soup
Ingredients
½ pound ground beef
½ pound ground pork
½ cup milk
½ cup bread crumbs
½ cup freshly grated parmesan cheese
1 egg, lightly beaten
1 teaspoon salt
2 tablespoons chopped parsley
fresh ground pepper
SAUCE
2 tablespoons olive oil
1 cup chopped onions
2 garlic cloves, minced
½ tsp salt
1-28 ounce can tomato puree (3 cups)
3 cups chicken stock
basil and parmesan cheese for garnish
1 pound spaghetti, cut in half OR zucchini noodles (see meatball and zucchini three hungry boys recipe)
Instructions
Mix the bread crumbs and the milk in a large bowl and let sit for 5 minutes.
Add the ground meat, cheese, egg, salt, pepper, and parsley and mix well. Roll into 1½ to 2-inch balls and set aside.
Working in batches, heat 2 tablespoons olive oil in a large stockpot over medium heat. Add the meatballs and cook them, stirring occasionally, until all sides are browned. Remove meatballs to a dish and set aside. Don't worry if they are not cooked through.
Wipe out the pot and heat another 2 tablespoons olive oil over medium heat. Once oil shimmers, add onions and saute for about 5 minutes, until soft. Add the garlic and saute another 2 minutes. Add the tomatoes and the chicken stock and bring soup to a boil. Reduce heat and simmer 10 minutes.
Bring soup back to a fast boil, add pasta or zucchini noodles and meatballs and boil for 10 minutes, until pasta is cooked. Add some water if necessary to thin.
Adjust seasonings and ladle into big bowls and serve with fresh grated parmesan and snips of fresh basil.