I love Thai food, especially minced chicken with lettuce cups.  My husband always wants to get Thai food, but I always protest as I find most restaurants to be greasy and unhealthy.  When I saw this recipe from Pete Evans The Paleo Chef, I was super excited to try to recreate a healthy version of this classic at home.  It has all the yummy fresh flavors of traditional thai food, with out all the saturated fat, gluten and sugar.   It was a huge hit in our house and everyone had seconds.  I served the kids theirs with rice instead of lettuce and extra tamari, of course.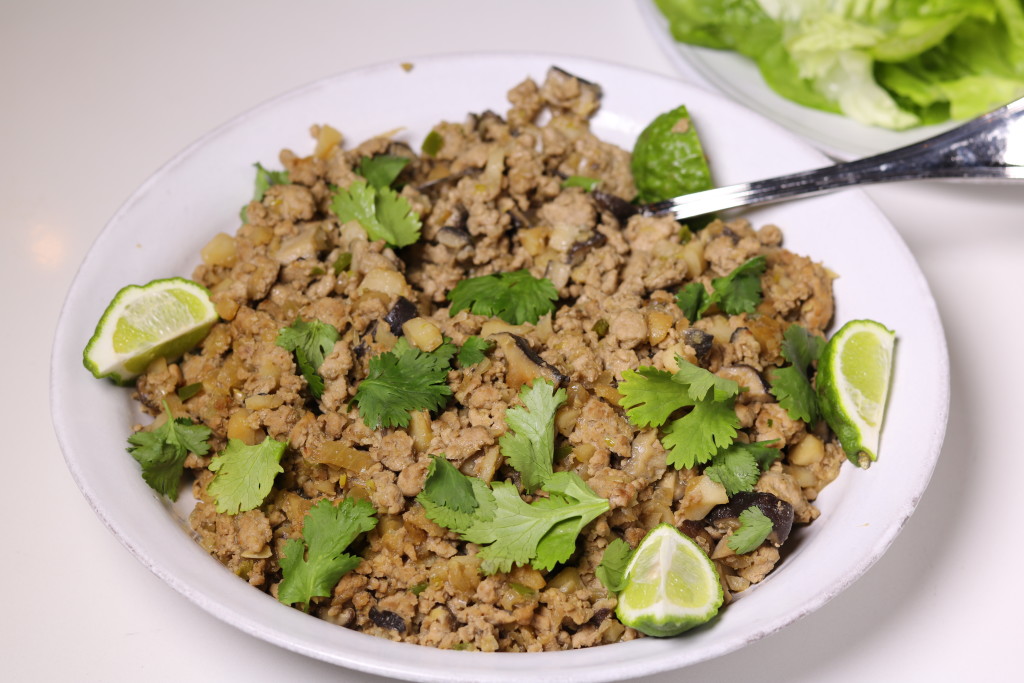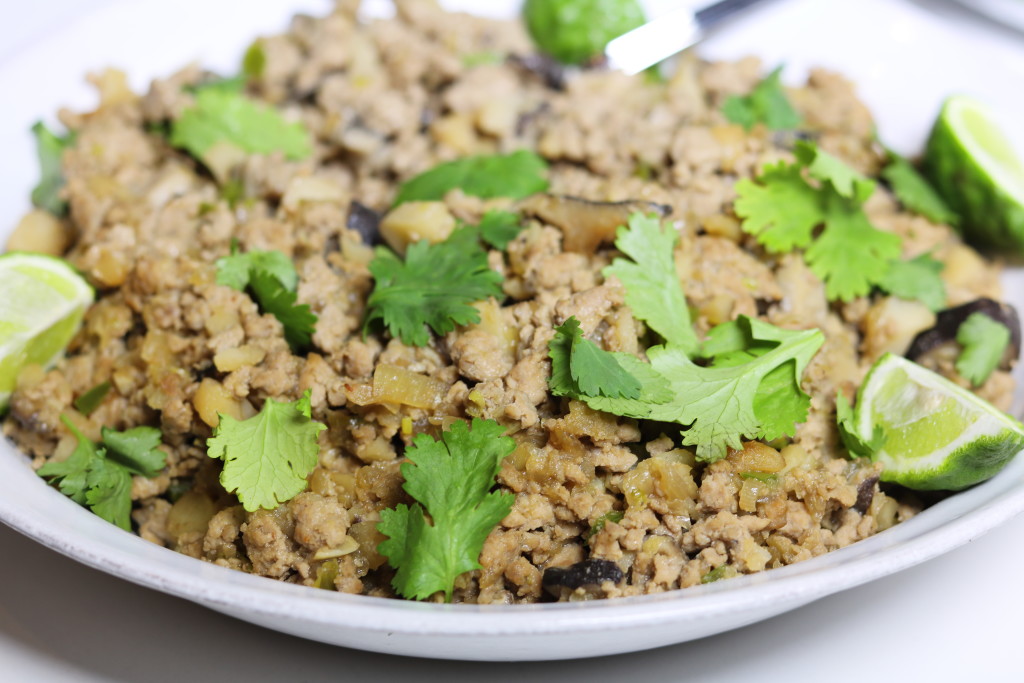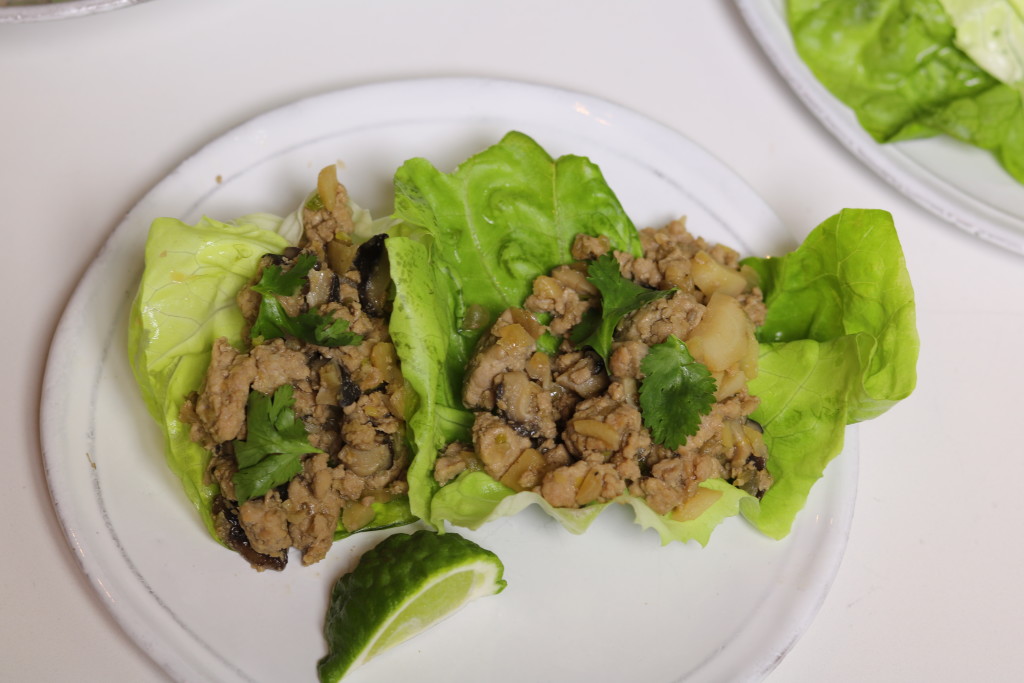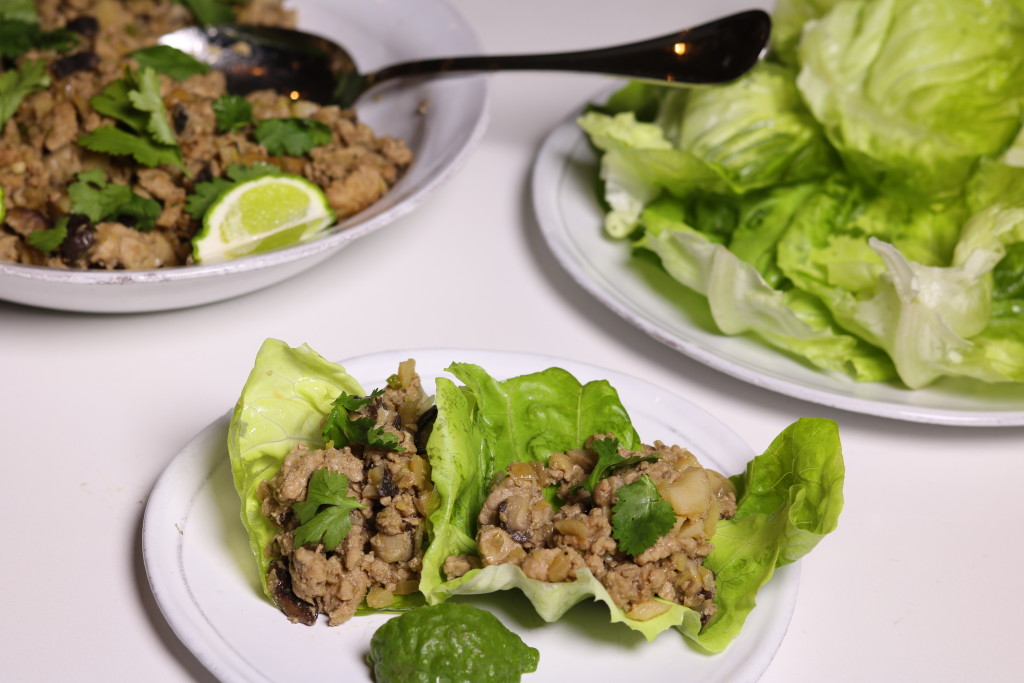 Turkey Shiitake Lettuce Cups
Ingredients
1 Tbsp coconut oil
3 cloves garlic, minced
4 shallots, chopped
2 tsp peeled and grated fresh ginger
1½ pound ground turkey
4 oz shiitake mushrooms stemmed, cleaned and chopped
2 tbsp wheat-free tamari
1 tbsp fish sauce
1 can water chestnuts, drained and finely chopped
4 green onions, finely chopped
2 fresh red chilies, seeded and chopped
8 iceberg or butter lettuce leaves, washed and dried (I use living greens)
fresh cilantro leaves and lime wedges, to serve
Instructions
Heat a wok or large sauté pan over medium-high heat.
Heat the coconut oil and add the garlic, ginger, and shallots and cook for 2 minutes.
Add the turkey and mushrooms and cook for another 5-10 minutes until cooked through, stirring occasionally and breaking the turkey apart with a wooden spoon.
Add the tamari, fish sauce, and mix. Then add water chestnuts, green onions, and chili and stir well until combined. Cook for another few minutes, remove from heat and adjust seasonings.
Serve with lettuce cups, and garnish with cilantro and lime.