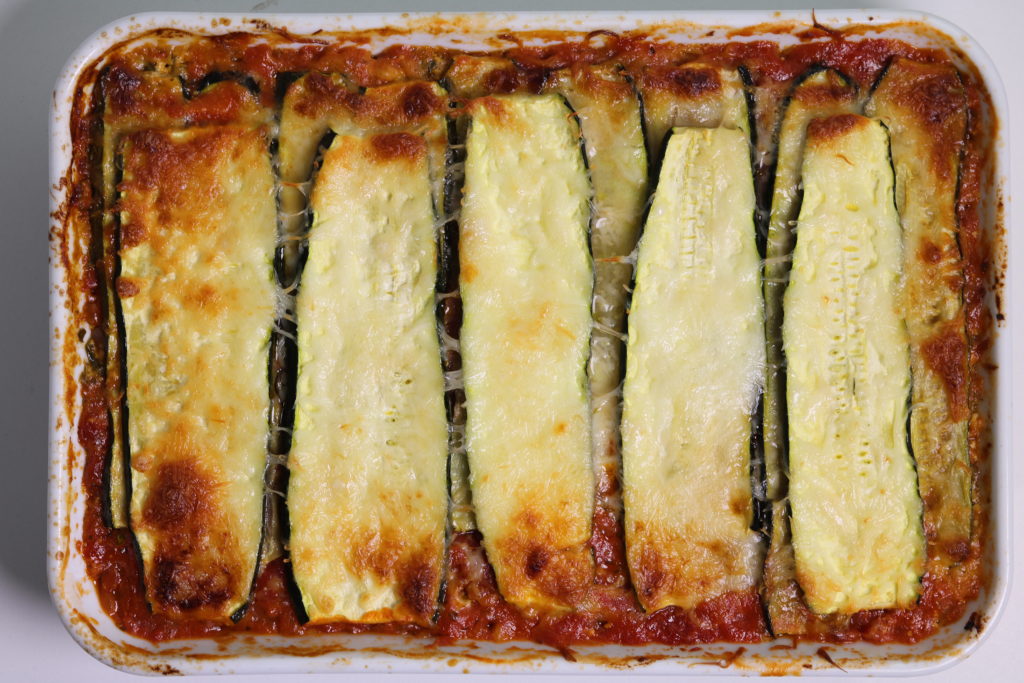 You will never believe that this lasagna is noodle free.  It has completely all the taste and satisfaction of traditional lasagna without carbs or gluten.  This recipe swaps in thin slices of zucchini for the noodles (you could easily sub eggplant or GF lasagna noodles) and is layered with a creamy ricotta/spinach mixture and fresh tomato sauce.  It is the perfect dish for a hearty, vegetarian entree idea.  Enjoy!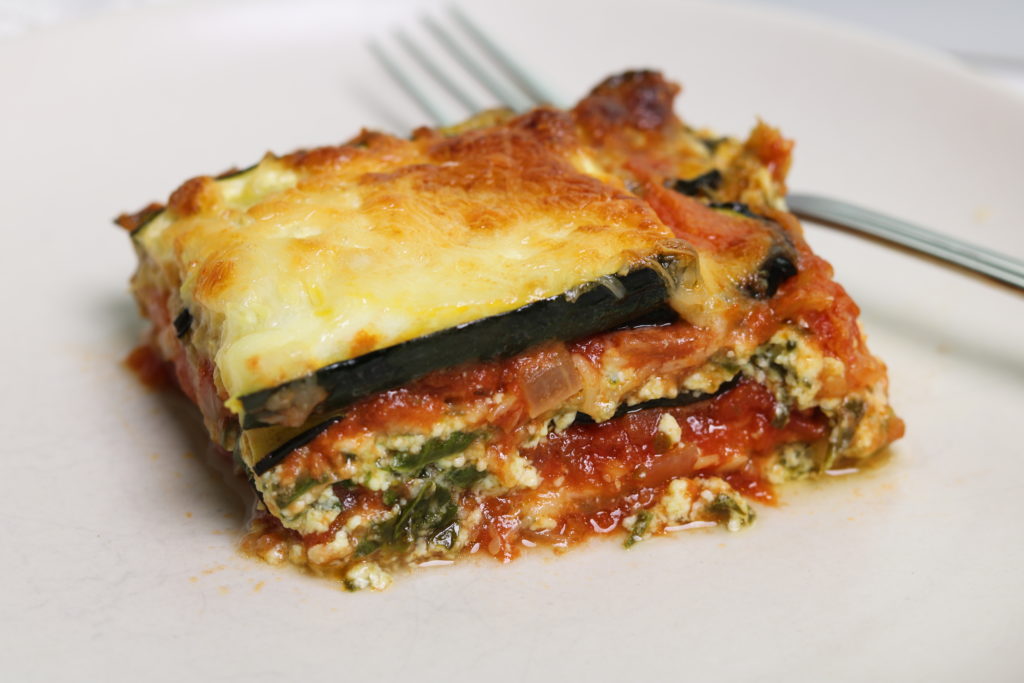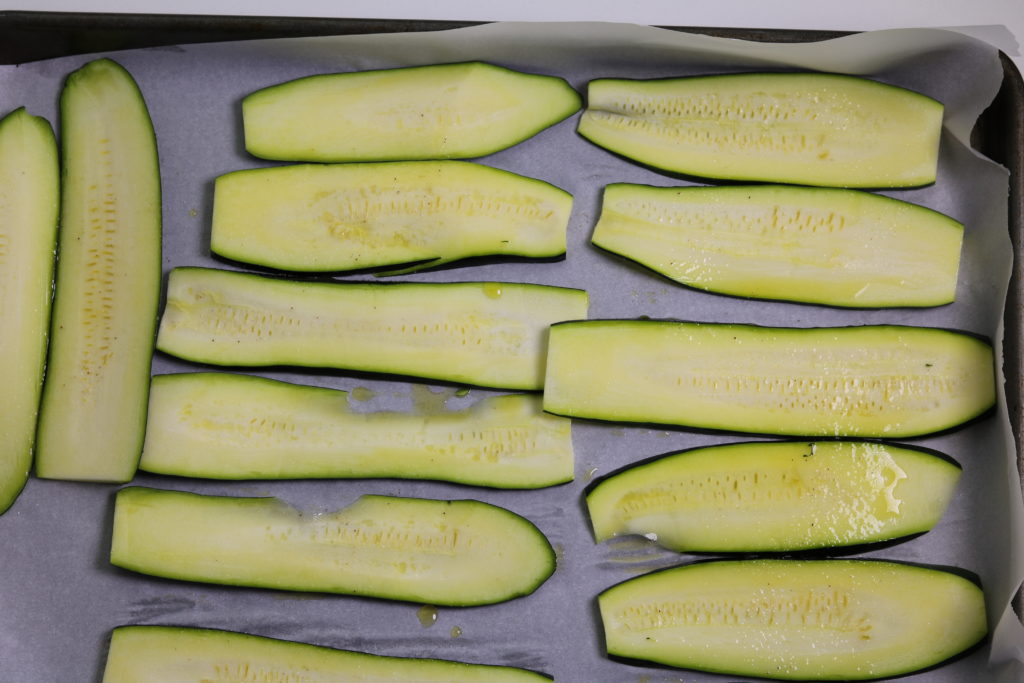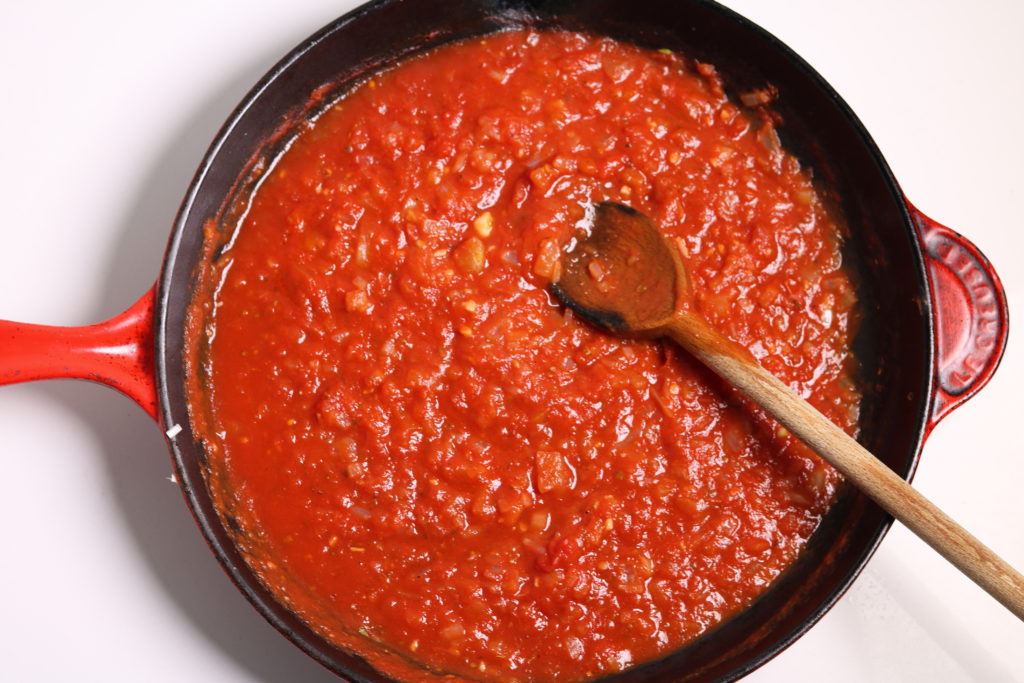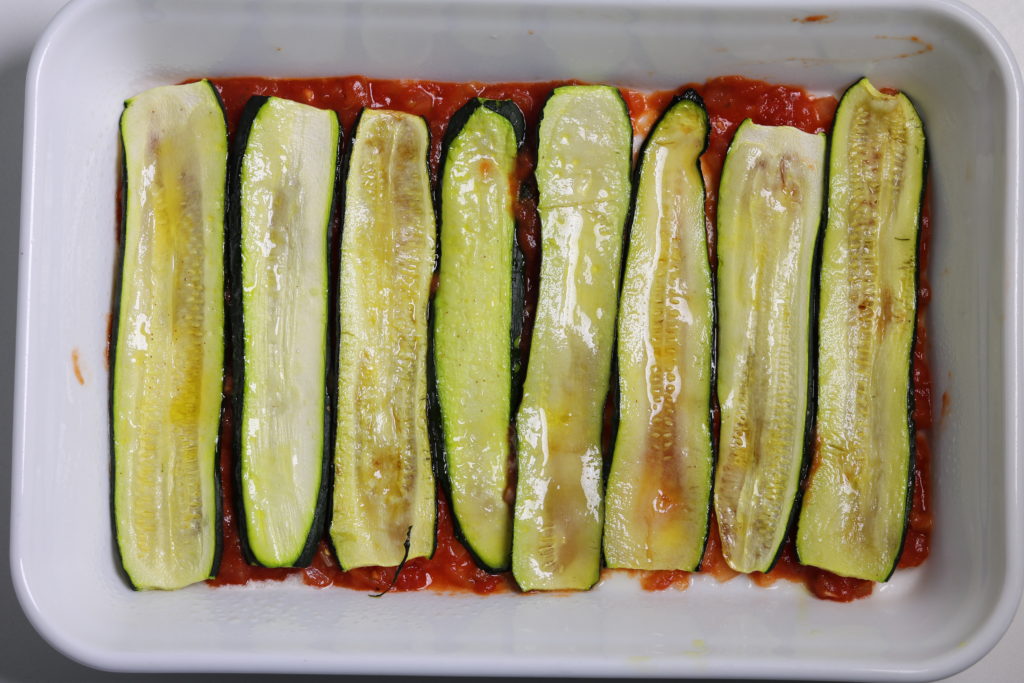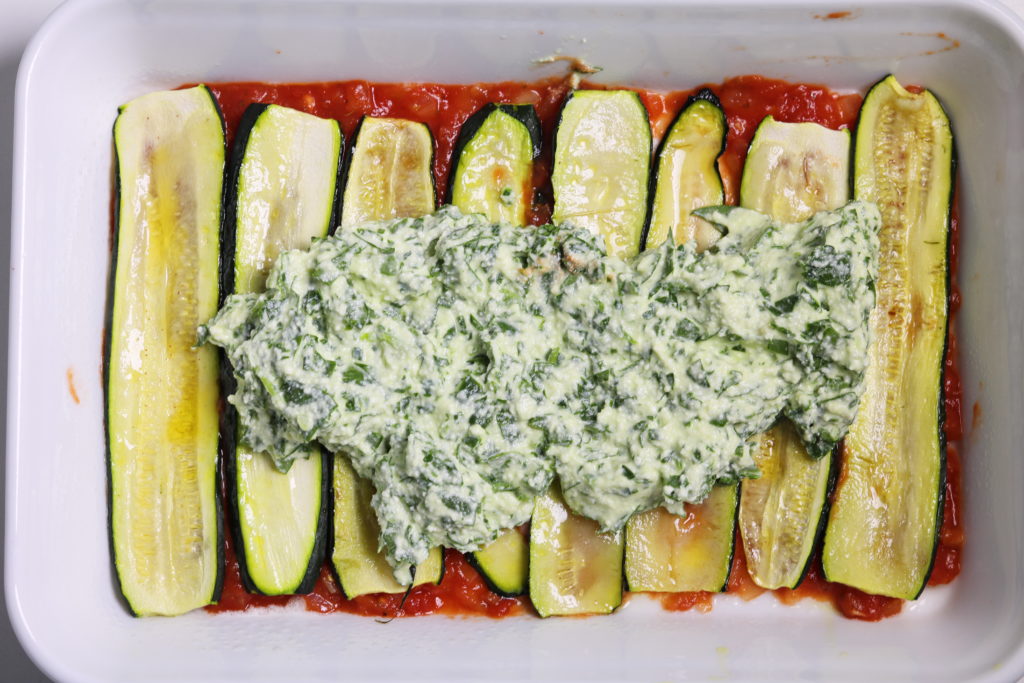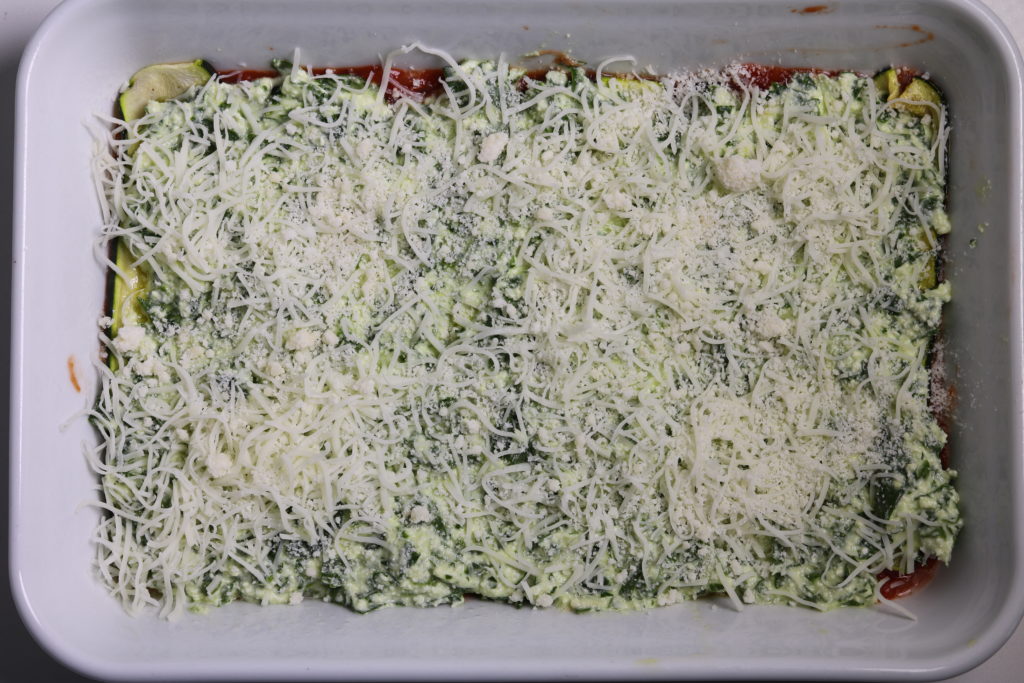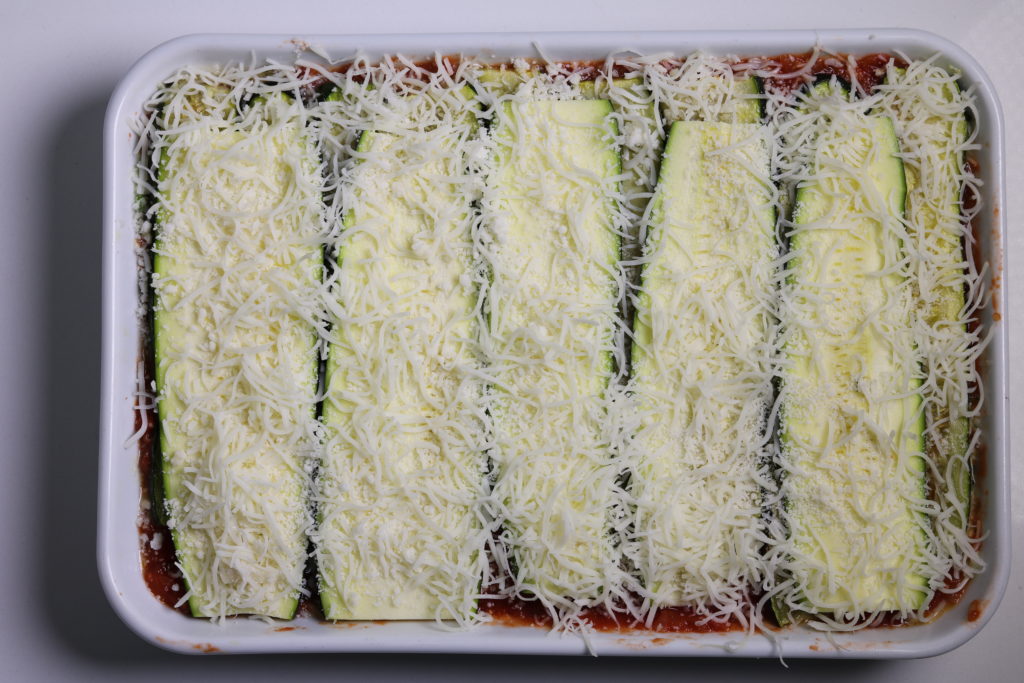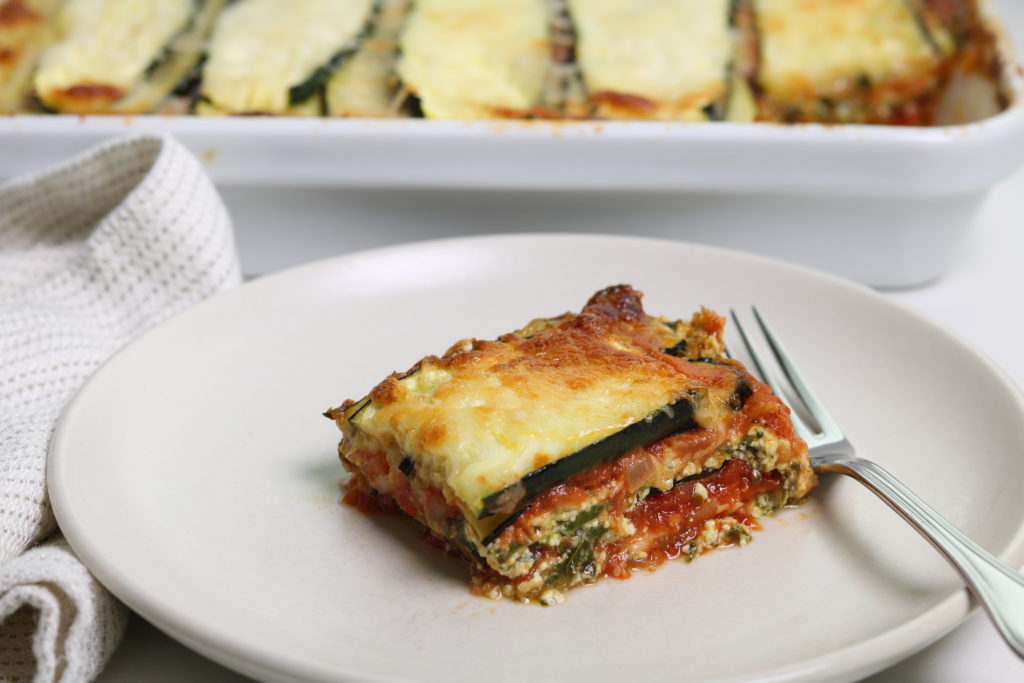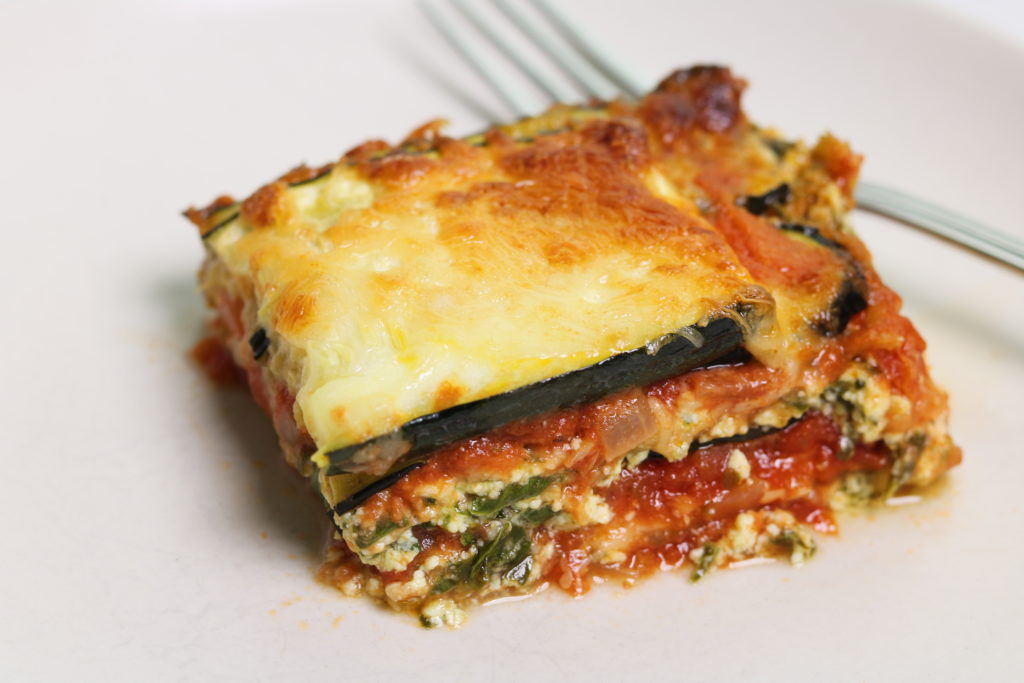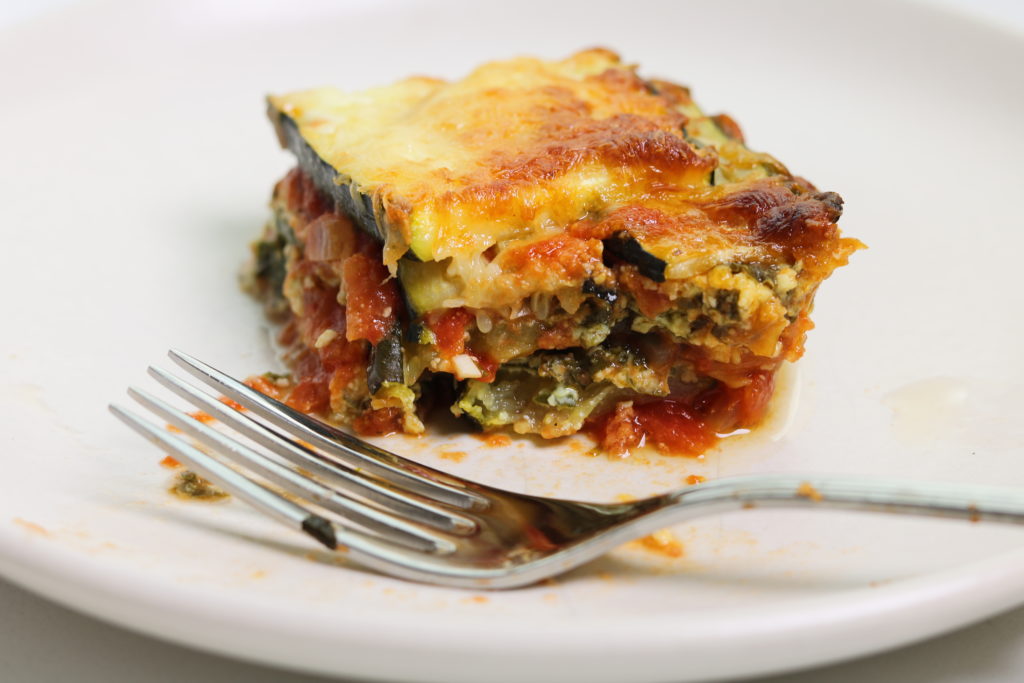 Roasted Zucchini Lasagna
Ingredients
6 zucchini, sliced into ¼ inch ribbons
¼ plus 2 tablespoons olive oil
1 small onion, minced
2 garlic cloves, minced
½ teaspoon dried oregano
1-28 ounce can crushed tomatoes
1 bunch spinach, trimmed and finely chopped
16 ounces fresh ricotta
1 egg, lightly scrambled
2 tablespoons chopped parsley
1 cup grated mozzarella
1 cup grated parmesan
Instructions
Pre-heat oven to 425 degrees. Line two baking sheets with parchment paper.
Blot the zucchini slices with a paper towel to remove excess moisture.
Place the zucchini slices in a single layer on baking trays and brush both sides with olive oil and sprinkle with salt.
Roast for 12-14 minutes until golden. Remove from oven and set aside
Heat 2 tablespoons oil in a large frying pan over medium heat. Add the onions and saute until soft and translucent, about 5 minutes. Add the garlic and oregano and cook another few minutes. Add the tomatoes and let simmer for 15 minutes. Season with salt and pepper and remove from heat and let cool.
Place the ricotta, chopped spinach, parsley, egg, ½ teaspoon salt, and pepper in a bowl and mix to combine well.
Lighty grease a small baking dish. Spoon ⅓ cup of tomato sauce on the bottom and spread evenly. Layer with ⅓ the roasted zucchini slices. Top with one-half of the ricotta mixture. Sprinkle with ⅓ cup of the mozzarella and ⅓ cup of the parmesan. Repeat with ⅓ cup of tomato sauce, one-half of the remaining zucchini slices, and the remaining ricotta mixture. Sprinkle with ⅓ cup of the parmesan and ⅓ cup of the mozzarella.
Top with the rest of the tomato sauce, the remaining zucchini slices, and sprinkle with the remaining ⅓ cup parmesan and mozzarella.
Bake for 40 minutes until crisp and golden and bubbling.