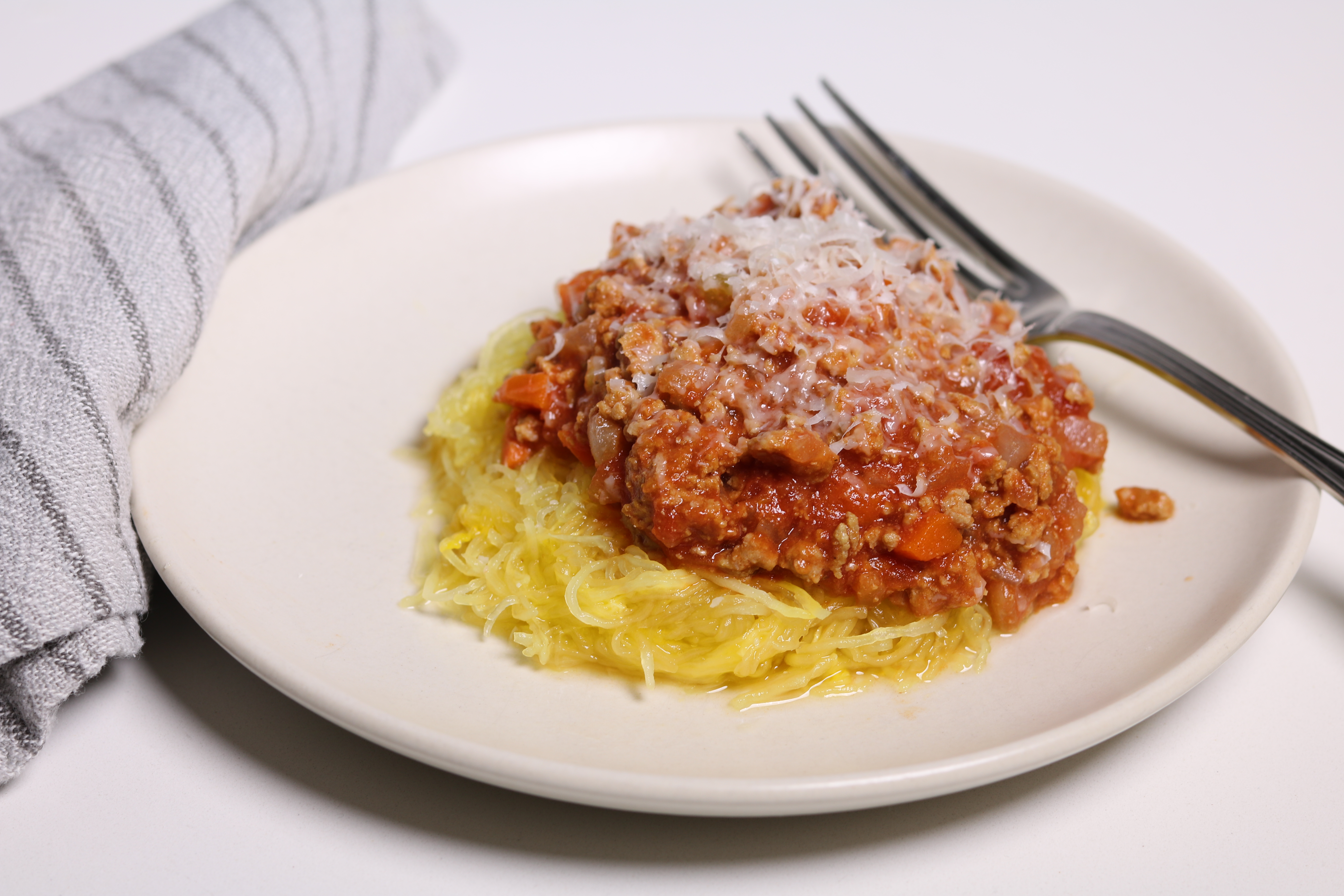 Finding a delicious, gluten-free pasta substitute can be quite a challenge.  The store-bought varieties can be pretty tasteless and "cardboard-like."  Personally, I feel that the best healthy alternative way to enjoy our favorite comfort food without sacrificing taste is spaghetti squash.  While it is still squash and not traditional pasta,  it is equally as satisfying and can be substituted into almost any pasta recipe.  After many different methods of cooking it, I find this way to be the easiest and fastest.  I have been making this turkey bolognese for almost a decade and it is truly delicious.  If you have the time, let it sit on a low simmer for up to four hours.  The flavors get richer and your house will be filled with a mouth-watering aroma.  The perfect recipe for a cold night! I actually prefer turkey bolognese over the traditional beef/pork sauce as it is lighter and healthier.   Enjoy!
Turkey Bolognese
Ingredients
2 tablespoons olive oil
1 small yellow onion, finely chopped
1 carrot, peeled and chopped into a fine dice
1 celery, chopped into a fine dice
1 pound ground turkey meat (I use dark)
1 teaspoon salt
fresh ground pepper
3 cloves garlic minced (about 1 tablespoon)
2 tablespoons chopped parsley
½ cup dry white wine
1 28-ounce can whole tomatoes
1 cup grated parmesan cheese
2 tablespoons butter
1 spaghetti squash
Instructions
Preheat oven to 400 degrees F. Line a large, rimmed baking sheet with parchment paper. Set aside.
Heat olive oil in a large wide dutch oven over medium heat.
Add the onion, celery, carrot, and parsley and sauté until soft, but not browned, about 10 minutes.
Increase the heat to medium-high, add the ground turkey, and cook, breaking it up with a spoon, until it's starting to brown, about 3 minutes.
Add the salt, pepper, and wine and simmer gently for a few minutes until the liquid is absorbed.
Add the tomatoes and their juice, breaking apart tomatoes with your hands.
Gently mix and bring to a simmer. Turn the heat down as low as possible, cover partially, and simmer for 30 minutes to 2 hours. The longer the better.
Meanwhile, prepare the spaghetti squash.
Lay the squash down horizontally on the cutting board. Carefully cut off the stem and base end of the spaghetti squash so that you have a flat side on each end.
Stand the spaghetti squash upright on the larger of the two ends, and carefully cut it in half lengthwise from top to bottom. Scoop out the seeds and stringy insides.
Drizzle the cut sides of the squash with ½ teaspoon olive oil each and then sprinkle the salt and pepper over the halves. Rub lightly to evenly coat the insides of the squash.
Place the squash cut-side down on the prepared baking sheet and bake for 35 to 40 minutes, until the squash is just fork tender.
Flip the squash over and with a fork, fluff to separate the strands.
Place ½ cup parmesan cheese and butter in a large serving bowl. Add spaghetti squash and toss to coat well. Add half the sauce and toss again.
To serve, put squash in pasta bowls, and top with extra sauce and parmesan.