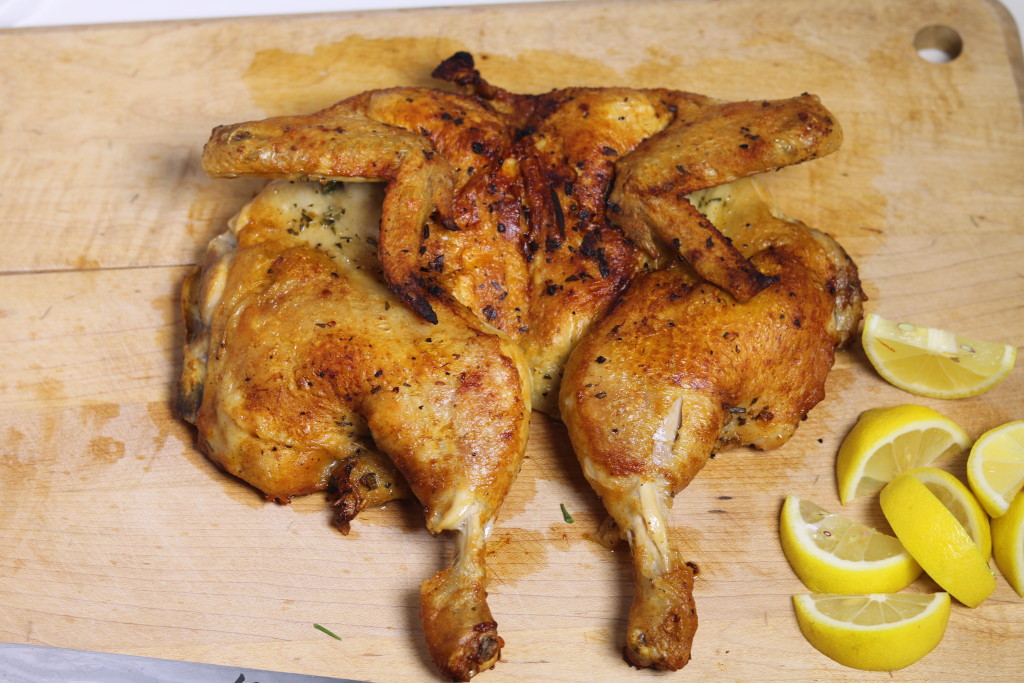 I always get super excited when I see "chicken under a brick" at a restaurant.  It is one of my most favorite ways to eat chicken ever.  It is basically butterflied chicken (done by the butcher) cooked on a hot grill with a heavy brick on top.  The brick weighs the chicken down, resulting in even, quick cooking and crispy, brown skin.   It you don't have a brick, a heavy cast iron skillet works just as well.  And, if you don't have a grill, this stovetop version is just as delicious.  It is easy and simple and perfect for any occasion.  Enjoy!
Chicken Under a Brick
Ingredients
1 whole 3- to 4-pound chicken, backbone removed by butcher (butterflied)
1 tablespoon fresh minced rosemary
1 tablespoon salt (I use omnivores poultry salt rub)
freshly ground black pepper to taste
1 tablespoon minced garlic
2 tablespoons extra virgin olive oil
1 lemon, cut into quarters.
Instructions
Mix together olive oil, salt, garlic, and chopped rosemary in a small bowl.
Wash and dry the chicken very well with paper towels. Place the chicken skin side down on a clean surface. Rub herb garlic mixture all over both sides of the chicken. Cover and let marinate in the refrigerator for 1-24 hours. The longer the better.
When you are ready to cook, preheat the oven to 500 degrees. Heat an ovenproof large skillet (big enough to fit the chicken) over medium-high heat for about 3 minutes. Put 1 tablespoon of olive oil in the pan and wait about 30 seconds for it to heat up.
Place the chicken in the skillet, skin side down, and weigh it with another skillet or with one or two bricks, wrapped in aluminum foil (I use a heavy cast iron pot wrapped in foil).
Cook over medium-high for 5-10 minutes, then transfer to the warm oven with the weight. Roast for 15 minutes more. Remove from the oven and remove the weight; turn the chicken over (it will now be skin side up) and roast 10 minutes more, or until done. Serve hot or at room temperature, with lemon wedges.