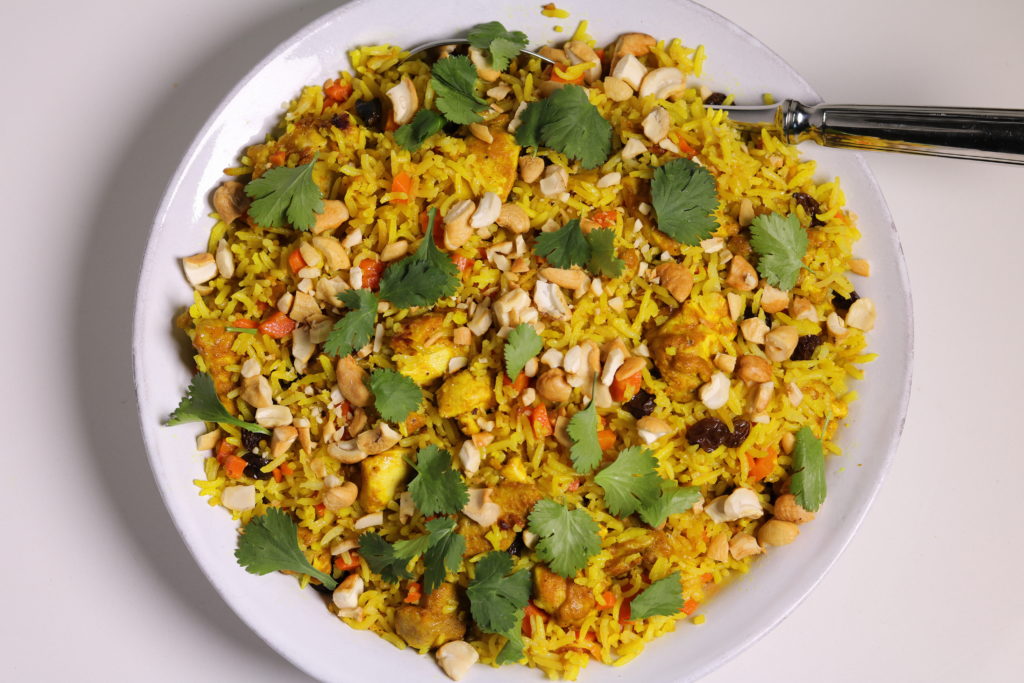 Chicken Biryani is an aromatic, flavorful one-pot dish originally from India.   It consists of delicious spiced rice with tender marinated bites of meat, usually chicken.  This simple take on the classic dish is delicious.  The chicken is marinated in a creamy spicy yogurt, cumin, tumeric, and red pepper sauce and then cooked in a flavorful garlic and ginger spiced rice with carrots and raisins.  I serve it with cool yogurt, fresh cilantro and crunchy cashews as garnish.  Enjoy!
Chicken Biryani
Ingredients
1 cup plain 2% reduced-fat Greek yogurt
1 tablespoon ground turmeric
2 teaspoons ground cumin
½ teaspoon ground red pepper
1½ pounds skinless, boneless chicken thighs, cut into 1½-in. cubes
2 tablespoons olive oil
1 tablespoon minced peeled fresh ginger
3 garlic cloves minced
4 cardamom pods, crushed
1½ cups uncooked basmati rice
2 cups unsalted chicken stock
1 cup coarsely chopped carrot
½ cup raisins
1 teaspoon kosher salt
1 cinnamon stick
2 tablespoons heavy cream
¼ cup unsalted dry-roasted cashews, chopped
2 tablespoons chopped fresh cilantro
Instructions
Stir together yogurt, turmeric, cumin, and red pepper in a large bowl. Add chicken pieces; toss to coat. Cover and chill 2 to 4 hours.
Combine oil, ginger, garlic, and cardamom in a large, high-sided skillet, and cook over medium-high, stirring often, until ginger begins to sizzle and toast, about 1 minute. Add rice; cook, stirring constantly, until rice is toasted, about 1 minute. Add stock, carrot, raisins, salt, and cinnamon.
Remove chicken from marinade; discard remaining marinade. Place chicken in an even layer on rice mixture. Cover and increase heat to high; bring to a boil. Reduce heat to medium-low, and simmer until chicken is done and rice is tender, about 15 minutes. Remove from heat. Remove and discard cinnamon stick. Let stand 5 minutes. Stir in cream.
Serve in shallow bowls. Sprinkle servings evenly with cashews and cilantro.