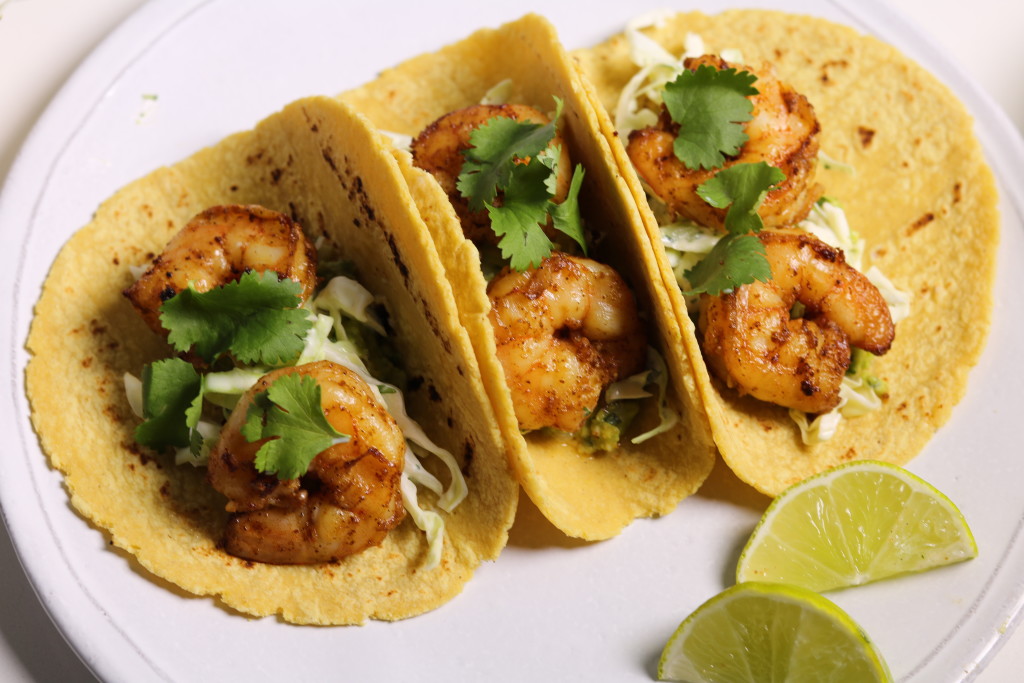 Who needs to travel south of the border for some tasty tacos when you can have them at home?  These shrimp tacos are by far my favorite.  They are quick, easy and light and full of all the yummy tex-mex flavors everyone loves.  Delicious spice-marinated shrimp layered on top of fresh guacamole with a crispy cabbage slaw, wrapped in a warm corn tortilla with a sprinkle of cilantro and a squeeze of lime.  Need I say more?  Perfect for a casual and fun summer dinner party or a weeknight family dinner, they are sure to be a crowd favorite.  Enjoy!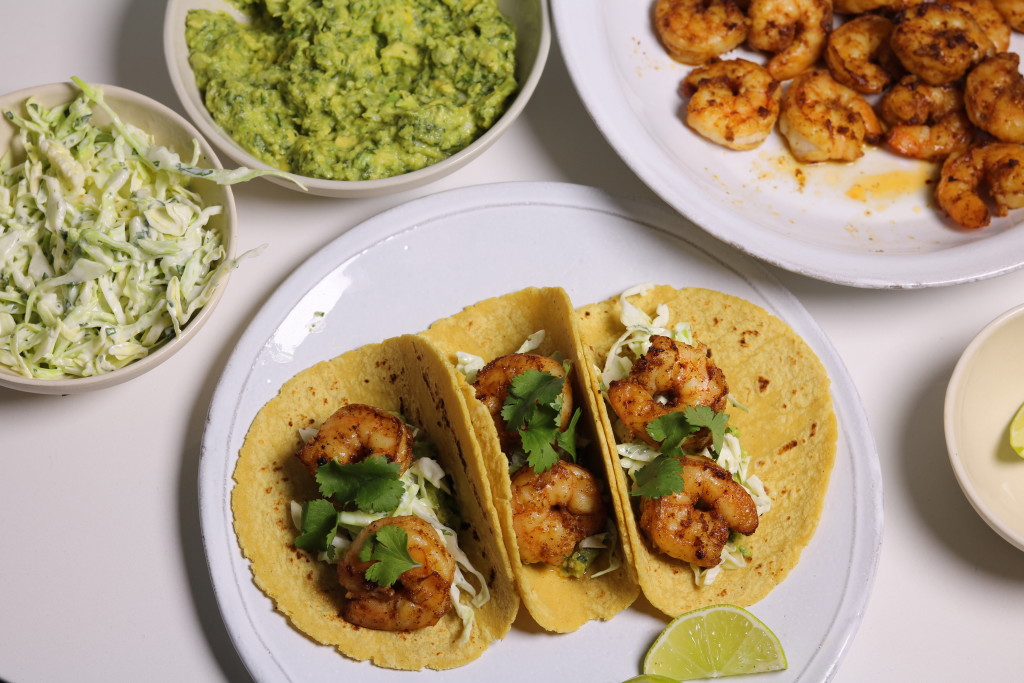 Shrimp Tacos
Ingredients
1 pound shrimp, peeled, deveined and tails removed
1 garlic clove, minced
1 teaspoon ground cumin
1 teaspoon chili powder
¼ teaspoon salt
¼ teaspoon cayenne pepper
2 tablespoons olive oil
Guacamole
2 ripe avocados. mashed
2 tablespoon minced white onion
2 tablespoons chopped cilantro
juice of 1 lime
½ teaspoon salt
Slaw
½ green cabbage, shredded
2 tablespoons yogurt or sour cream
2 tablespoons mayonnaise
juice of ½ lime
1 tablespoon chopped cilantro
pinch of salt
Instructions
Combine olive oil, garlic, cumin, chili powder, salt, and cayenne in a medium bowl. Add shrimp and toss well to coat. Cover and refrigerate for 2-4 hours.
Mash to avocado in a medium bowl. Add onion, cilantro, lime and salt and mix well. Set aside.
Whisk together sour cream or yogurt, mayonnaise, lime juice, cilantro, and salt in a medium bowl. Stir in cabbage and mix well. Set aside.
Heat a grill pan over high heat. Coat pan with oil or cooking spray. Add shrimp; cook 2 minutes per side or until done.
Working with 1 tortilla at a time, heat tortillas over medium-high heat directly on the eye of a burner for about 15 seconds on each side or until lightly charred.
Place about 1 tablespoon guacamole on each tortilla, add a big spoonful of cabbage slaw and top a few shrimp. Garnish with cilantro and lime.