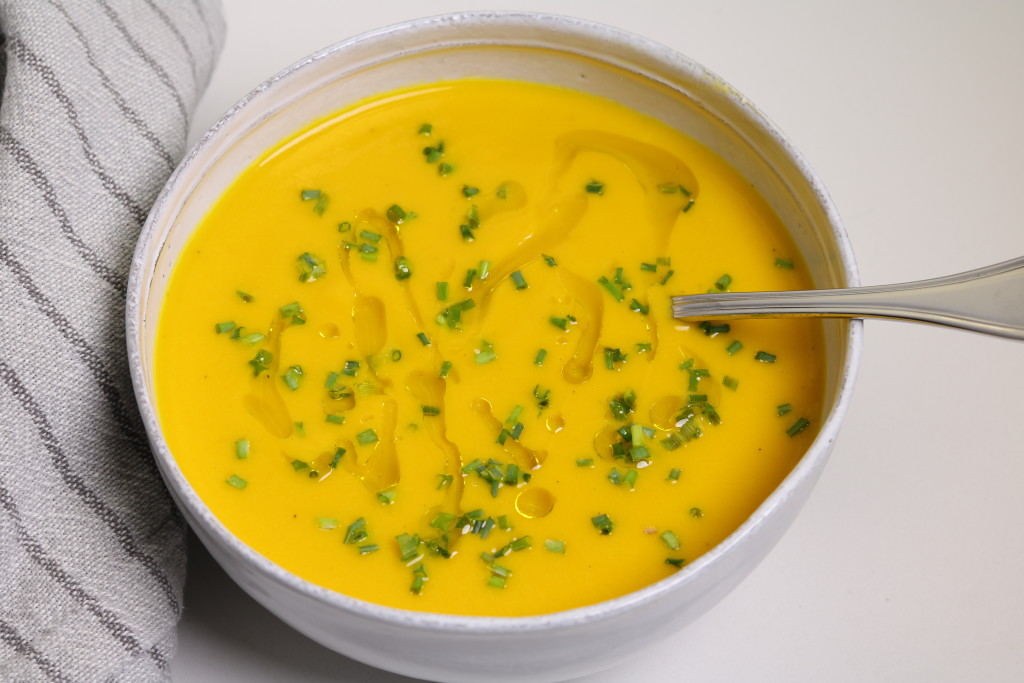 Just wait until you try this super easy, four ingredient carrot soup.  It's beautiful, it's healthy, it's gluten-free/vegetarian and it's so YUMMY.  Ready in under 30 minutes and packed with so much beta-carotene it will definitely give you night vision.  Feel free to add some chopped ginger if you like carrot/ginger soup.  Also, replace the butter with oil if you want to make it vegan.  Chop, cook, puree….enjoy!
Carrot Soup
Author:
Liza Cannata, Three Hungry Boys
Ingredients
1 cup chopped shallots (about 2 large)
2 tablespoons butter
1½ pounds carrots, peeled and chopped (about 6-8 large carrots)
½ teaspoon salt
fresh ground pepper
2-3 cups chicken or vegetable stock (preferably homemade)
fresh chives for garnish
Instructions
Melt butter in a medium soup pot over medium heat.
Add shallots and cook until soft, about 5 minutes.
Add carrots, salt and pepper and stir to coat.
Add enough stock to just barely cover the carrots.
Bring to a boil, reduce heat to a simmer, cover and cook until carrots are soft, about 15 minutes.
Remove from heat and transfer to a blender and puree until smooth, remembering to take caution when blending hot liquids.
Transfer to clean pot and add water if necessary to thin soup. Adjust seasonings and serve with freshly snipped chives and a drizzle of olive oil.