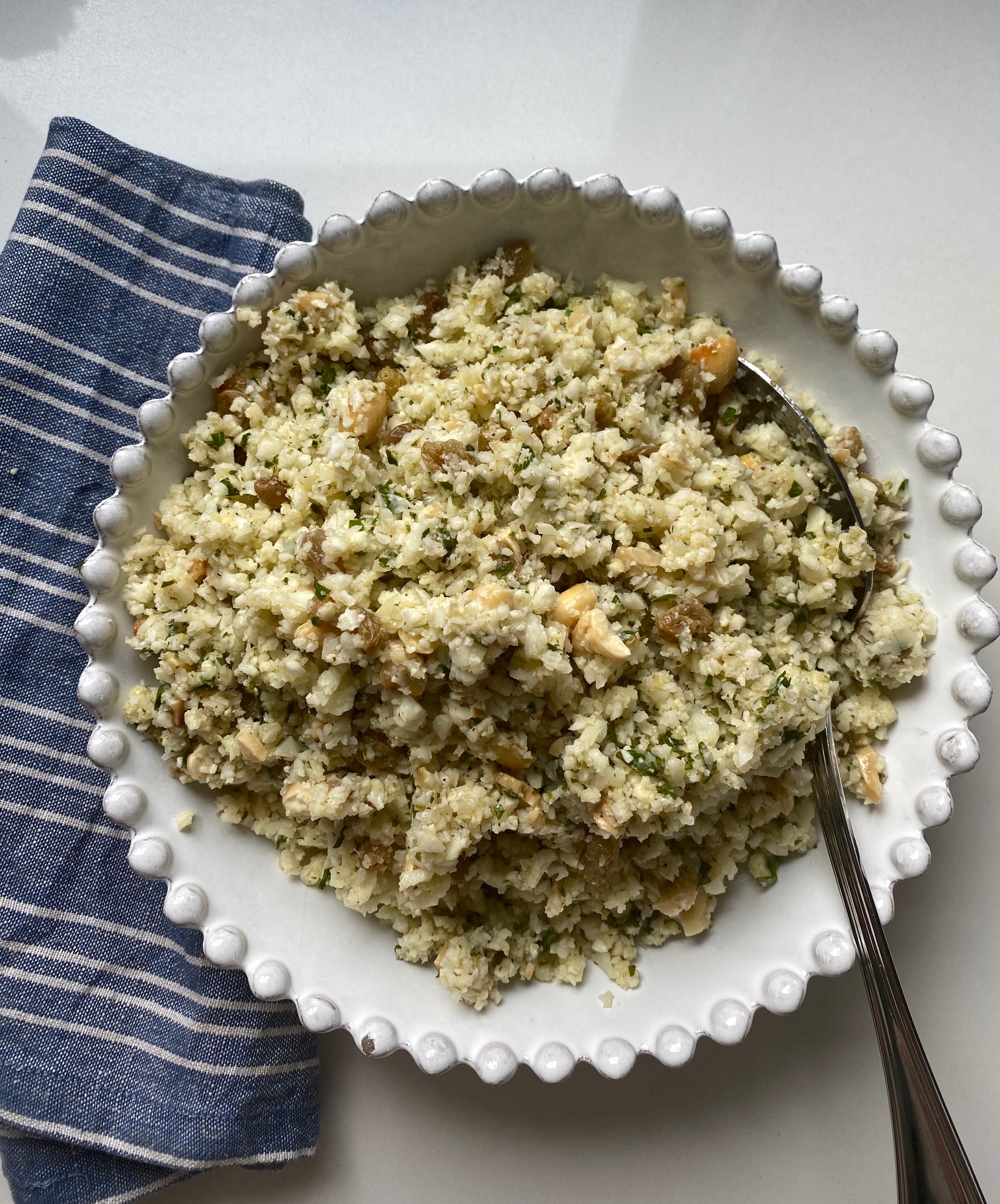 My sister-in-law gave me this recipe a couple months back and I have made it several times.  Originally from Food 52 by Queen Sashy, this "Spice Merchant Cauliflower Couscous" is a must.  It is healthy, nutrient-packed and bursting with flavor.  Riced cauliflower with touch of cumin and za'atar, a touch of lemon, garlic and olive oil and some sweet yellow raisins and crunch roasted cashews.  Make sure to make extra so you can enjoy all week. It goes excellently with THB za'atar chicken.
Spice Merchant Cauliflower Couscous
Aunt Margi's Cauliflower Couscous
Author:
Originally "Spice Merchant Cauliflower Couscous: By Queen Sashy from Food 52
Ingredients
1 large cauliflower (about 1 ½ pound of cauliflower florets)
5 ounces raw cashewnuts
3 ounces sultanas (gold raisins)
5 tablespoons olive oil
4 tablespoons lemon juice
2 tablespoons minced parsley
½ teaspoon za'atar
½ teaspoon cumin
1 garlic clove, crushed
¼ teaspoon finely shredded lemon zest
Salt and freshly ground pepper
Instructions
Place the sultanas in a bowl and pour warm water over them. Leave the sultanas for about 15 minutes, until plump. Drain and discard the water.
Heat a cast iron skillet over medium heat. Reduce the heat to medium low, add the cashewnuts and toast them for about 8 minutes, until lightly golden and gently charred. Stir frequently to make sure that cashewnuts do not burn. Let the cashewnuts cool. Cut the half of the cashewnuts into smaller pieces (or simply crush them with your hands).
Break the cauliflower into florets, making sure to leave behind as much of the stem as possible. Chop the florets into smaller pieces. Transfer the cauliflower into food processor in batches, and pulse until the pieces are finely chopped and resemble couscous. Be careful not to over-process.
In a large sauté pan, heat three tablespoons of olive oil over medium heat. Add the cauliflower couscous to the pan and cook for about 7 minutes, stirring frequently.
Remove the couscous from the heat and let it cool. Add the sultanas, cashewnuts, za'atar, cumin, parsley, garlic, lemon zest, lemon juice, and the remaining two tablespoons of olive oil. Season with salt and pepper.
Leave the couscous for about 15 minutes for the flavors to combine. Serve at room temperature.