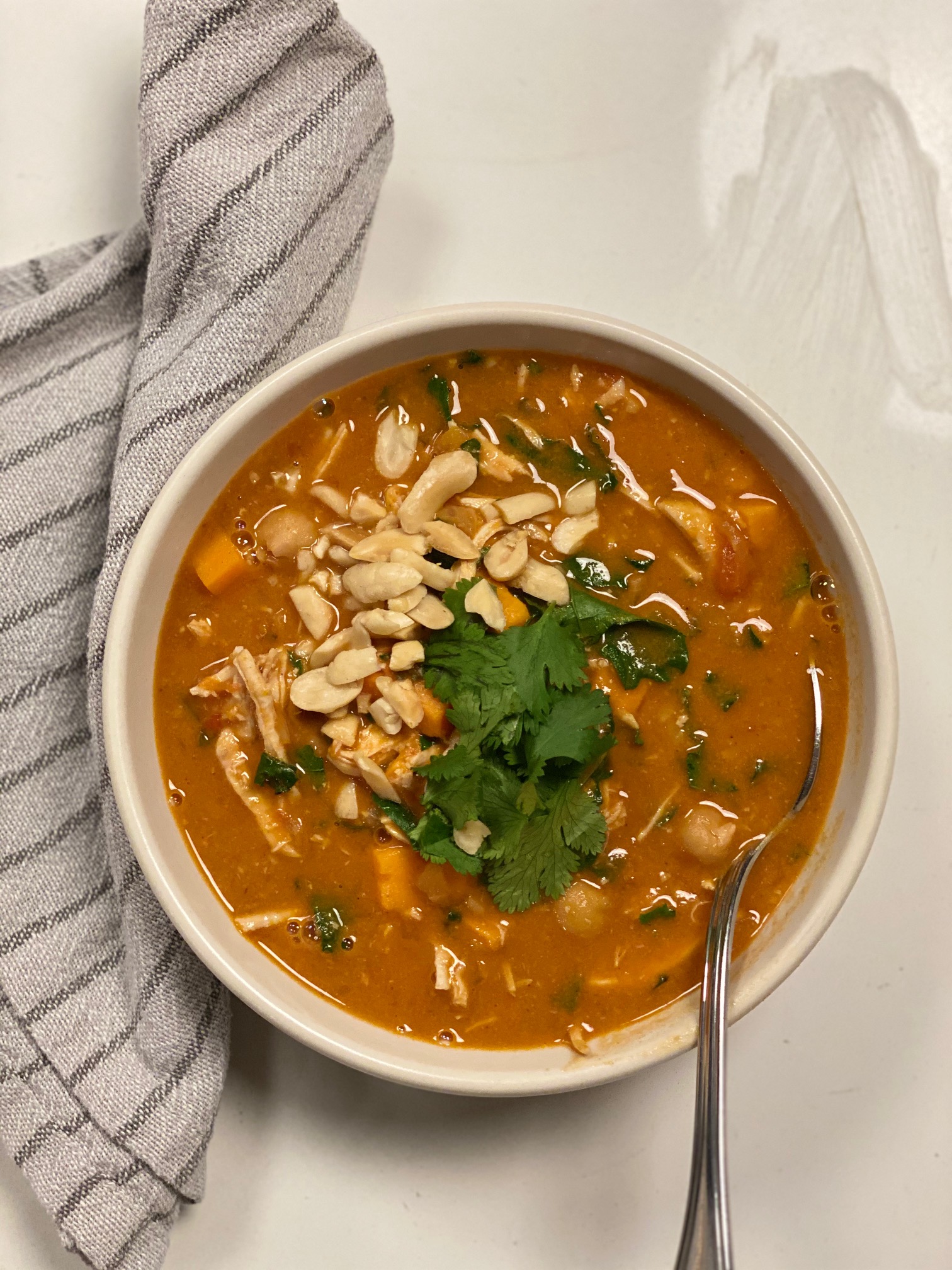 I made this soup last night and it is AMAZING.  I originally found the recipe on "The Modern Proper" and it was pretty much spot on.  I just decreased the amount on peanut butter, but feel feel to add a whole cup if you want it super creamy.  And, make sure you use natural peanut butter with only just one or two ingredients: peanuts, and (maybe) salt.  For the chicken, I put two boneless, skinless chicken breasts in a shallow pot, covered with cold water until fully submerged, brought to a boil, reduced to a simmer, covered and cooked for 10 minutes.  I them let them cool and then shredded.  Feel free to omit the chicken to make a yummy vegan soup.  Enjoy!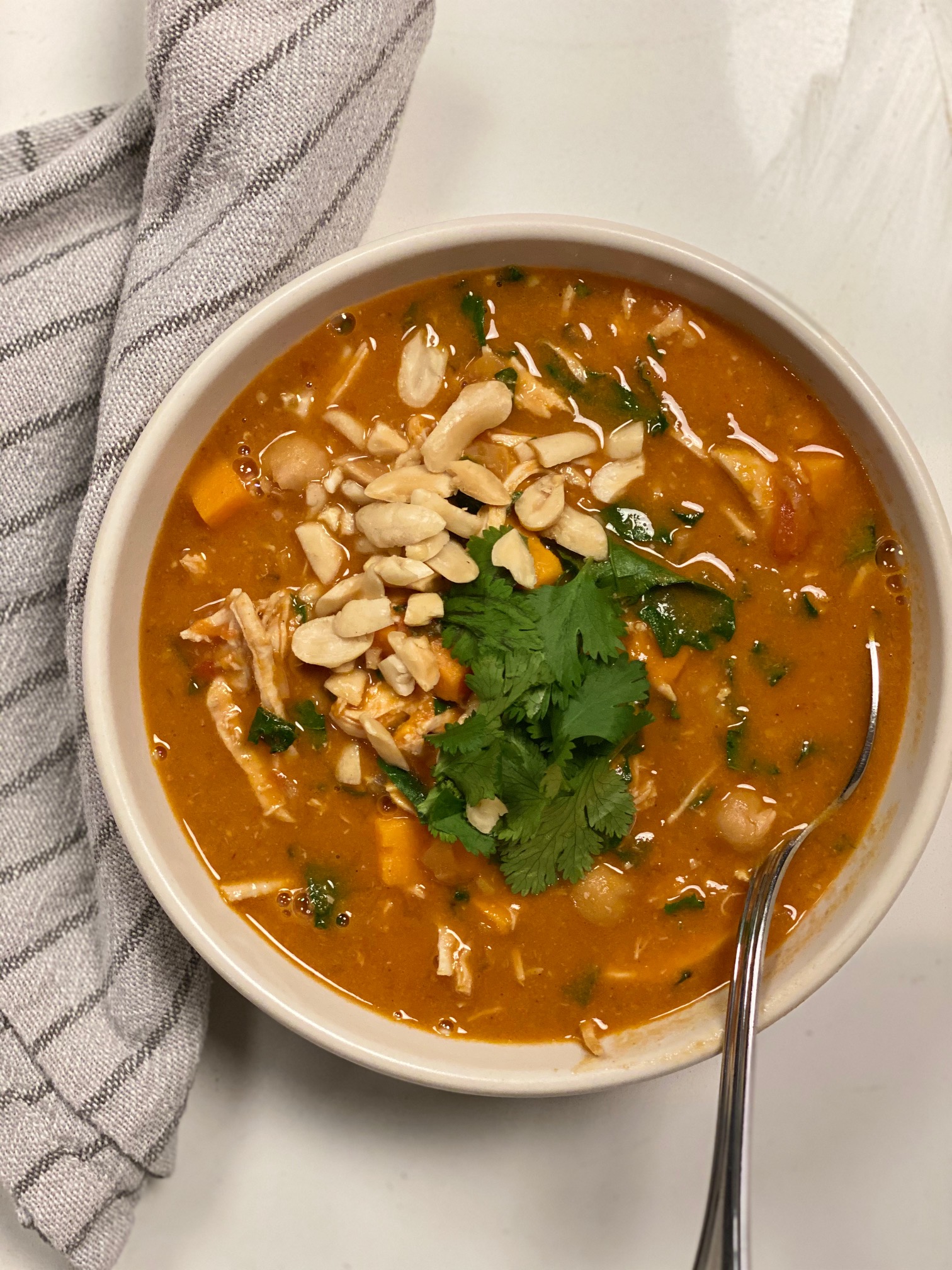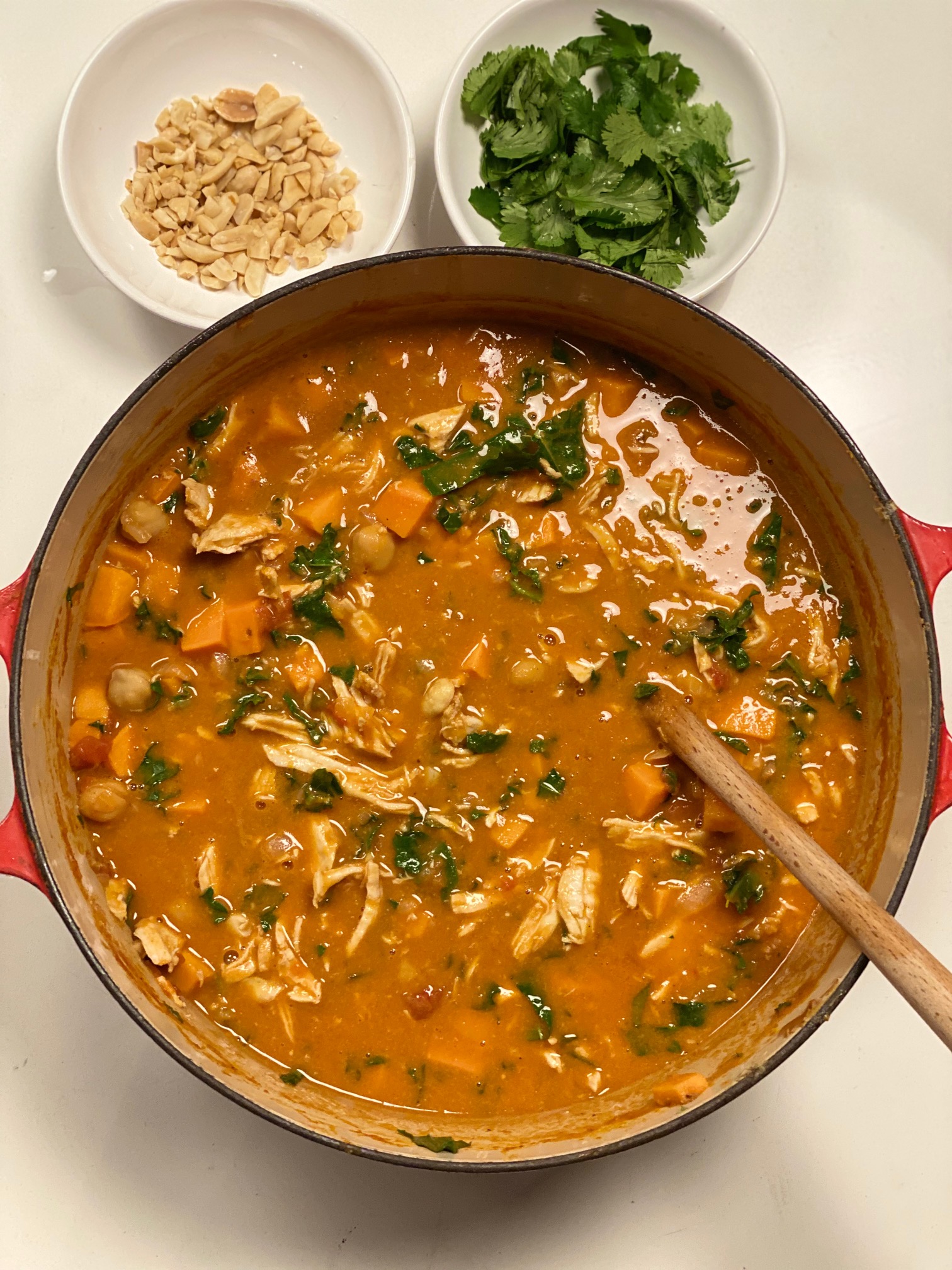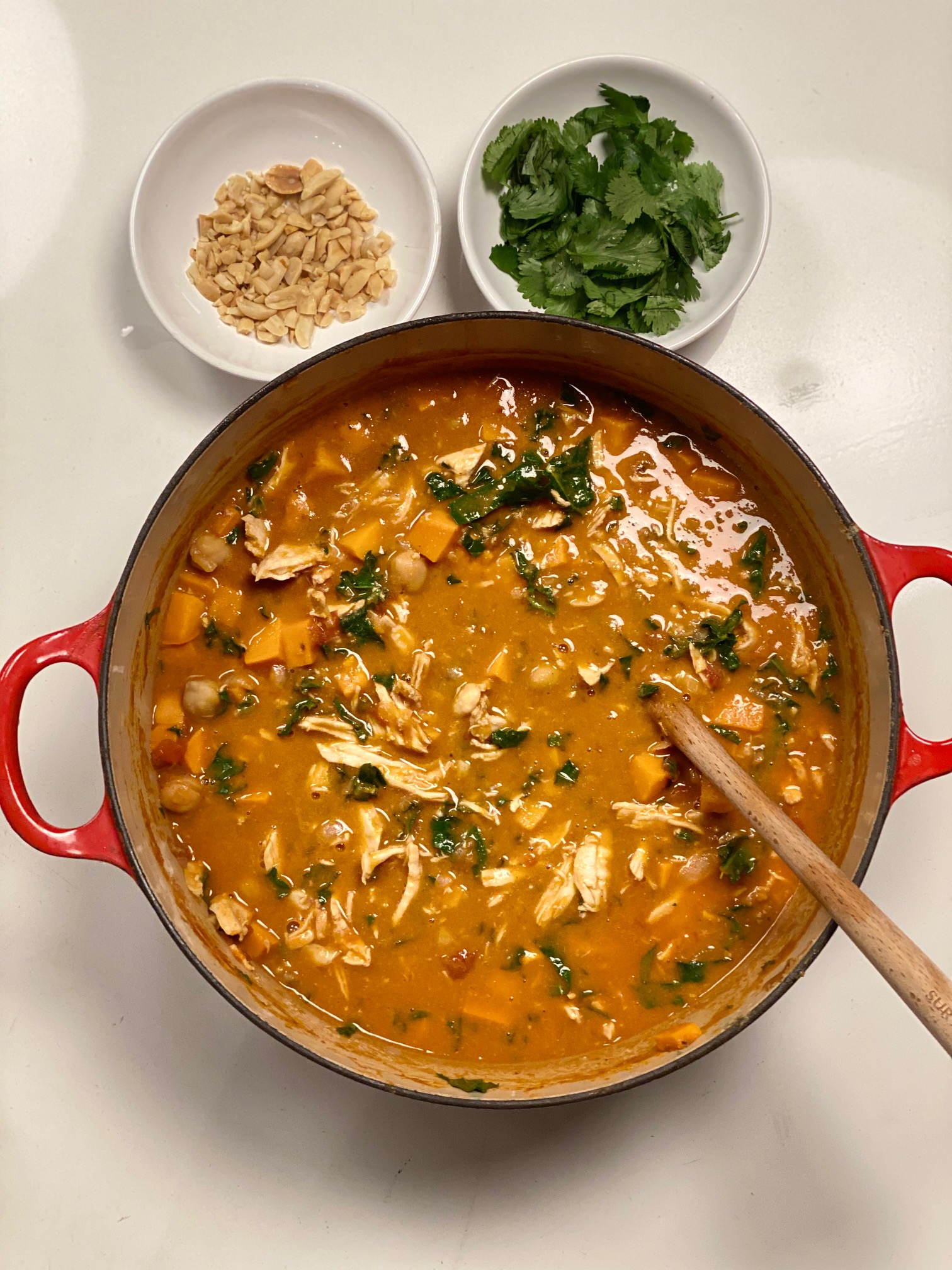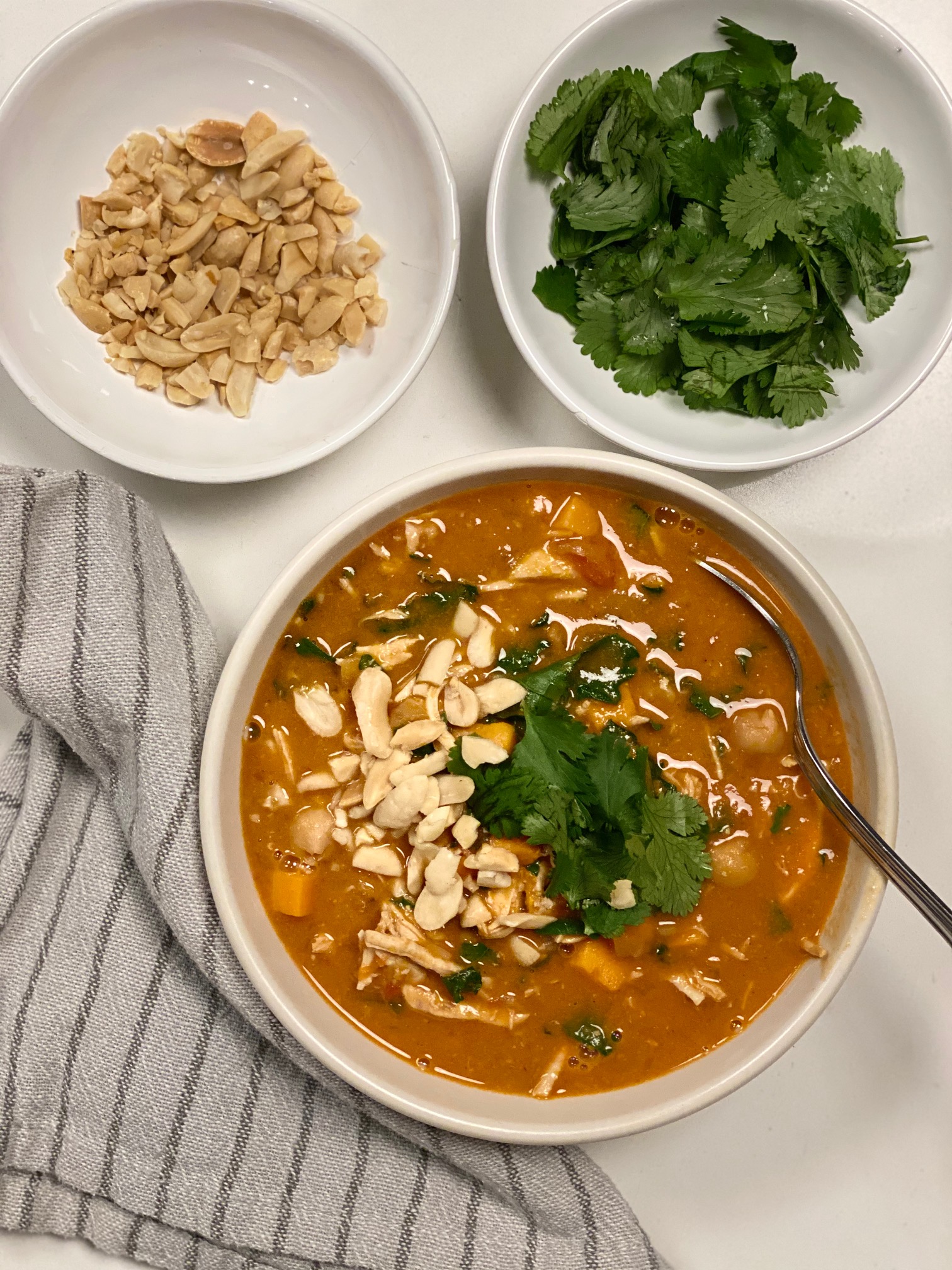 African Peanut Soup
Ingredients
2 tbsp olive oil
1 medium onion, chopped (1 cup)
1 tbsp ginger, minced
1 jalapeño, seeds and ribs removed, diced
4 garlic cloves, minced (1 tbsp)
½ tsp pepper
1 tsp salt
2 tsp cumin
2 tbsp tomato paste
1 (14oz) can crushed tomatoes
4 cups chicken stock
1 sweet potato, peeled and diced
1 can chickpeas, drained
½ cup creamy natural peanut butter
4 cups kale, de-ribbed and roughly chopped
1.5 lbs chicken, poached or rotisserie, shredded
peanuts, crushed for garnish
cilantro, chopped (optional) for garnish
Instructions
In a large pot heat olive oil over medium heat. Add onions and sauté until softened, about 3-4 minutes.
Add in ginger, jalapeno and garlic and stir until fragrant about 1 min. Add the pepper, cumin and tomato paste and cook for another 2 minutes, stirring, until paste darkens.
Add the crushed tomatoes, stock, sweet potatoes, chickpeas and peanut butter. Bring to a boil and stir until fully combined. Turn the heat down to low and simmer for 15 minutes, until sweet potatoes are tender.
Add kale and shredded chicken and cook for another 5 minutes. Taste the soup before adding salt. Depending on how salty your stock and/or peanut butter was, it may not need anymore salt. If you use low sodium stock and salt-free peanut butter, it will need a full teaspoon salt, maybe more. Adjust to your own liking.
Serve warm topped with cilantro and crushed peanuts.