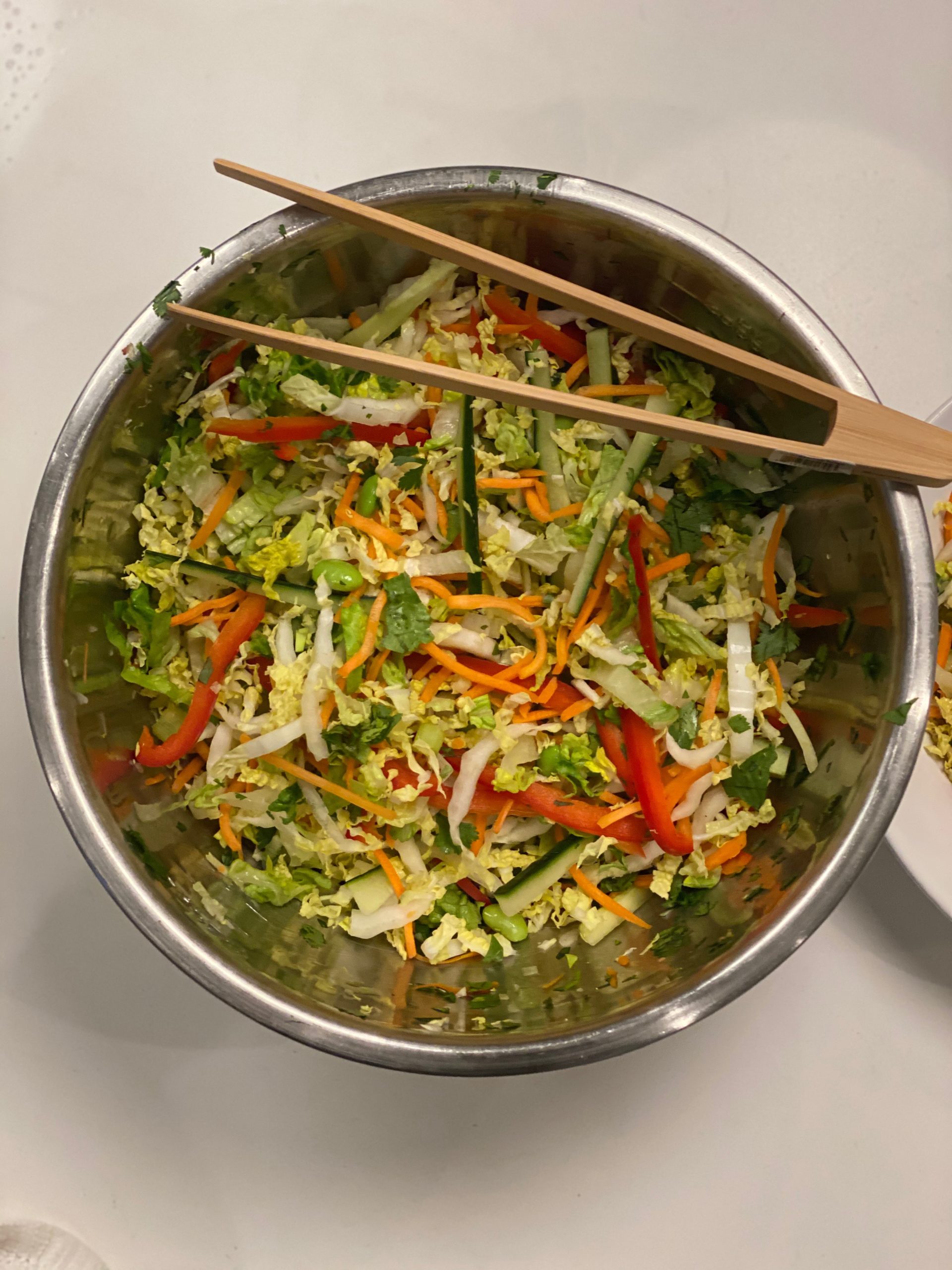 Jennifer Segal nailed it with this one.  I made this Thai Crunch Salad on Monday and I have literally been eating it all week.  It is refreshing and crunchy and the peanut sauce is the one of the best I have ever had.  The recipe can easily be made gluten-free by using tamari in place of soy sauce and it can be made vegan by omitting the fish sauce.  The recipe yields a lot of extra dressing, so store it in a jar and you can use as a dip.  The salad keeps for a few days in the fridge without dressing.  I served it with chicken satay (https://www.threehungryboys.com/2019/01/24/chicken-satay-with-peanut-sauce/) which you can use the extra peanut sauce.  Enjoy!
Thai Crunch Salad with Peanut Dressing
Ingredients
For the Dressing:
¼ cup creamy peanut butter
2 tablespoons unseasoned rice vinegar
2 tablespoons fresh lime juice, from one lime
3 tablespoons vegetable oil
1 tablespoon soy sauce (use gluten-free if needed)
2 tablespoons honey
2-1/2 tablespoons sugar
2 garlic cloves, roughly chopped
1-inch square piece fresh ginger, peeled and roughly chopped
1 teaspoon salt
¼ teaspoon crushed red pepper flakes
For the Salad
4 cups chopped Napa cabbage or shredded coleslaw mix (I like to toss in a little shredded red cabbage for color)
1 cup prepared shredded carrots
1 red bell pepper, thinly sliced into bite-sized pieces
1 small English cucumber, halved lengthwise, seeded and thinly sliced OR Sugar snap peas, thinly sliced
1 cup cooked and shelled edamame
4 medium scallions, thinly sliced
½ cup loosely packed chopped fresh cilantro
Instructions
For the dressing, combine all of the ingredients in a blender and process until completely smooth. Refrigerate until ready to serve. This recipe yields a lot of extra dressing!
For the salad, combine all of the ingredients in a large bowl and toss to combine. If serving right away, drizzle desired amount of the peanut dressing over top and toss; otherwise, serve the dressing on the side so the salad doesn't get soggy.