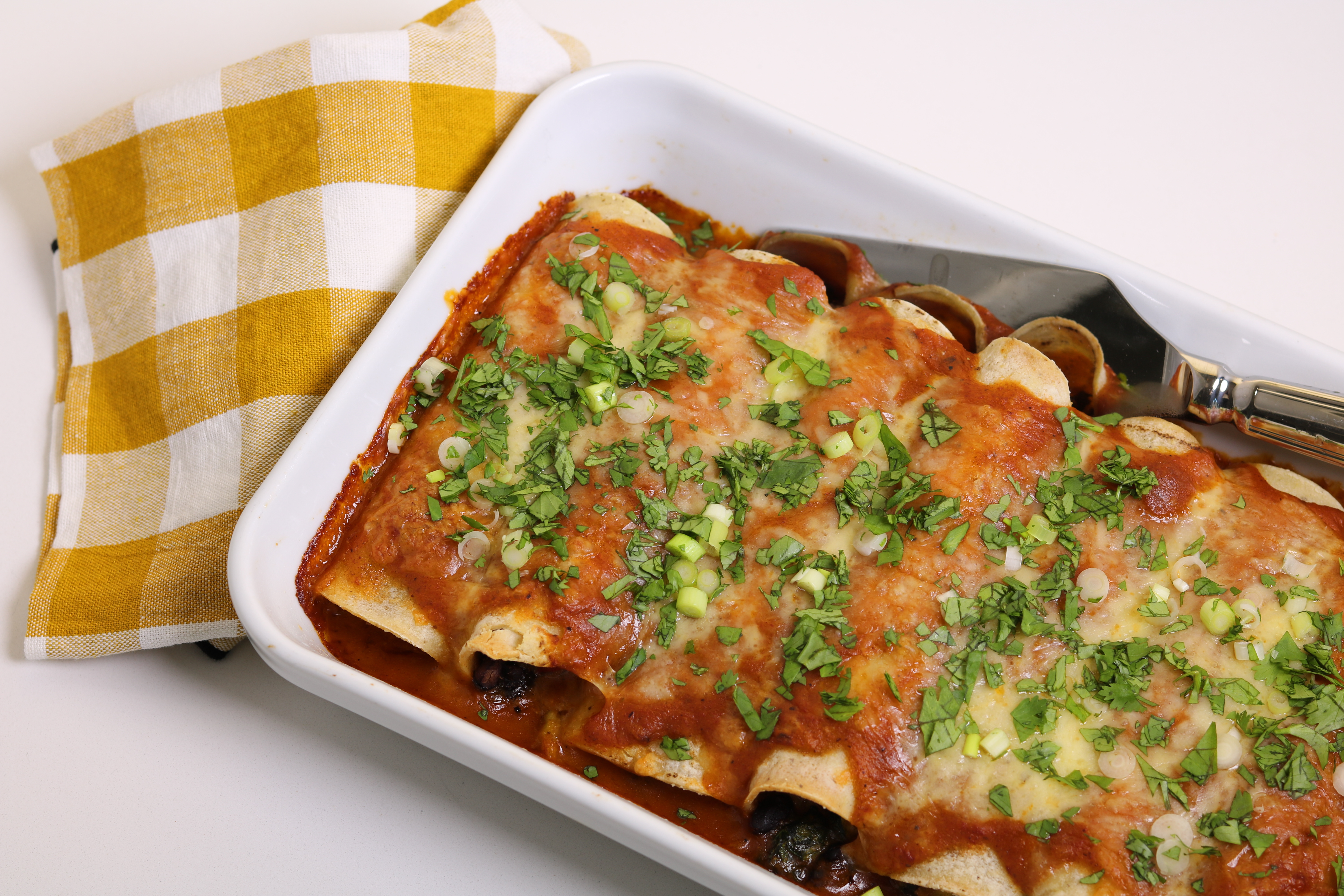 Do you know that I happen to LOVE enchiladas?  Not only are they delicious, they are just about the best make-ahead meal there is.  I make them in the morning, stick them in the fridge and pop them in the oven when dinnertime rolls around and viola, dinner is done and your kitchen is clean! These chicken enchiladas with Cookie and Kate's super easy enchilada sauce is one of our families favorites.  It is light and healthy and super flavorful.  I highly recommend making the chicken if you have time, but if not,  just shred up some rotisserie chicken.  You can also skip the chicken and just do sautéed veggies.  Enjoy!
Chicken Enchiladas
Ingredients
Cookie and Kate homemade enchilada sauce:
3 tablespoons olive oil
3 tablespoons flour (whole wheat flour, all-purpose flour, or gluten-free flour blends all work!)
1 tablespoon ground chili powder (scale back if you're sensitive to spice or using particularly spicy chili powder)
1 teaspoon ground cumin
½ teaspoon garlic powder
¼ teaspoon dried oregano
¼ teaspoon salt, to taste
2 tablespoons tomato paste
2 cups vegetable broth
1 teaspoon apple cider vinegar or distilled white vinegar
Freshly ground black pepper, to taste
Enchiladas:
1.5 pounds boneless skinless chicken breast
2 tablespoons olive oil
½ teaspoon salt
Freshly ground black pepper, to taste
1 teaspoon Ground Cumin
1 teaspoon chili powder
1 can (15 ounces) black beans, drained and rinsed, or 1 ½ cups cooked black beans
1 cup shredded Monterey Jack cheese, divided
Freshly ground black pepper, to taste
8 tortillas (about 8" in diameter, if using corn, make sure to heat in foil in 350 degree oven for 15 min to prevent breaking)
Handful of chopped cilantro, for garnishing
Instructions
NSTRUCTIONS
Preheat oven to 400 degrees. line a baking sheet with foil and coat with cooking spray or oil.
To make the sauce measure the dry ingredients (the flour, chili powder, cumin, garlic powder, oregano, and salt) into a small bowl and place it near the stove. Place the tomato paste and broth near the stove as well.
Heat oil in a medium-sized pot over medium heat until shimmering, pour in the flour and spice mixture. While whisking constantly, cook until fragrant and slightly deepened in color, about 1 minute. Whisk the tomato paste into the mixture, then slowly pour in the broth while whisking constantly to remove any lumps.
Raise heat to medium-high and bring the mixture to a simmer, then reduce heat as necessary to maintain a gentle simmer. Cook, whisking often, for about 5 to 7 minutes, until the sauce has thickened a bit and a spoon encounters some resistance as you stir it. (The sauce will thicken some more as it cools.)
Remove from heat, then whisk in the vinegar and season to taste with a generous amount of freshly ground black pepper. Set aside.
Meanwhile, prepare the chicken for the enchiladas. You can always skip this step and use any shredded chicken.
Mix olive oil, chili powder, cumin, salt and pepper in a small bowl. Pour mixture over chicken, coat well, and place on prepared baking sheet. Cook in heated oven until chicken is cooked through, about 20 minutes. Set aside to cool and lower oven temperature to 350.
When chicken is cool enough to handle, finely chop or shred and put in large bowl. Add the drained, rinsed beans, ½ cup cheese and about ¼ tablespoons of enchilada sauce. Taste and adjust seasonings.
Assemble the enchiladas: Pour ¼ cup enchilada sauce into your prepared pan and spread until the bottom of the pan is evenly coated. To assemble your first enchilada, spread ¼-1/2 cup filling mixture (depending on size of tortilla) down the middle of a tortilla, then snugly wrap the left side over and then the right, to make a wrap. Place it seam side down against the edge of your pan. Repeat with remaining tortillas and filling.
Drizzle the remaining enchilada sauce evenly over the enchiladas, leaving the tips of the enchiladas bare. Sprinkle the remaining shredded cheese evenly over the enchiladas.
Bake, uncovered in the 350 degree oven, on the middle rack for 20 minutes, until cheese is bubble and golden.
Remove from oven and let the enchiladas rest for 10 minutes (they're super hot!). Before serving, sprinkle chopped cilantro down the center of the enchiladas. Serve immediately.