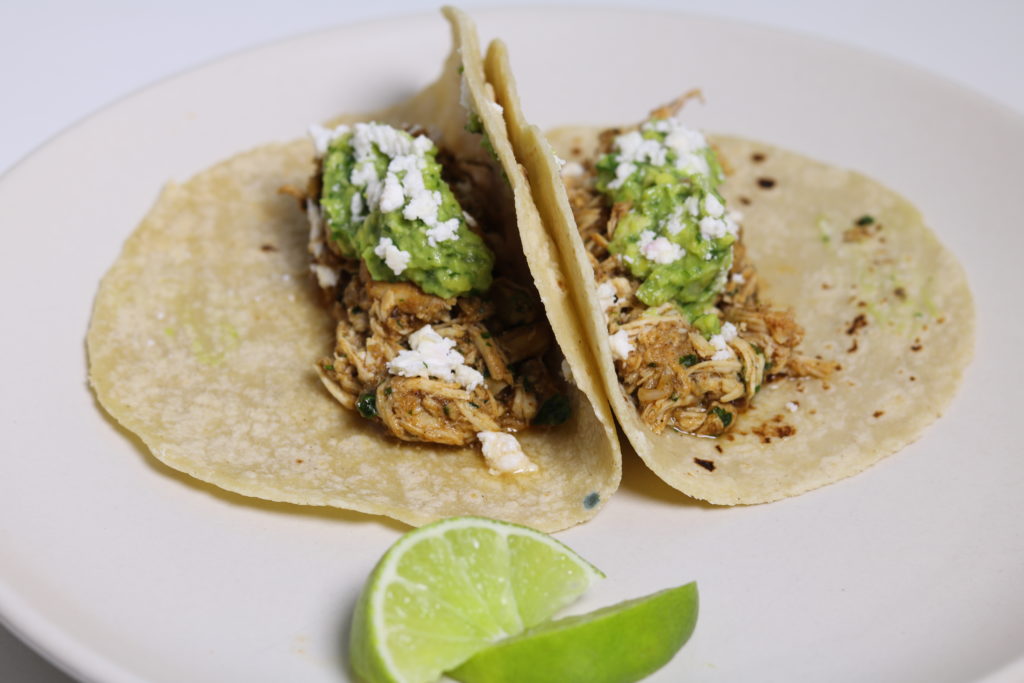 These crazy easy Mexican shredded chicken tacos are a true family favorite.  I easily make them once a week and they're healthy, hearty, and always satisfying.  Just dump everything in the crockpot, let it cook all day and come dinnertime, you have the most flavorful, juicy Mexican pulled chicken.  Make traditional tacos by serving it with soft corn tortillas or hard shells and top with guacamole and cheese.  Or, I like to make some Mexican bowls by putting the shredded chicken on top of a bed of rice and beans and topping with guacamole.  Enjoy!
Slow Cooker Chicken Tacos
Ingredients
2 tablespoons olive oil
1 onion, minced
1 tablespoon chili powder
1 teaspoon ground cumin
½ teaspoon dried oregano
1 teaspoon salt
1 tablespoon tomato paste
1 cup chicken broth
3 boneless, skinless chicken breasts (about 1½ pounds)
2 tablespoons chopped cilantro
tortillas, lime, queso fresco and guacamole for serving
Instructions
Heat olive oil in a large skillet over medium heat.
Add the onion and saute until soft and translucent, about 5 minutes.
Add the spices, salt and tomato paste and stir to mix.
Add the chicken stock and simmer for 5 more minutes.
Place the chicken breasts in the bottom of a slow cooker and pour onion mixture on top.
Cook on high for 4 hours.
When done, remove the chicken breasts, let cool, shred chicken and return to slow cooker.
Add the chopped cilantro and keep warm.
Serve on warm tortillas with guacamole, queso fresca and lime wedges.