The delicious, sweet teriyaki sauce and the (kind of) hidden veggies in this Teriyaki Turkey Rice Bowl makes this a healthy ground turkey recipe that your whole family will love.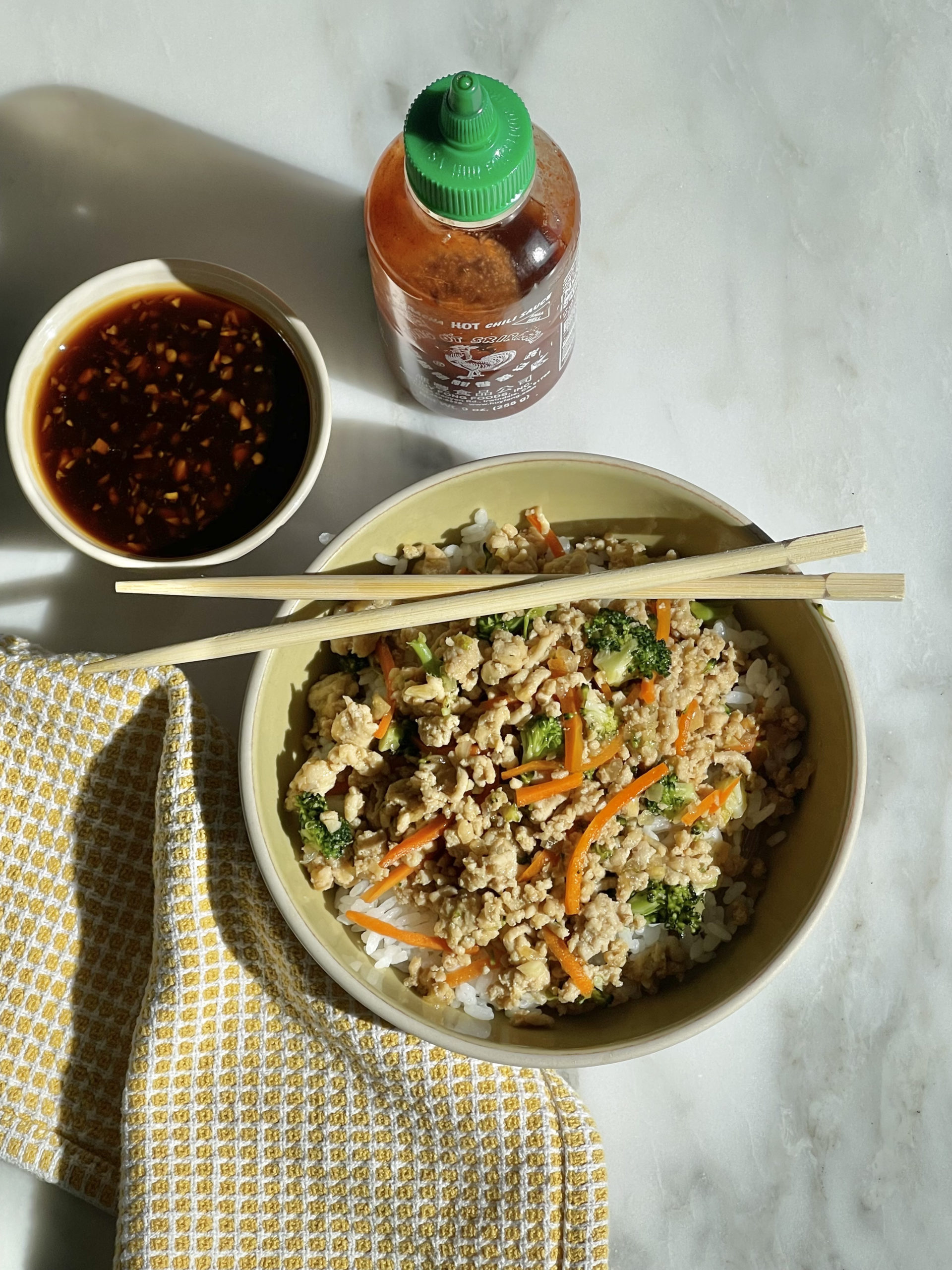 Teriyaki Turkey and Vegetable Rice Bowls
Author:
slightly adapted from Yellow bliss road
Ingredients
Teriyaki Sauce
½ cup Low Sodium Soy Sauce or Tamari (gluten-free)
¼ cup water
1 tablespoons rice wine vinegar
2 tablespoons brown sugar or less as desired
2 tablespoons honey
2 teaspoons minced garlic
2 teaspoon peeled and grated ginger
1 tablespoon cornstarch
2 tablespoons warm water
Ground Turkey
1 tablespoon vegetable oil
½ cup diced onion
1 tablespoon minced garlic
1 pound ground turkey or ground chicken
1 cup finely chopped broccoli
2 large carrots peeled and grated
2 green onions diced, for garnish
4 cups cooked white or brown rice divided
Instructions
Mix soy sauce, ¼ cup water, vinegar, sugar, honey, garlic and ginger in a small saucepan over medium heat. Stir with a whisk until sugar is dissolved.
In a small bowl, whisk together 2 tablespoons warm water and cornstarch until cornstarch is completely dissolved.
Heat sauce over medium high heat. Slowly whisk in cornstarch mixture and simmer until thickened. Remove from heat and set aside.
Heat vegetable oil in a large skillet over medium-high heat. Add diced onions and cook until soft.
Crumble ground turkey and garlic into the pan and cook until turkey is about half cooked. Add grated carrots and chopped broccoli and continue to cook until turkey is no longer pink.
Pour half of the teriyaki sauce over cooked turkey and vegetable mixture and stir. Simmer for about five minutes to combine the flavors.
Spoon meat over rice or noodles and serve with left over sauce. Garnish with green onions and serve immediately.