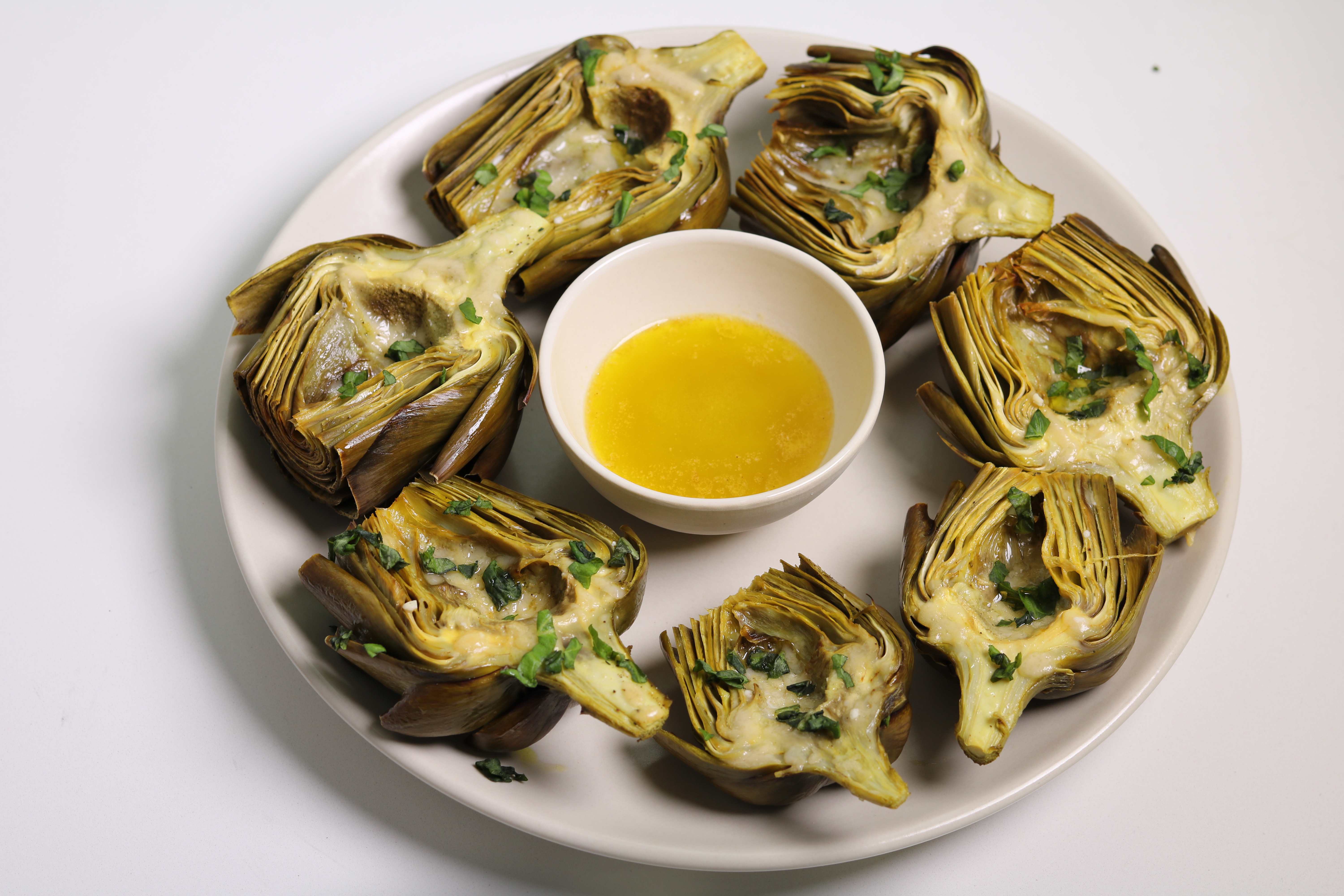 Growing up I wasn't a huge fan of artichokes.  They frequently appeared at our dinner table, usually steamed, served cold with mayo on the side.  It seemed silly to me to scrape such little meat off each leaf and I could never figure out the how to eat the heart.  Plus, I can't stand plain mayonnaise.  It wasn't until my adult years when I learned to love this complicated little vegetable.  Yes, they are still high-maintenance, but undoubtedly delicious when prepared correctly.  And this means WARM and definitely not with mayo.  One of my favorite ways to eat artichokes is to simply roast them with lemon, olive oil, garlic, parmesan, and basil.  I like to prepare them and pop them in the oven for an hour while I make the rest of my dinner.   They sure make a beautiful presentation too.  Enjoy!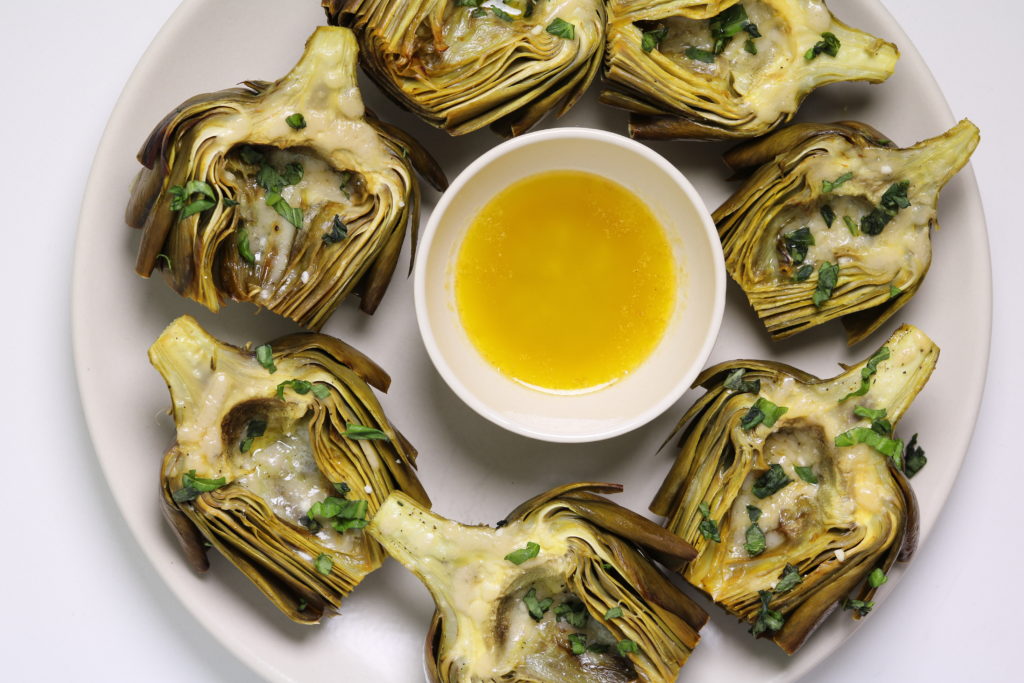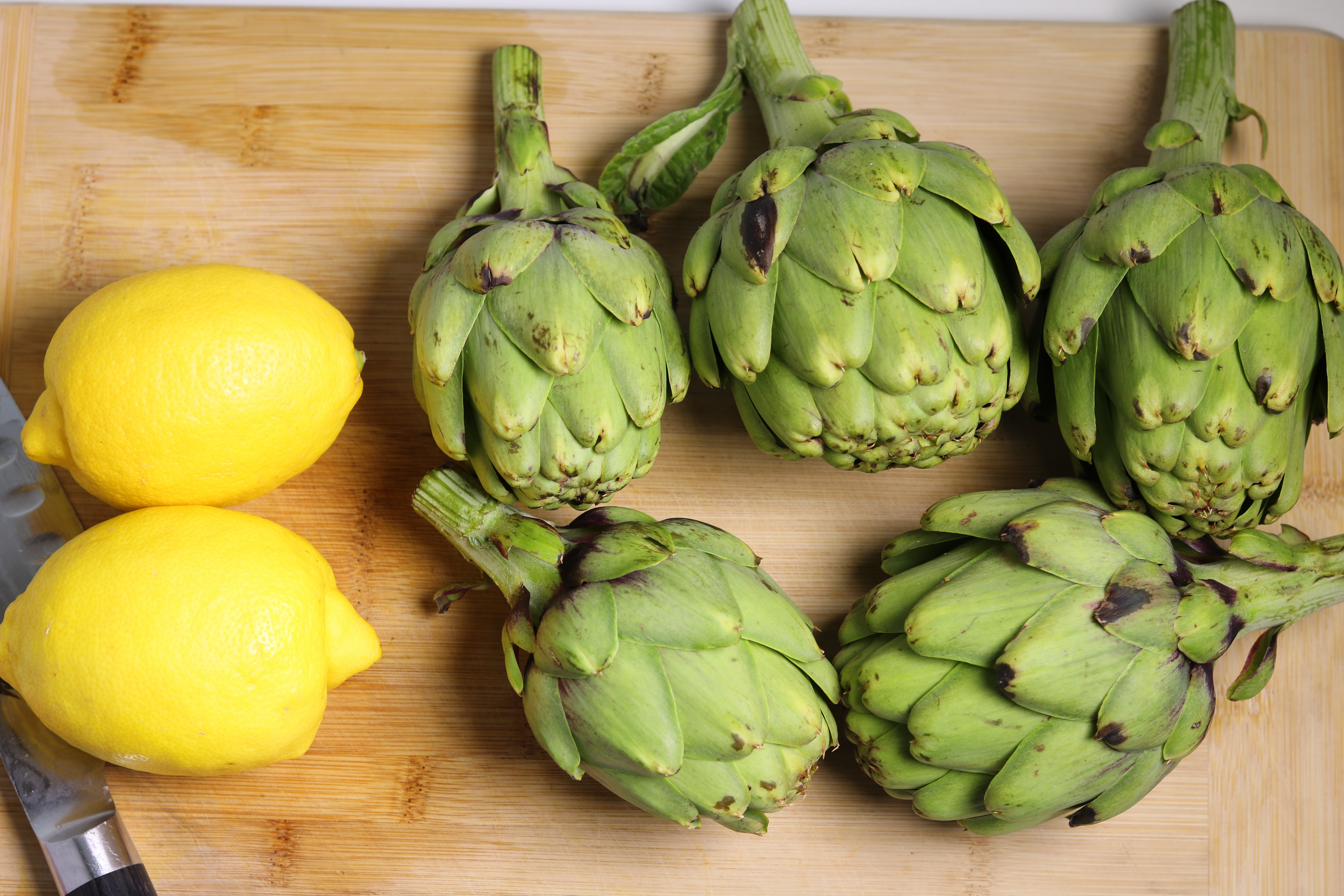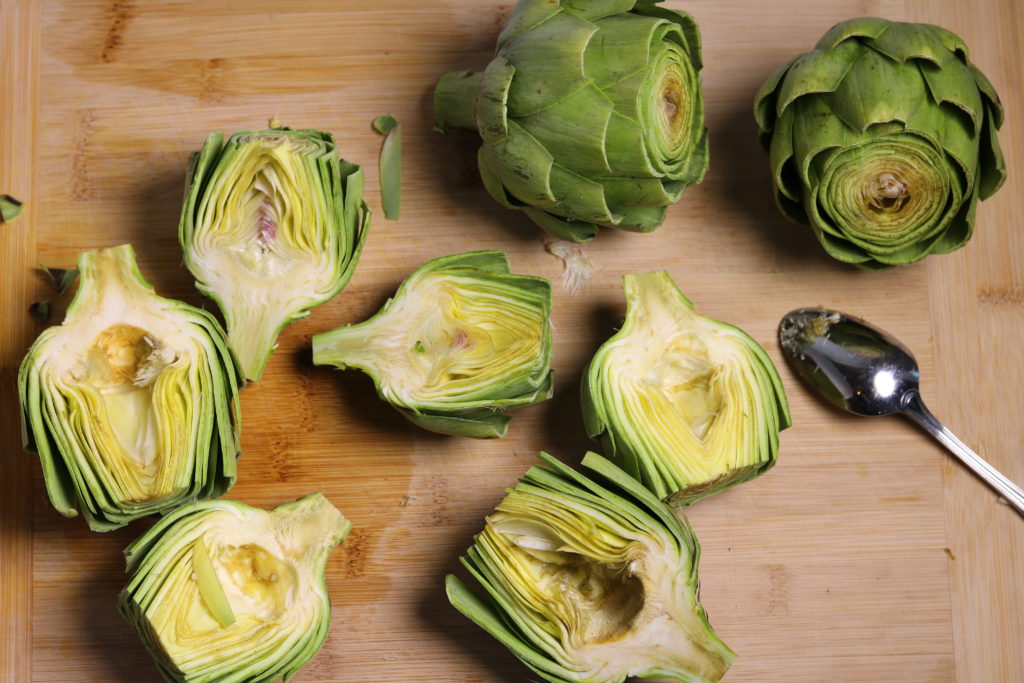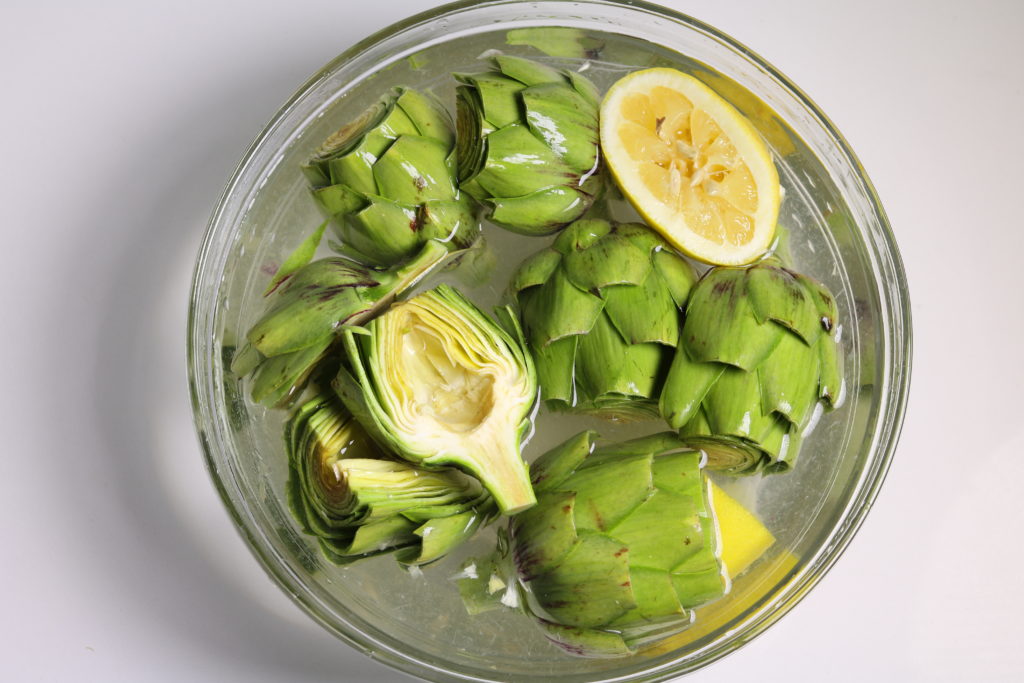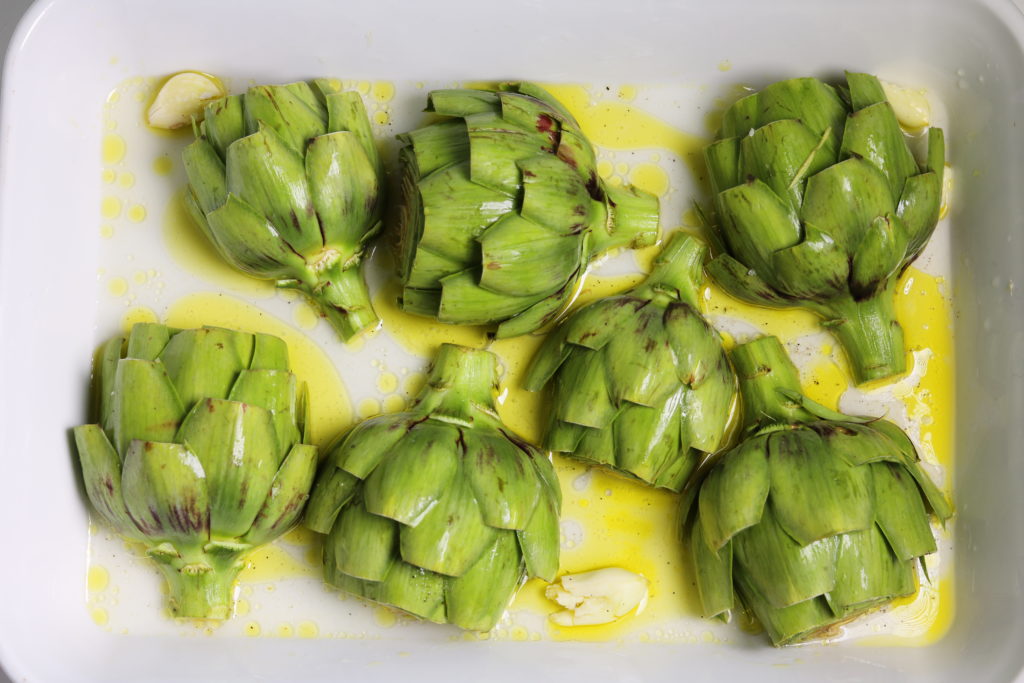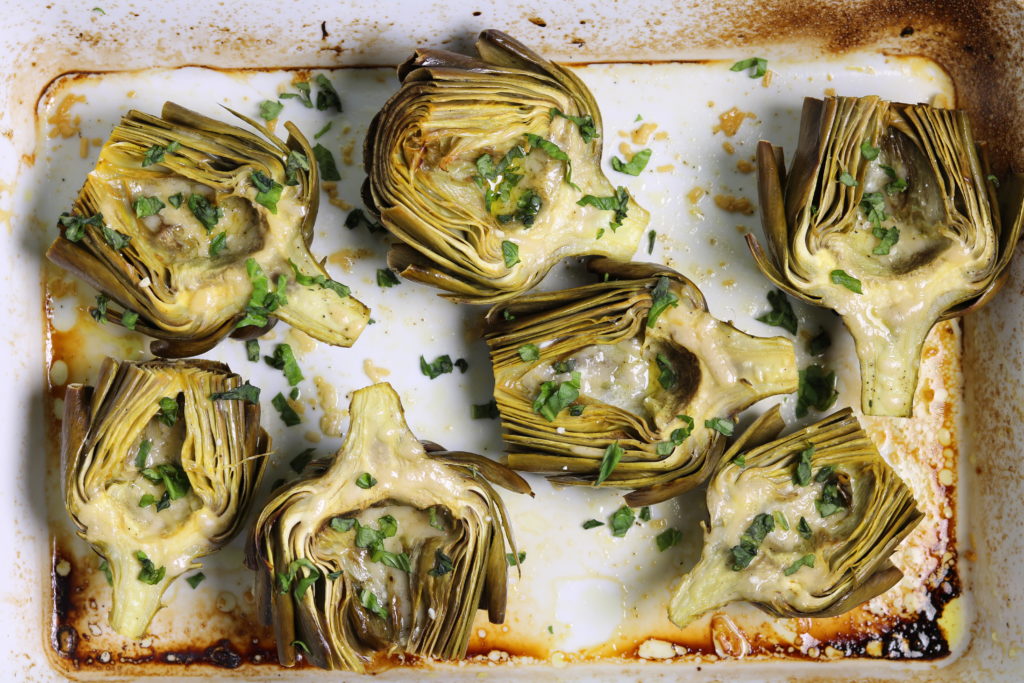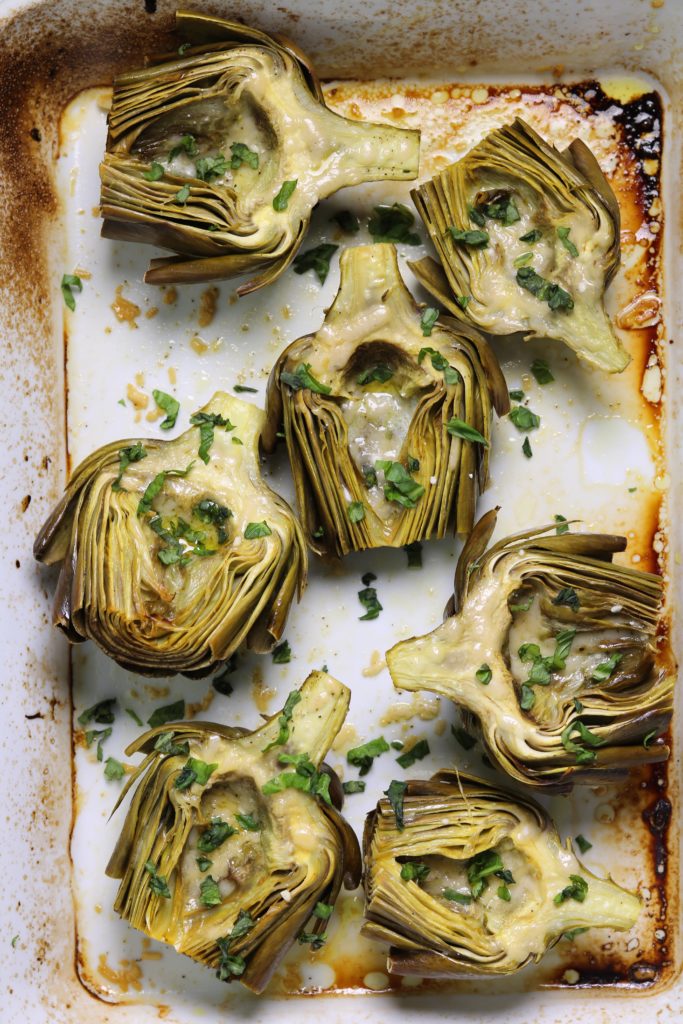 Roasted Artichokes with Parmesan and Basil
Ingredients
2 lemons
3 large globe artichokes, halved and trimmed and chokes removed
juice from 1 lemon
½ teaspoon salt
fresh ground pepper
3 cloves garlic, smashed
2 tablespoons olive oil plus more for drizzling
2 tablespoons Parmesan, grated
2 tablespoons Butter
1 tablespoon chopped basil
Instructions
Pre-heat oven to 375 degrees.
Squeeze 1 lemon into a large bowl of cold water and set aside.
Prepare the artichokes: trim any dry stem end from the bottom of the artichoke, trim approximately 1 inch from the top of each artichoke, Remove tough outer leaves from the bottom of the artichoke, trim the tips of each leaf, cut the artichoke in half from top to bottom and Scoop the fuzzy choke from the center of each artichoke.
Rub lemon juice all over the exposed area of the artichoke and place them in the bowl of lemon water.
In a baking dish add the lemon juice, olive oil, and garlic. remove the artichokes from the water and Season the inside with salt and black pepper. Place the artichoke halves cut-side down in the baking dish and drizzle with olive oil and sprinkle with salt and pepper. Cover baking dish with foil and place in the oven to roast for 30 minutes.
Remove and turn artichoke halves over so cut side is up. Divide butter and parmesan evenly between the cut artichokes. Cover with tin foil and place back in the oven for another 30 minutes. In the last 15 minutes remove the foil and roast the artichokes uncovered. If the leaves pull away from the artichoke easy the artichokes are done
Remove artichokes to a plate and melt in 2 tablespoons of butter into the garlic mixture in the bottom of the baking dish. Serve the sauce with the artichokes and garnish with basil.