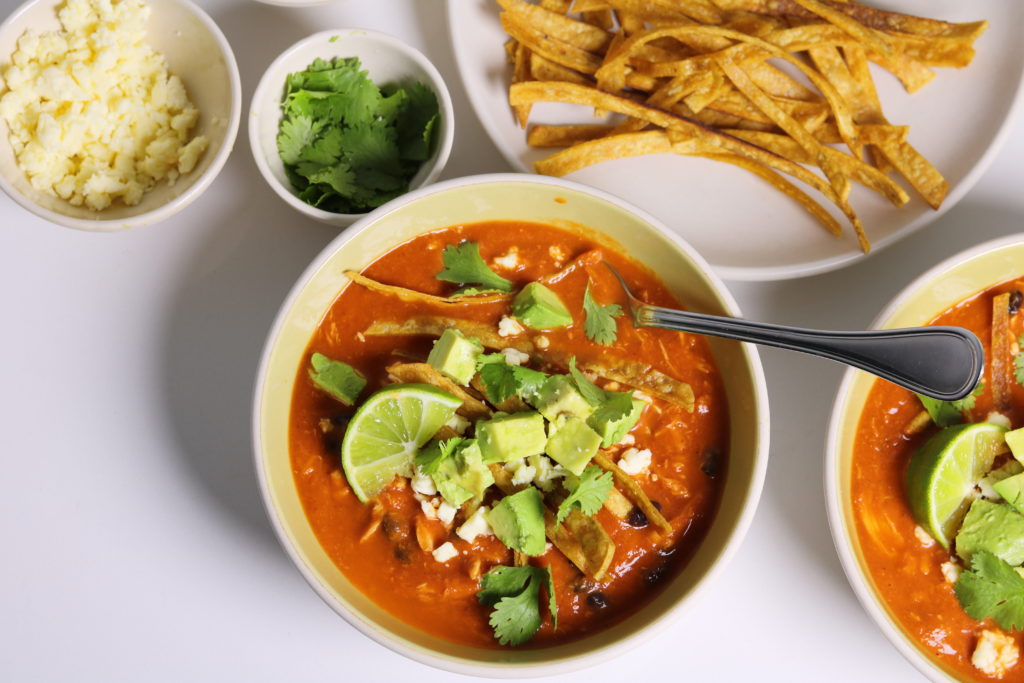 This chicken tortilla soup is hearty, warm and completely satisfying.  You are going to love this easy, incredibly flavorful recipe.  It has everything you want in one bowl: slightly spicy broth, tender chicken, black beans, juicy tomatoes, creamy avocado, and addictively good tortilla strips on top.  Truly the perfect meal!  The boys love it too, especially because I put all the garnishes in little bowls and let them serve themselves.  This ultimately leads to lots of tortilla strips and cheese with a little soup, but who care when they are eating and having fun.  Enjoy!
Chicken Tortilla Soup
Ingredients
1 dried ancho chili
4 corn tortillas, sliced into ⅛ inch strips
¼ cup plus 2 tablespoons vegetable oil, divided
1 yellow onion, roughly chopped
3 garlic cloves, roughly chopped
1 chipotle chili in adobo plus 2 teaspoons sauce or ¼ tsp chipotle powder
½ teaspoon cumin
½ teaspoon oregano
½ teaspoon salt
3 boneless, skinless chicken breasts
1 14.5 ounce can diced tomatoes
4 cups chicken stock
1-15 ounce can black beans
Juice from ½ a lime
Garnishes: cilantro, queso fresco, diced avocado
Instructions
Soak ancho chili in boiling water and set aside.
Meanwhile, heat 2 tablespoons of oil in a large frying pan over high heat.
Working in batches, add tortilla strips and fry until crispy, about 3 minutes. Remove to a paper towel to drain.
Heat remaining 2 tablespoons of oil in a large soup pot over medium heat. Add onion and garlic and saute until soft and translucent, about 5 minutes.
Add chipotle and sauce, cumin, oregano and salt and cook for another two minutes. Remove stem and seeds from soaked ancho chili (being careful as the seeds can burn your skin) and add to the pot.
Add chicken, tomatoes and their juice, stock and bring to a boil. Reduce to a simmer and cook for 25 minutes.
Remove chicken from the pot, let cool and shred it using hands 2 forks. Add shredded chicken back to the soup and simmer another 5 minutes
Remove from heat and let cool.
Transfer to a high powered blender or Vitamix and blend until smooth.
Return soup to a clean pot and add chicken and beans and the juice of half of a lime. Adjust seasonings and ladle into bowls and top with tortilla strips, cheese, avocado, cilantro and lime wedges.