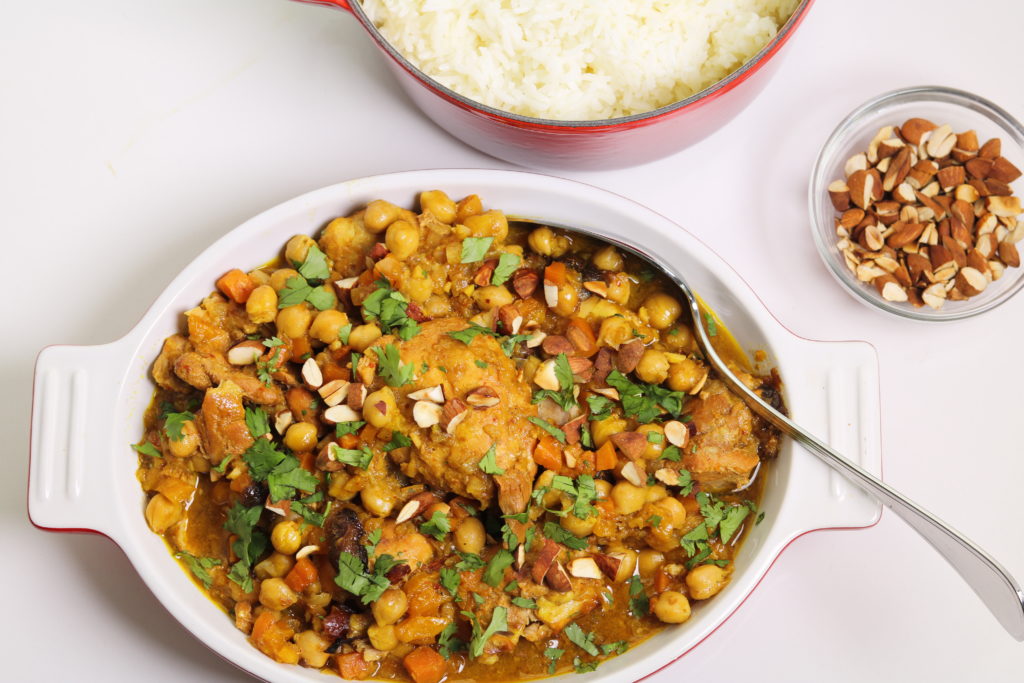 This slow cooker Moroccan chicken is to die for.   A typical tagine is a rich stew of meat, poultry or fish, and most often includes vegetables or fruit.  Although this one is not cooked in the traditional Tagine cookware, it is the same delicious slow-cooked, succulent, stew-like dish.  Here, we have moist spiced chicken with prunes, apricots, carrots, chickpeas and almonds.  Serve it along with some couscous or white rice.  Enjoy!
Slow Cooker Moroccan Chicken Tagine with Apricots, Almonds and Chickpeas
Ingredients
½ cup almonds, roughly chopped
3 pounds boneless, skinless chicken thighs
1 yellow onion, diced
1 carrot, peeled and diced
2 garlic cloves, minced
1 tablespoon minced ginger (peeled)
1 teaspoon ground coriander
1 teaspoon ground cumin
½ teaspoon ground cinnamon
½ teaspoon tumeric
1 teaspoon salt
1 tablespoon harissa
1 cup chicken stock
½ cup dried apricots, roughly chopped
½ cup prunes, roughly
2 cups chickpeas (1-15 ounce can), drained and rinsed
rice or couscous
cilantro for garnish
Instructions
Heat 1 tablespoon vegetable oil in a large Dutch oven. Add the almonds and cook until lightly toasted, stirring often and watching carefully. Remove almonds and drain on paper towel.
Wipe pot clean and heat 1 tablespoon vegetable oil over medium heat.
Add the onion and saute until translucent, about 5 minutes. Add the carrots, garlic and ginger and saute for another 2 minutes. Add the spices, harissa, and salt and cook another 2 minutes.
Add the apricots, prunes and chicken stock and stir well. turn heat off.
Place the chicken in the bottom of a slow cooker. Pour spice mixture on top of chicken and cover.
Cook on high for 4 hours.
When there is 30 minutes left of cooking time, add the chickpeas and stir gently.
When finished, transfer chicken and sauce to serving dish, sprinkle with almonds and cilantro and serve with rice or couscous.