You are going to love this easy to make, completely satisfying white bean and escarole soup.  Packed with white beans, escarole, and chopped prosciutto or ham, this hearty bean soup is ready in only 30 minutes. I usually do it without the bacon or pancetta to make it meatless, but it is delicious either way.  Serve with some yummy fresh bread and you have yourself a yummy and nutritious meal.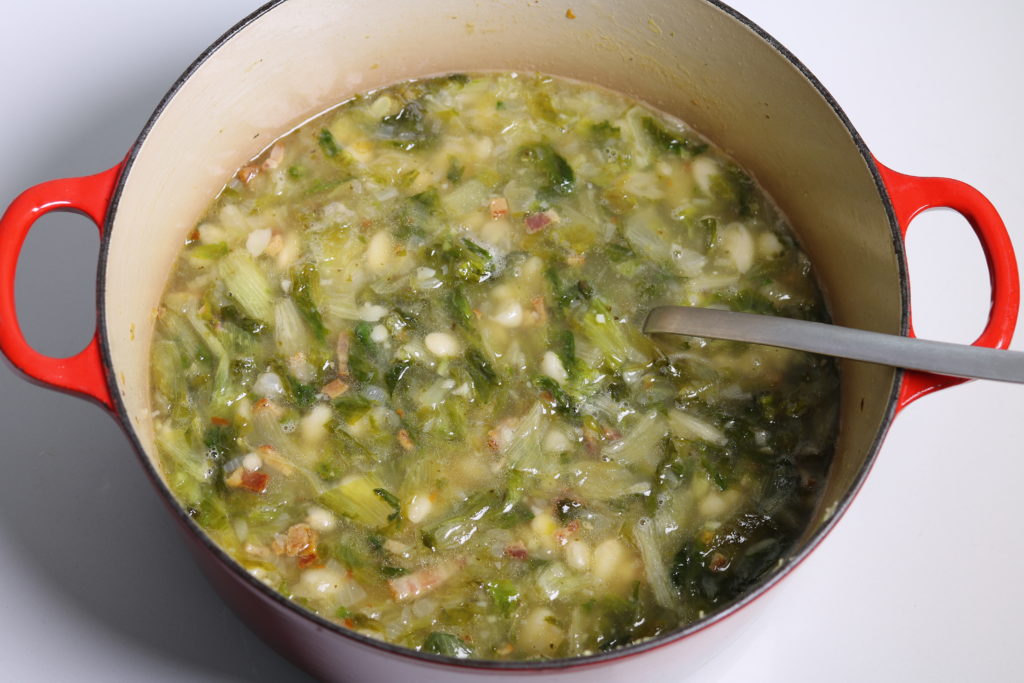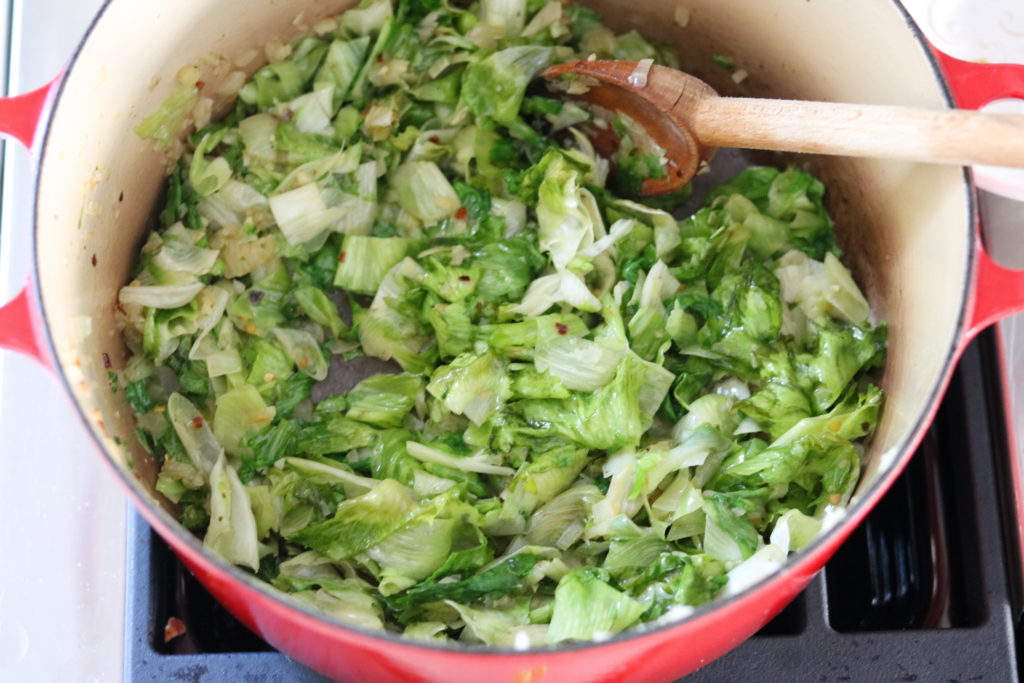 White Bean and Escarole Soup
Ingredients
1 tablespoon olive oil
2 ounces bacon, cut into a ¼ inch dice (optional)
1 yellow onion, chopped
2 large cloves garlic, minced
2 stalks celery , diced
4 cups cooked white beans with cooking liquid or 2-15-ounce can cannellini beans, drained and rinsed
½ teaspoon red-pepper flakes
½ teaspoon salt
Fresh ground pepper
4 cups vegetable or chicken stock
1 large head escarole, leaves separated, washed and roughly chopped
Salt and pepper, to taste
Parmesan cheese, for serving
Instructions
Heat the oil in a large soup pot over medium-high heat. Add the pancetta or bacon and cook until just brown, about 5 minutes. Transfer the pancetta to a plate with a slotted spoon and set aside.
Pour out all but 1 tablespoon cooking fat. Add the onion and cook, stirring occasionally, until soft and translucent, about 7 minutes.
Add the celery, garlic, red pepper, salt and pepper and cook for another 3 minutes.
Add the escarole to the pot in batches and cook until just wilted about 2 minutes.
If using homemade beans, pour the reserved bean cooking liquid into a large measuring cup and add enough stock to make 4 cups. If using canned beans, drain, rinse and use only stock.
Add the beans and the liquid to the pot.
If using canned beans, drain, rinse and add
When all the escarole is wilted, add the drained beans
Bring to a simmer and cook, partially covered, until thickened slightly, about 20 minutes.
Stir in the reserved pancetta and adjust seasonings.
Serve in large bowls with a drizzle of good quality olive oil and grated cheese.