I love this soup.  My husband loves this soup.  My kids love this soup.  It is a warm, satisfying one-pot miracle meal.  There are endless variations of this soup, but the main elements are meatballs, clear, chicken-based broth, pasta, and greens.  In fact, according to Wikipedia, the term "wedding soup" comes from the Italian language phrase "minestra maritata ("married soup")," which is a reference to the flavor produced by the combination/"marriage" of greens and the broth.  You can really use any kinds of greens and any kind of meat, but my favorite is ground chicken or turkey and spinach.  I also use alphabet pasta, which the kids get a kick out of.  Enjoy!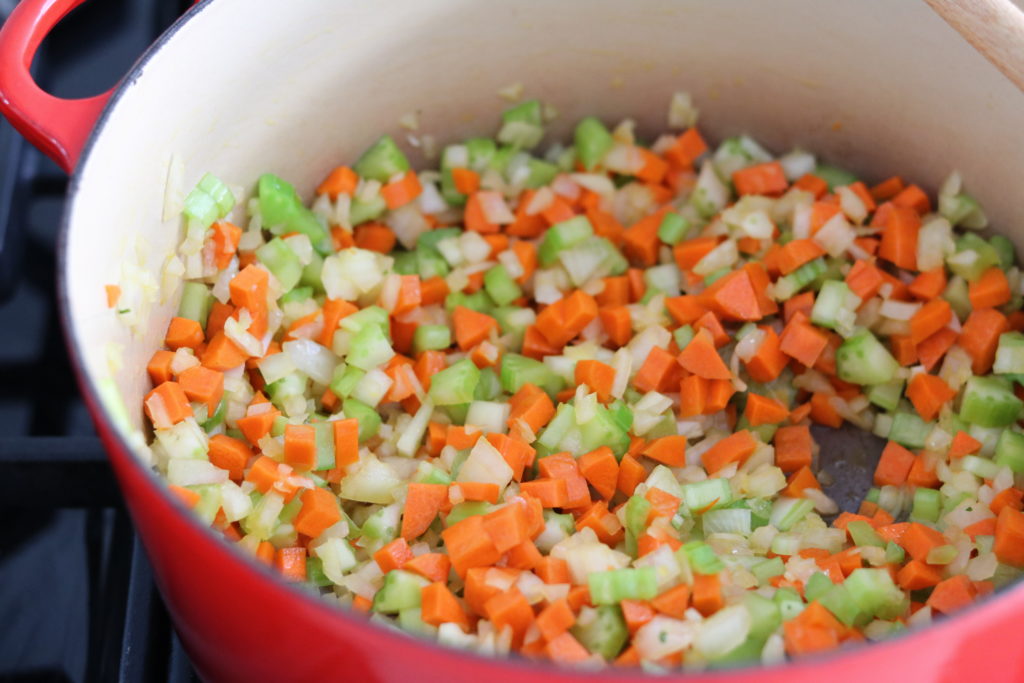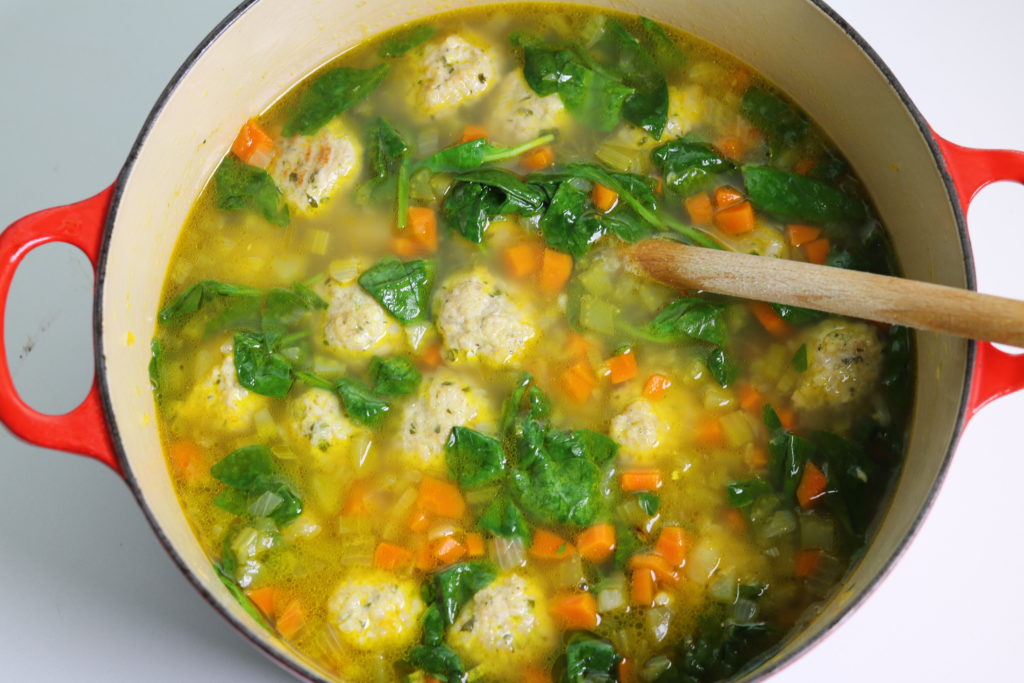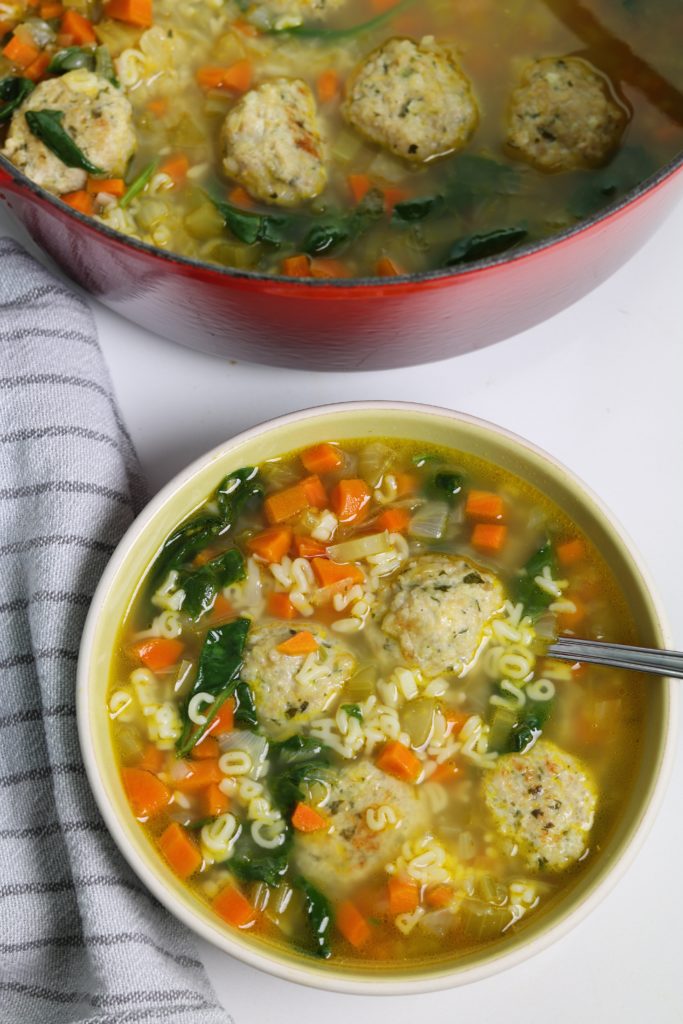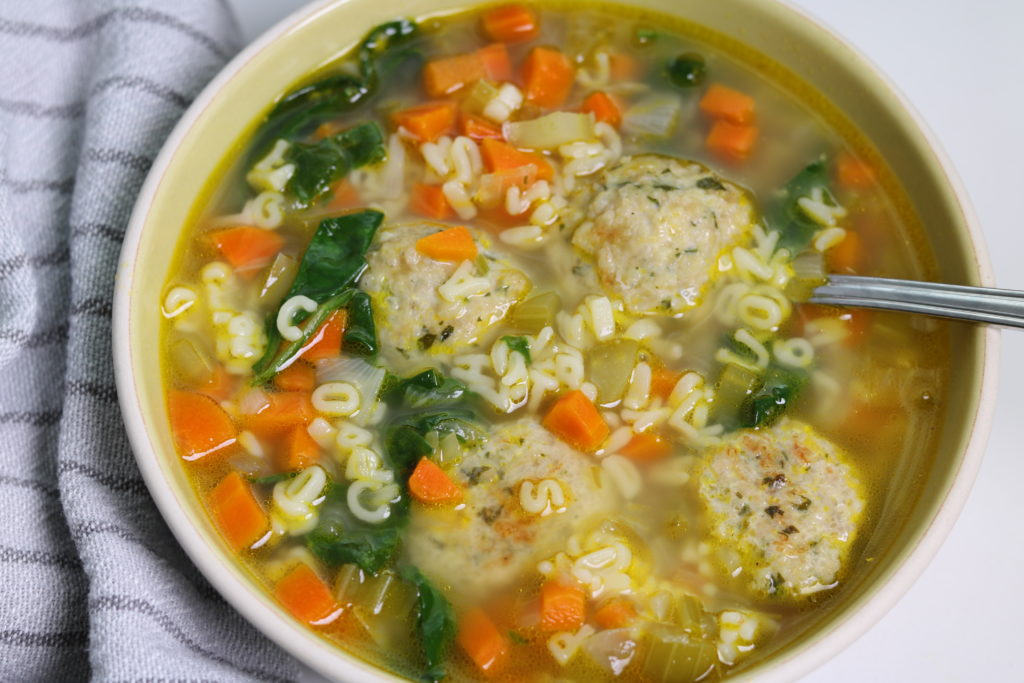 Italian Wedding Soup
Ingredients
Ingredients
For the meatballs:
1 pound ground chicken or turkey
½ cup fresh white bread crumbs
2 garlic cloves, minced
3 tablespoons chopped fresh parsley leaves
½ cup freshly grated parmesan, plus extra for serving
3 tablespoons milk
1 extra-large egg, lightly beaten
1 teaspoon salt
fresh ground pepper
For the soup:
2 tablespoons good olive oil
1 cup minced yellow onion
1 cup diced carrots (3 carrots), cut into ¼ inch pieces
¾ cup diced celery (2 stalks), cut into ¼ inch pieces
2 quarts homemade chicken stock
½ cup dry white wine
1 cup small pasta such
12 ounces baby spinach, washed and trimmed
Instructions
Preheat the oven to 350 degrees F. Line a baking sheet with parchment paper.
For the meatballs, place the ground chicken or turkey, bread crumbs, garlic, parsley, Parmesan, milk, egg, 1 teaspoon salt, and ½ teaspoon pepper in a bowl and mix well with a fork or your hands. Using your hands roll mixture into 1-inch meatballs and place onto prepared baking sheet. Bake for 30 minutes, until cooked through and lightly browned. Set aside.
In the meantime, for the soup, heat the olive oil over medium-low heat in a large heavy-bottomed soup pot. Add the onion, carrots, and celery and saute until softened, 5 to 6 minutes, stirring occasionally. Add the chicken stock and wine and bring to a boil. Reduce to a simmer and cook for 20 minutes.
Cook the pasta in a separate pot according to package directions. Drain and add to soup.
Add the meatballs to the soup and simmer for 1 minute. Taste and adjust seasonings. Stir in the fresh spinach and cook for 1 minute, until the spinach is just wilted. Ladle into soup bowls and sprinkle each serving with extra grated Parmesan.