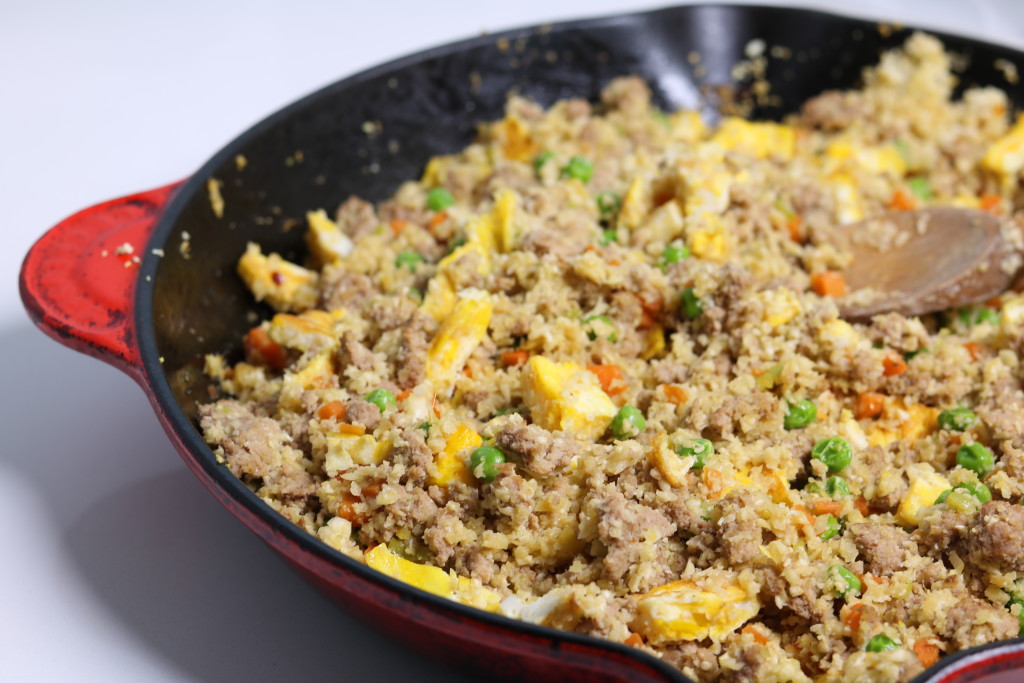 In case you haven't noticed, grain-alternatives are all the rage lately.  From zucchini pasta to almond flour, "faux" carbs are definitely the new trend in food.  I instantly joined the bandwagon after trying this cauliflower fried rice.   It is surprisingly delicious and very easy to make, as well as low calorie, gluten free and paleo-friendly.  It is just as comforting and satisfying as the traditional rice dish, but without all the carbs.  So, go ahead and save yourself a few hundred of calories and amp up your veggies and make this delicious, complete dish.  Even it you aren't on the Paleo, Gluten-Free or Ketogenic diet, you will love it.  I promise.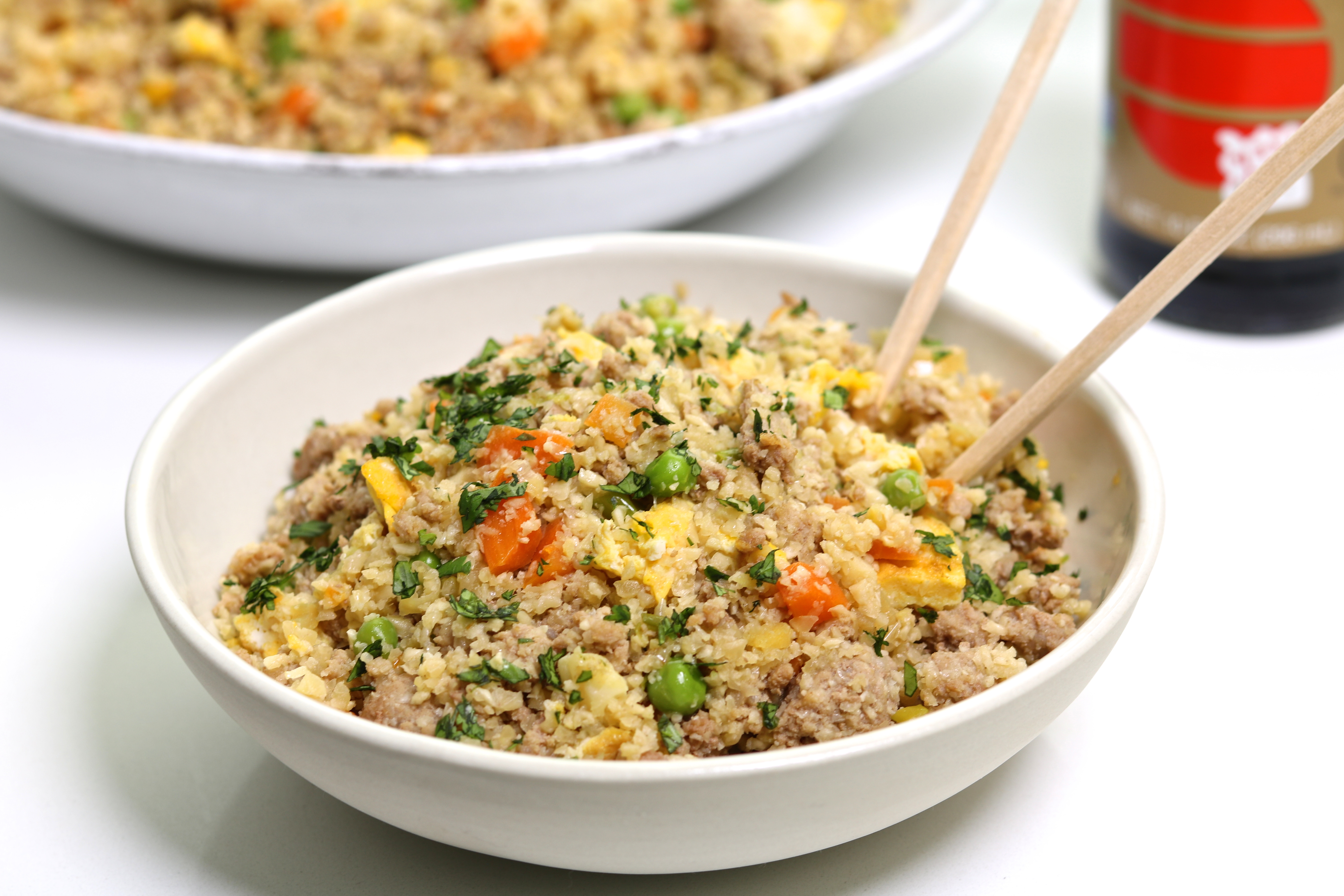 Cauliflower Fried Rice
Ingredients
1 head cauliflower, separated into florets
3 tablespoons vegetable oil
3 eggs, lightly scrambled with ¼ teaspoon salt
½ cup minced carrot
5 scallions, white and green parts, thinly sliced
2 garlic cloves, minced
2 teaspoons, peeled and minced ginger
pinch or red pepper flakes
3 tablespoons tamari or soy sauce
2 teaspoons sesame oil
1 teaspoons toasted sesame oil
1 cup ground chicken, pork or turkey
½ cup frozen peas, defrosted
Instructions
Pulse the cauliflower in a food processor until texture resembles rice. Transfer to a clean towel or paper towel and press to remove any excess moisture. Set aside.
Heat 1 tablespoon of the oil in a large non-stick skillet over medium-high heat. Swirl to coat the pan. Pour in the eggs, swirl the pan so the egg forms a large thin pancake. (Lift the edge of the egg to allow any uncooked egg to run to the center.) As soon as the egg has set, turn it out of the pan onto a cutting board. Cool, cut into 1 inch pieces.
Wipe the pan and heat 1 tablespoon oil over medium heat. Add ground meat and cook, breaking up meat with the side of a spoon, just until meat is cooked through, 3 to 4 minutes. Remove to clean plate.
Wipe out the pan with a paper towel and heat the remaining oil over high heat. Add the scallions and carrots and stir-fry for 1½ minutes. Add the garlic, chile flakes, and ginger, stir-fry for 1 minute more. Add the soy sauce, sesame oils and 4 cups of the cauliflower rice and stir-fry for 2 to 3 minutes. Add the cooked meat, peas, and reserved egg, cook, stirring until heated through, about 2 to 3 minutes. Garnish with chopped cilantro and serve immediately.