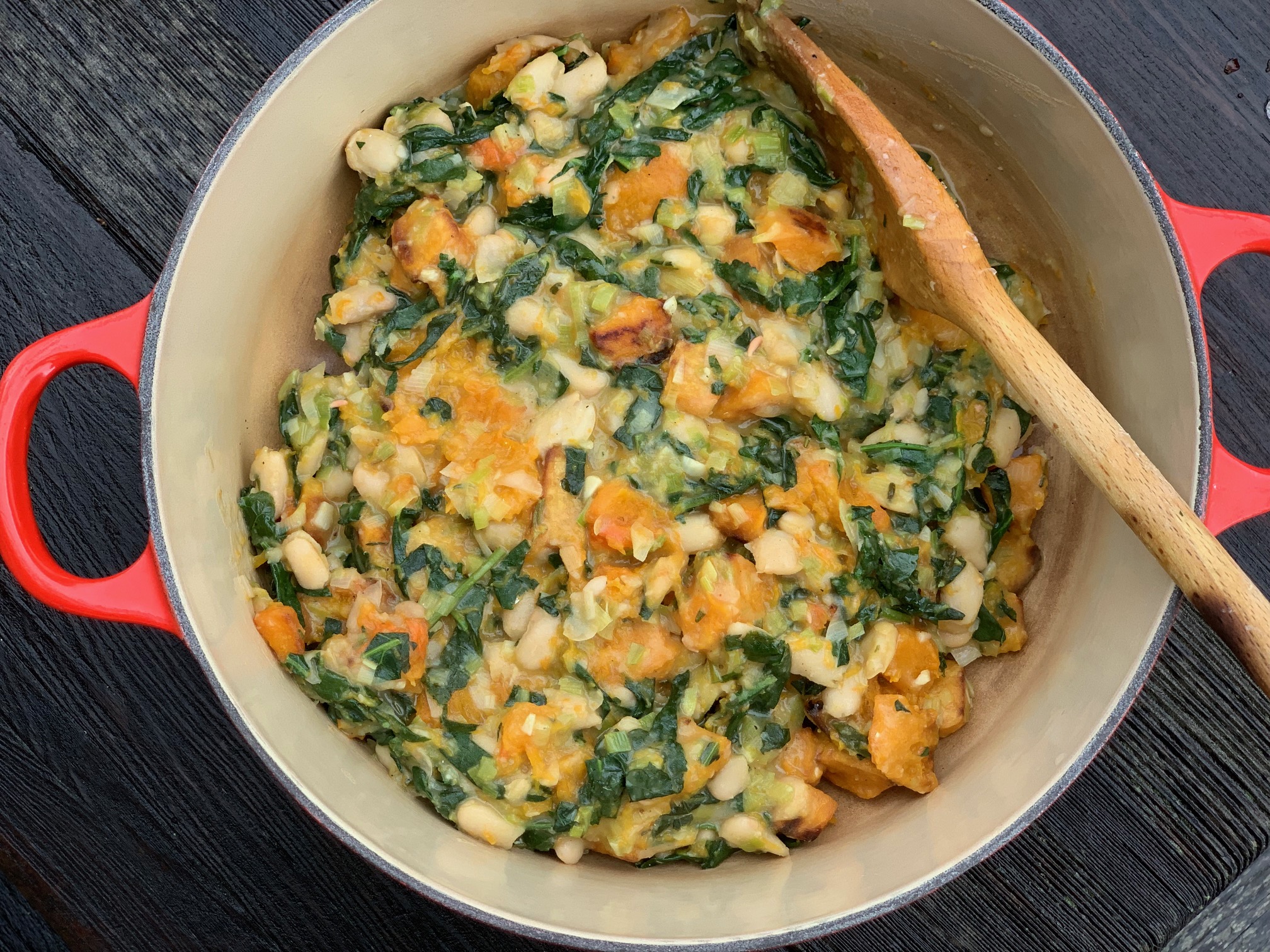 I made this dish on this long January, rainy holiday weekend and it could have been more perfect.  My mom was going through old recipes at her house in the country and came across this one from The New York Times food section from 2007.   Amazingly, we had all the ingredients, so I whipped it up.  The pictures (taken from my phone), don't do it justice.  It is full of flavor with butter and maple roasted squash, sautéed leeks, garlic and rosemary, cannellini beans, and kale all simmered in vegetable broth.  It is also gluten-free, vegetarian and can even be vegan (use oil in place of butter and omit cheese).  Serve it  as a side dish or a main course vegetarian option.   It would even be delicious topped with a fried egg.  The original recipe called for dried cranberries, but I omitted.  Enjoy!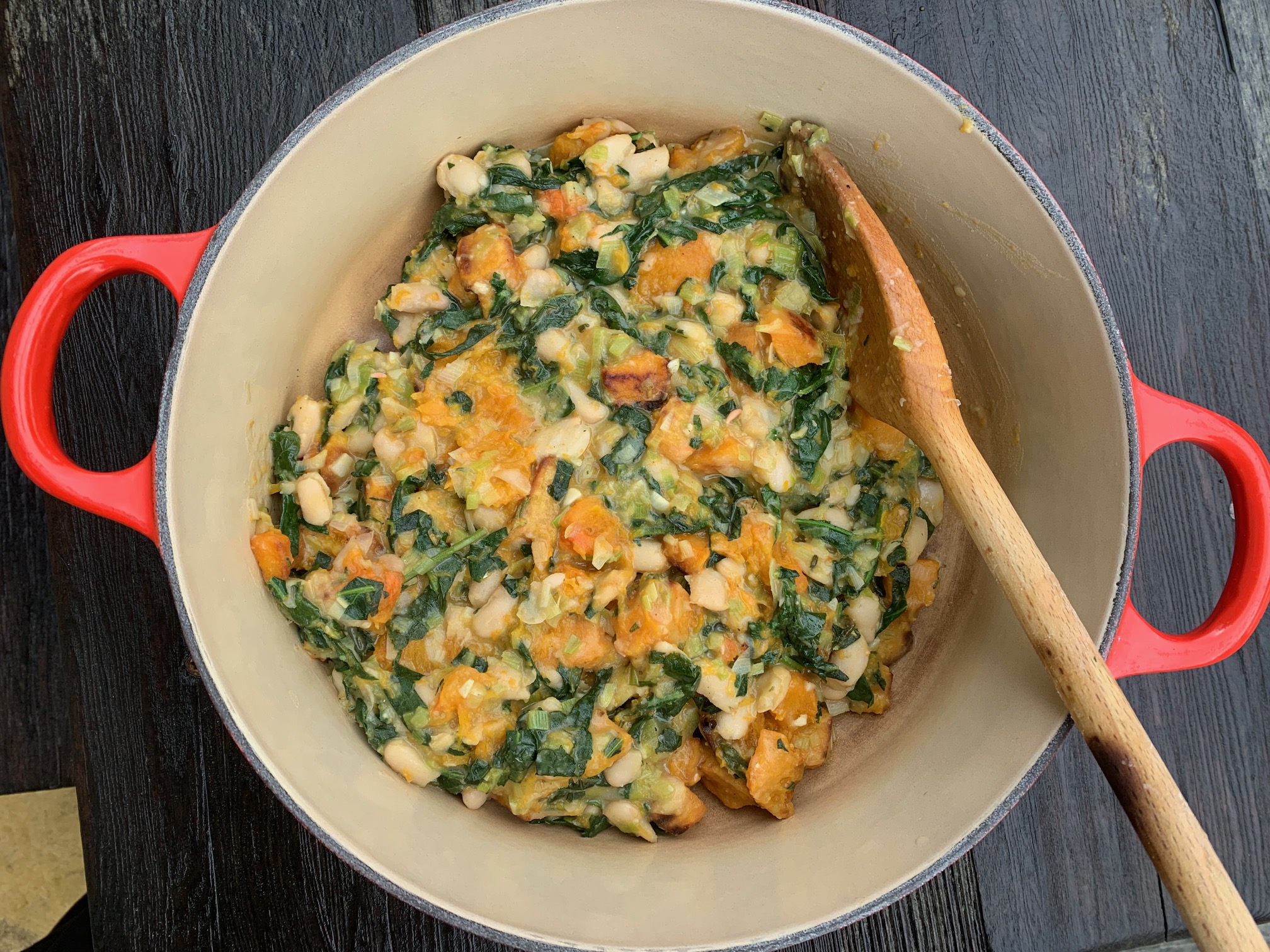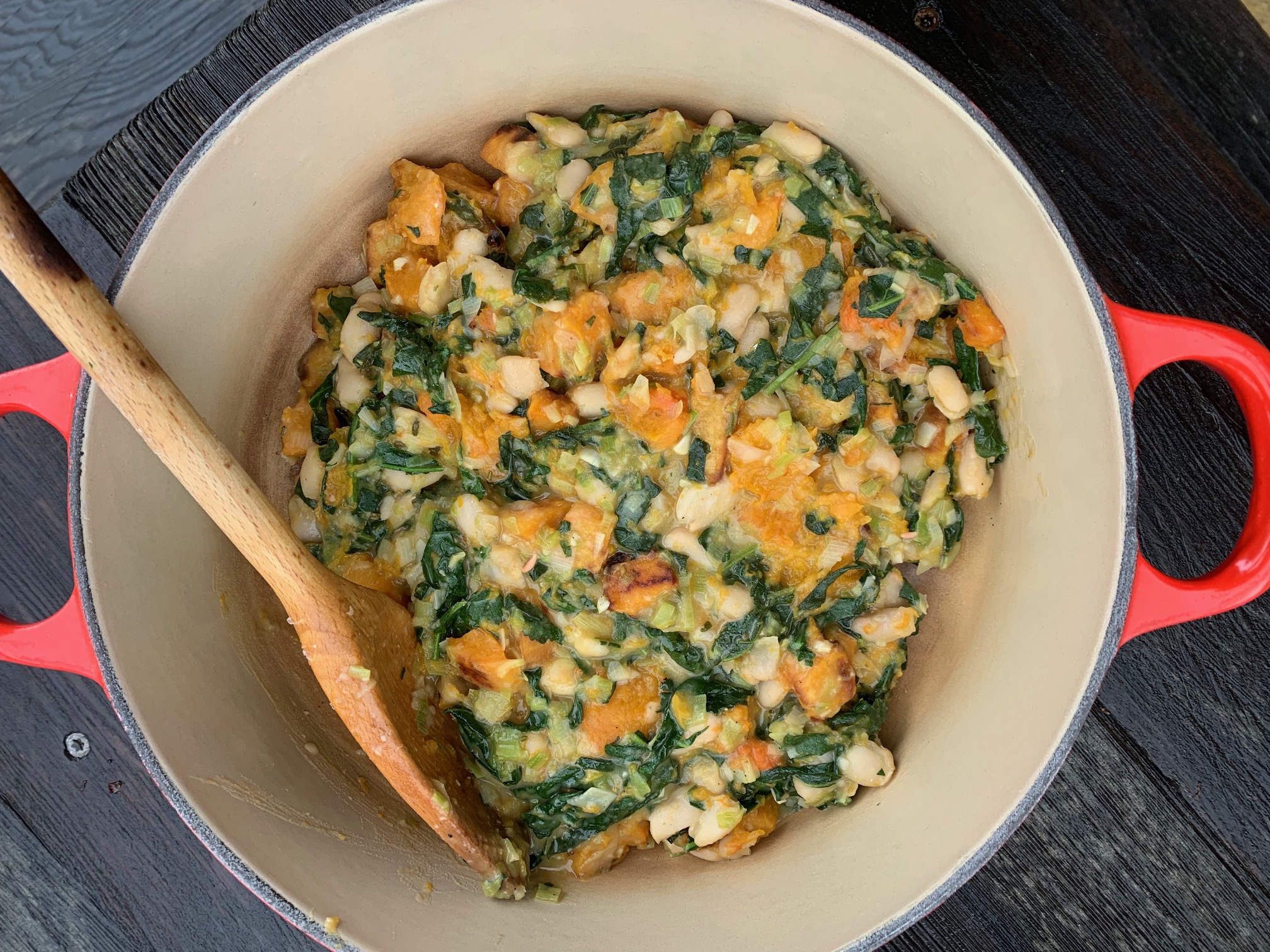 Butternut Squash, White Bean and Kale Ragout
Serves:
8 to 10 side-dish servings
Ingredients
1 3-pound sugar pumpkin or butternut squash
2 tablespoons unsalted butter or canola oil
2 tablespoons maple syrup
2½ teaspoons cider vinegar
1 teaspoon kosher salt, more to taste
1 teaspoon ground black pepper
Pinch of cayenne
2 tablespoons extra virgin olive oil
3 large leeks, cleaned and chopped, white and light green parts only
2 large garlic cloves, minced
2 teaspoons chopped fresh rosemary
2 15-ounce cans cannellini beans, drained and rinsed (or use 3 cups cooked white beans)
2 cups vegetable broth
¾ pound kale, center ribs removed, leaves thinly sliced (about 6 cups)
2 ounces grated Parmigiano-Reggiano cheese ( ½ cup), more to taste
Coarse sea salt, for garnish.
Instructions
Preheat oven to 425 degrees. Using a vegetable peeler, peel pumpkin or squash. Trim stem, then halve pumpkin or squash and scoop out seeds, and cut into 1-inch cubes.
Spread cubes out on a large rimmed baking sheet. In small saucepan, combine butter or canola oil, syrup, 1 teaspoon vinegar, ½ teaspoon salt, ½ teaspoon black pepper and cayenne. Cook, stirring, over medium-high heat until butter melts; pour mixture over squash and toss to coat evenly. Roast, tossing occasionally, until pumpkin or squash is very tender and caramelized at edges, about 30 minutes. Garnish with sea salt and serve.
In a dutch oven, warm olive oil over medium heat. Add leeks, garlic, rosemary and ½ teaspoon salt. Cook, stirring occasionally, until leeks are very soft and not at all browned, about 15 minutes. Add beans and broth and simmer for 10 minutes.
Stir in kale, and cheese if desired. Simmer until kale is cooked down and very tender, about 10 minutes. Stir in pumpkin or squash; season with remaining 1½ teaspoons vinegar and ½ teaspoon black pepper.