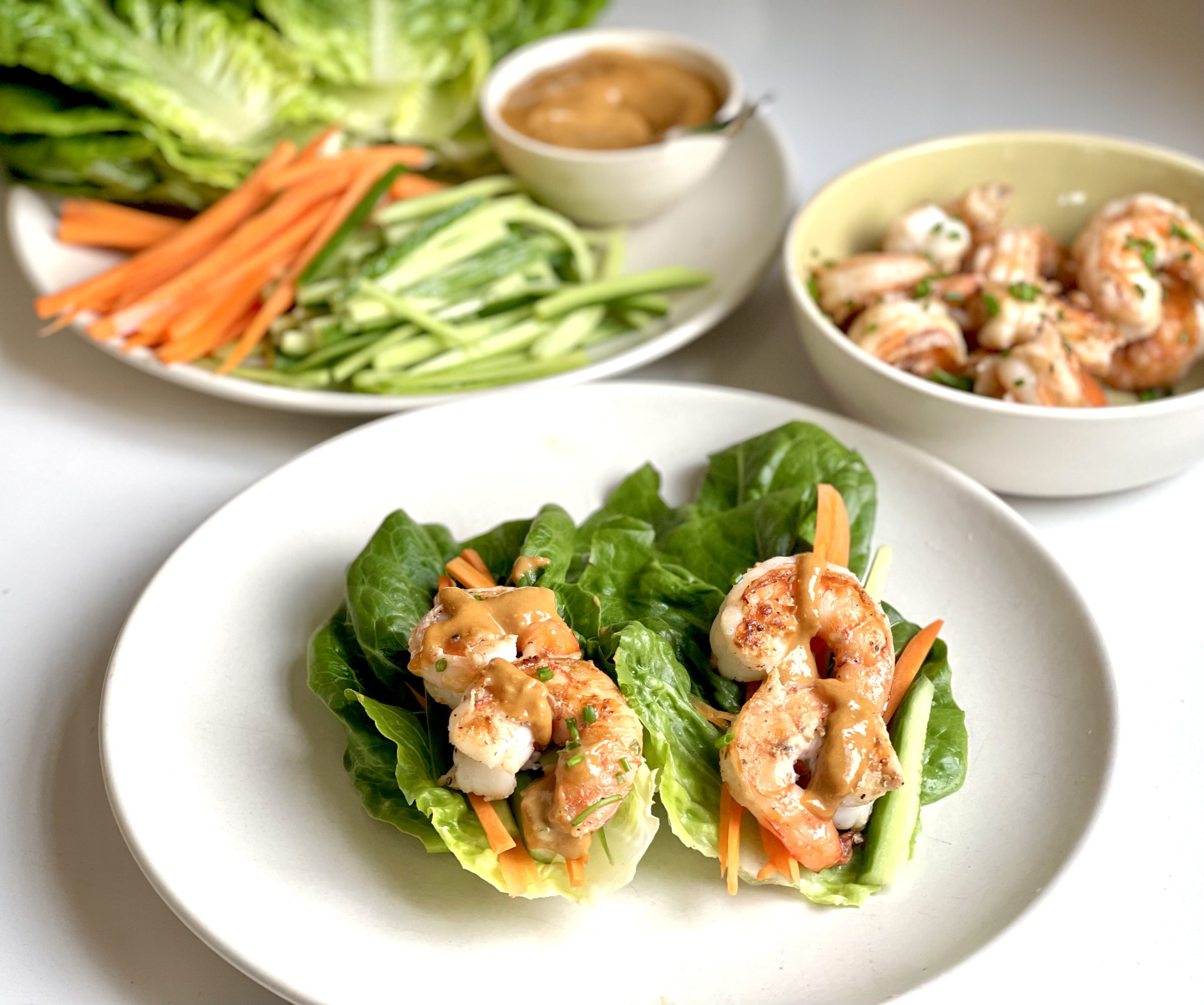 Shrimp Lettuce Wraps with Peanut Sauce
Ingredients
1 head of Boston lettuce or little gems
1 pound shrimp, peeled and deveined
½ tsp sea salt, or to taste
⅛ tsp black pepper, or to taste
1Tbsp olive oil
1 tablespoon thinly sliced chives (I like to snip them with scissors)
1 avocado, sliced into strips
½ cucumber, sliced into strips
1 medium carrot, peeled and cut into matchsticks
2 tablespoons cilantro leaves
Peanut Sauce:
¼ cup smooth peanut butter
2 tablespoons rice vinegar
2 garlic cloves, chopped
1 teaspoon ginger, minced
2 tablespoons soy sauce or tamari
1 tablespoon light brown sugar
juice from 1 lime
1 teaspoon sesame oil
water to thin if necessary
Instructions
Rinse and pat dry your shrimp. Sprinkle shrimp with salt and pepper. Add 1 Tbsp olive oil to a large hot non-stick skillet. Once oil is hot, add shrimp and sauté on med/high heat 2 min per side or just until cooked through then transfer to a plate and garnish with chives.
Separate lettuce leaves, wash and dry well and layer on a large plate. Peel and cut carrot into matchsticks. Cut cucumber in half, remove seeds and cut into thin slices. Slice avocado.
To make the peanut dressing, combine all of the ingredients in a blender or food processor and run until completely smooth. Add 1-2 tablespoons water to thin, if necessary.
To assemble lettuce wraps, take a couple pieces of lettuce, add several strips of carrot and cucumber, sliced avocado, 2 shrimp and a couple cilantro leaves. Drizzle the top with the peanut dipping sauce.