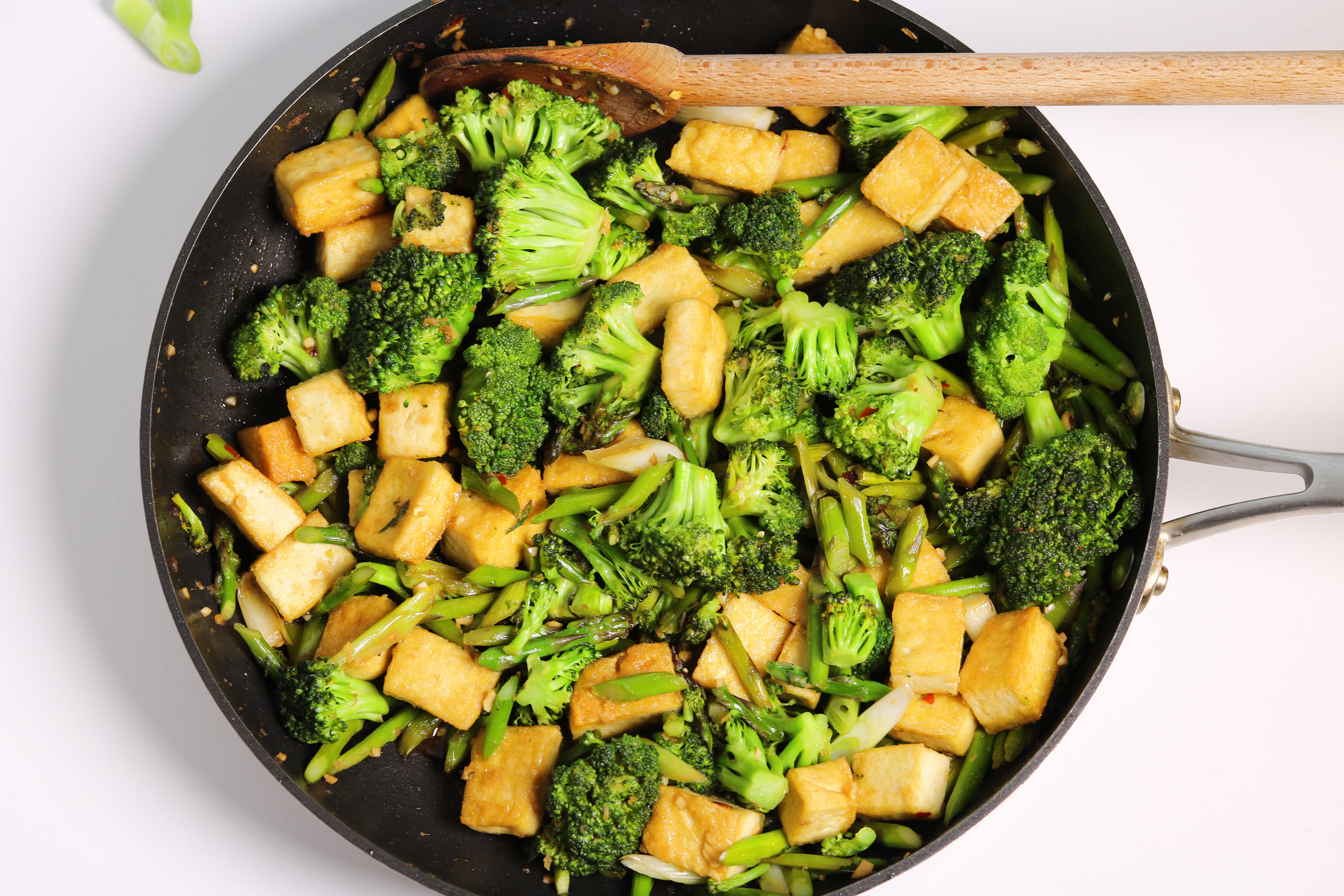 This easy, delicious vegetarian stir-fry is going to be your go-to weeknight meal.  What we have going on is gently fried tofu with crunchy broccoli and asparagus all in a zesty sesame ginger garlic sauce.  You are going love.  Enjoy!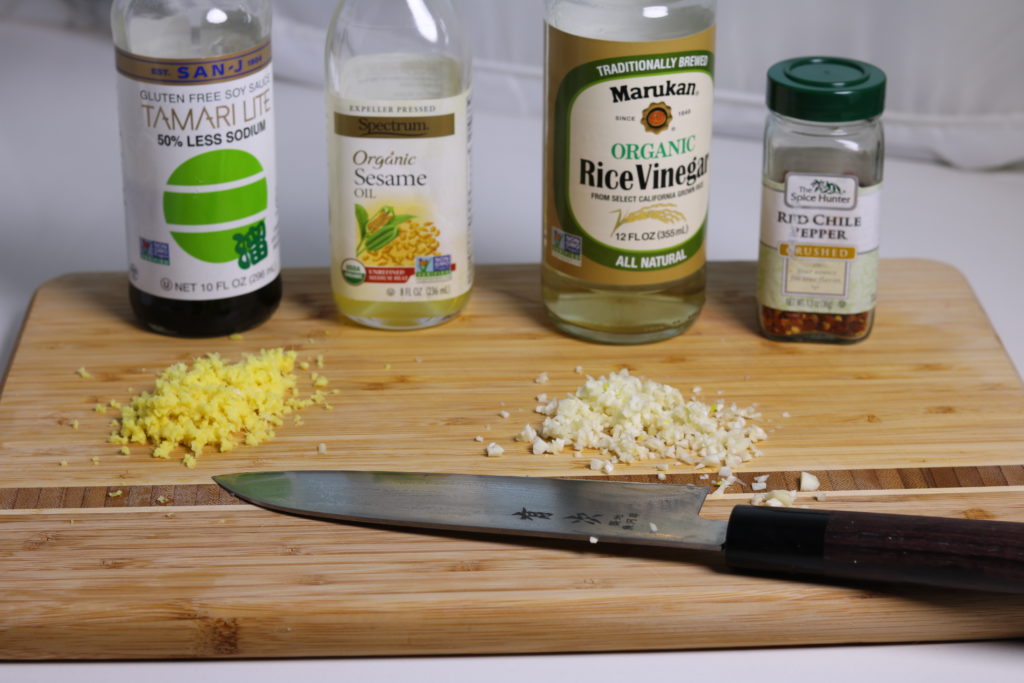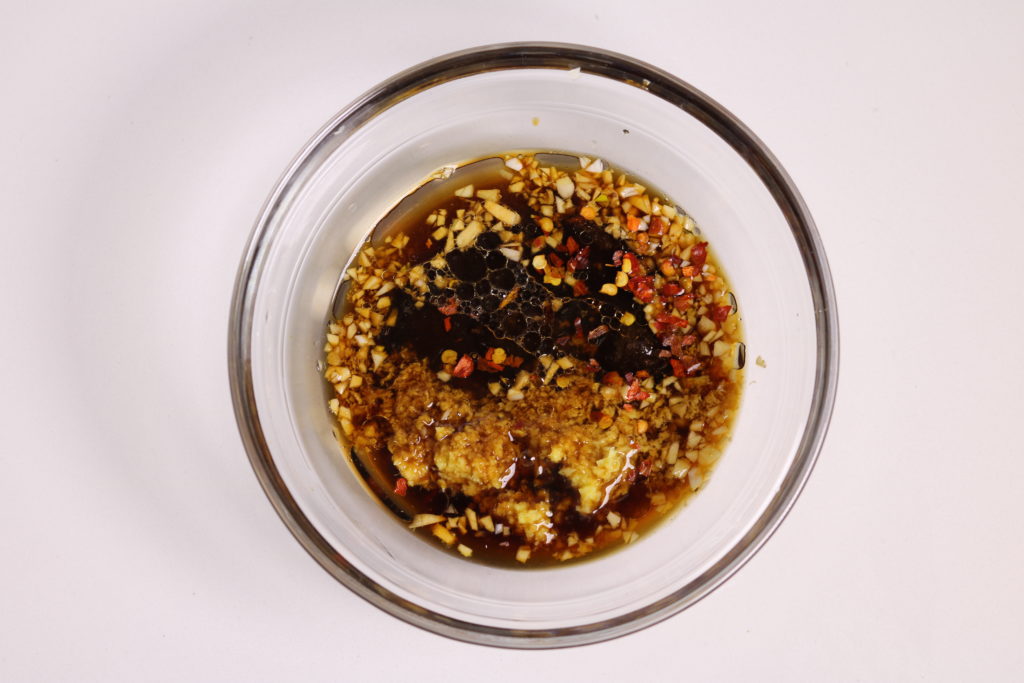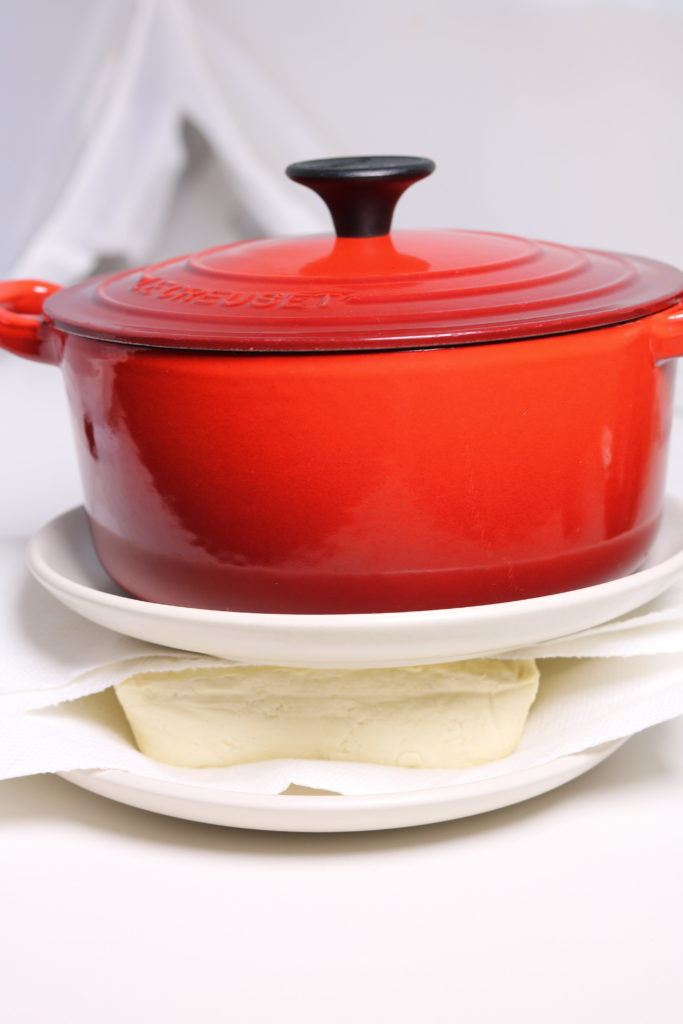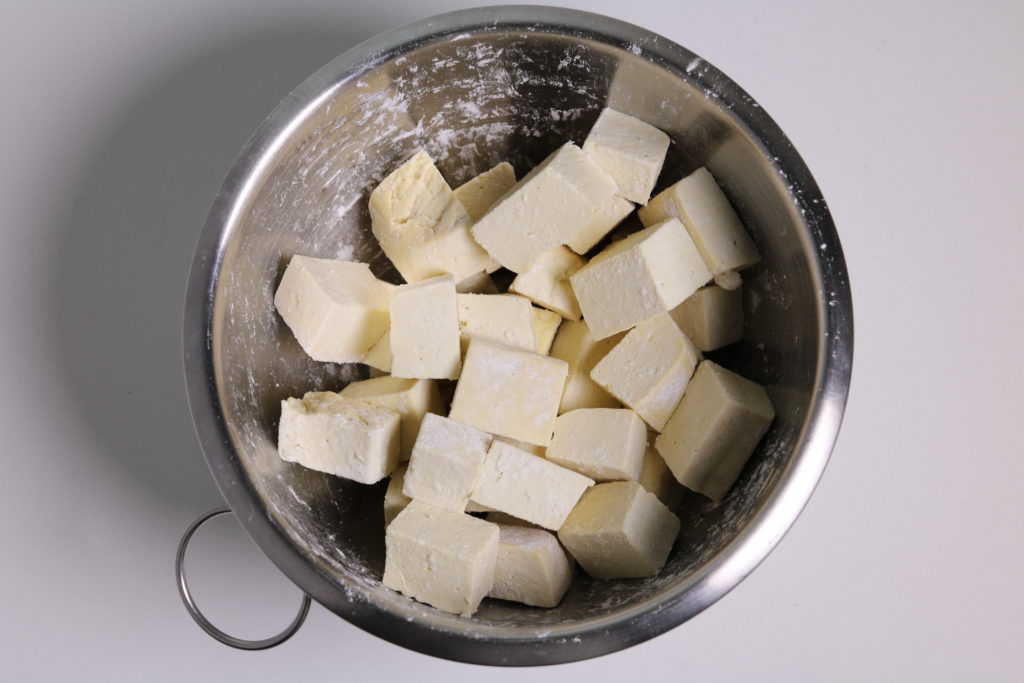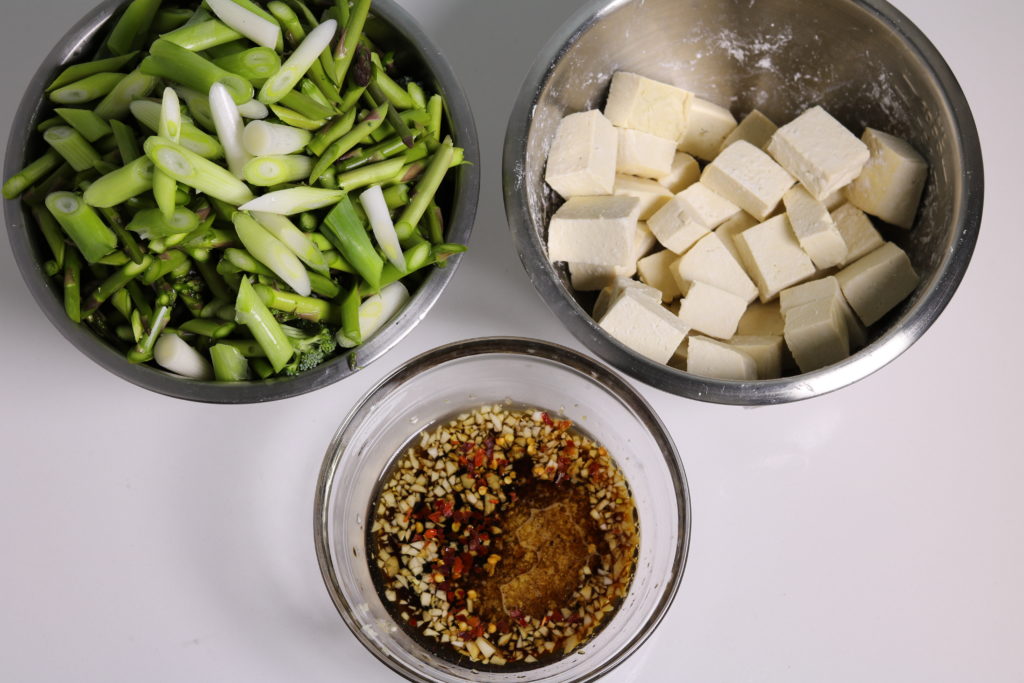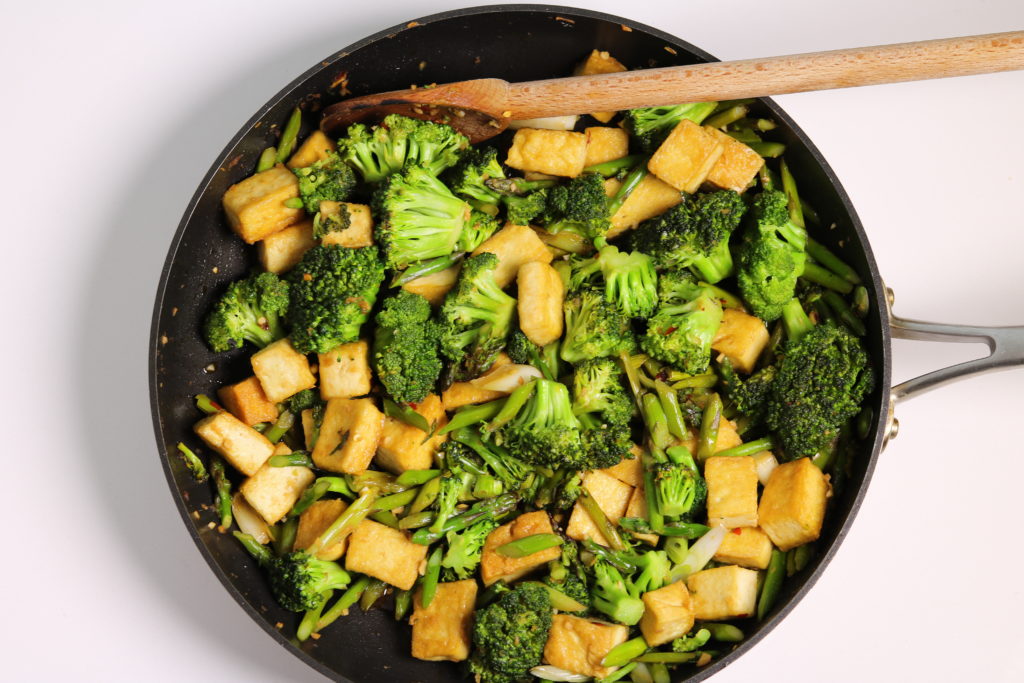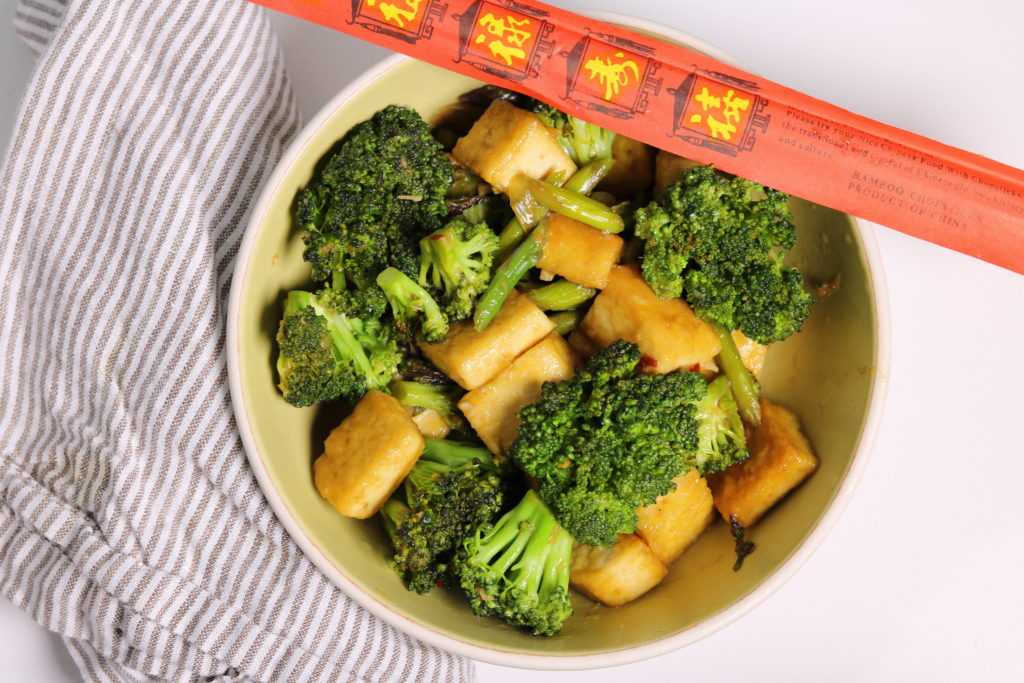 Tofu, Broccoli, and Asparagus Stir-Fry
Author:
Liza Cannata, adapted from little spice Jar
Ingredients
STIR FRY:
1- 14 ounce extra firm tofu
1 tablespoon cornstarch
½ teaspoon salt
3 tablespoons oil (vegetable, canola, coconut)
2½ cups brocolli florets
8 medium asparagus spears, trimmed and cut on the diagonal into 2-inch pieces
6 scallions, white and light green parts, cut on the diagonal into 2-inch pieces
SAUCE:
1 tablespoons sesame oil
1½ tablespoon grated ginger
1½ tablespoons minced garlic
1 tablespoons rice vinegar
3 tablespoons soy sauce
¼ teaspoon red pepper flakes
3 tablespoons brown sugar
1 tablespoon cornstarch
2 tablespoons water
Instructions
Place a folded paper towel in the shape of the tofu on a plate. Drain the tofu from the package and place the tofu on the prepared plate. Place another paper towel on top (in the shape of the tofu) followed by another plate and something 2-3 pounds to help remove the water from the tofu. Let the tofu dry for at least 15-20 minutes to an hour. Once dry, cut the tofu up into 1-inch cubes and toss in 1 tablespoon of cornstarch.
While the tofu is drying, prepare the sauce. Combine all the ingredients for the sauce in a blender or food processor and blend until completely smooth. Set side.
In a large skillet over medium-high heat, add 2 tablespoons of oil and swirl to coat pan. Add the cubed tofu to the pan and let fry for 3 minutes. Flipping the tofu as needed to brown all sides. Add 2 tablespoons of the prepared sauce to the tofu and allow to cook for an additional 2-3 minutes. When the tofu is caramelized, remove to a plate.
Add the remaining 1 tablespoon of oil to the pan. Add the veggies and toss to coat. Cook the veggies for 3-4 minute or to desired doneness. Add the sauce and let it thicken just slightly. Add the tofu and stir to coat. Cook for an additional 1-2 minutes or until the tofu has a chance to soak up the flavor.
Serve warm with rice, quinoa, or on its own. The tofu will lose it's crispness as it sits. Best when eaten fresh.