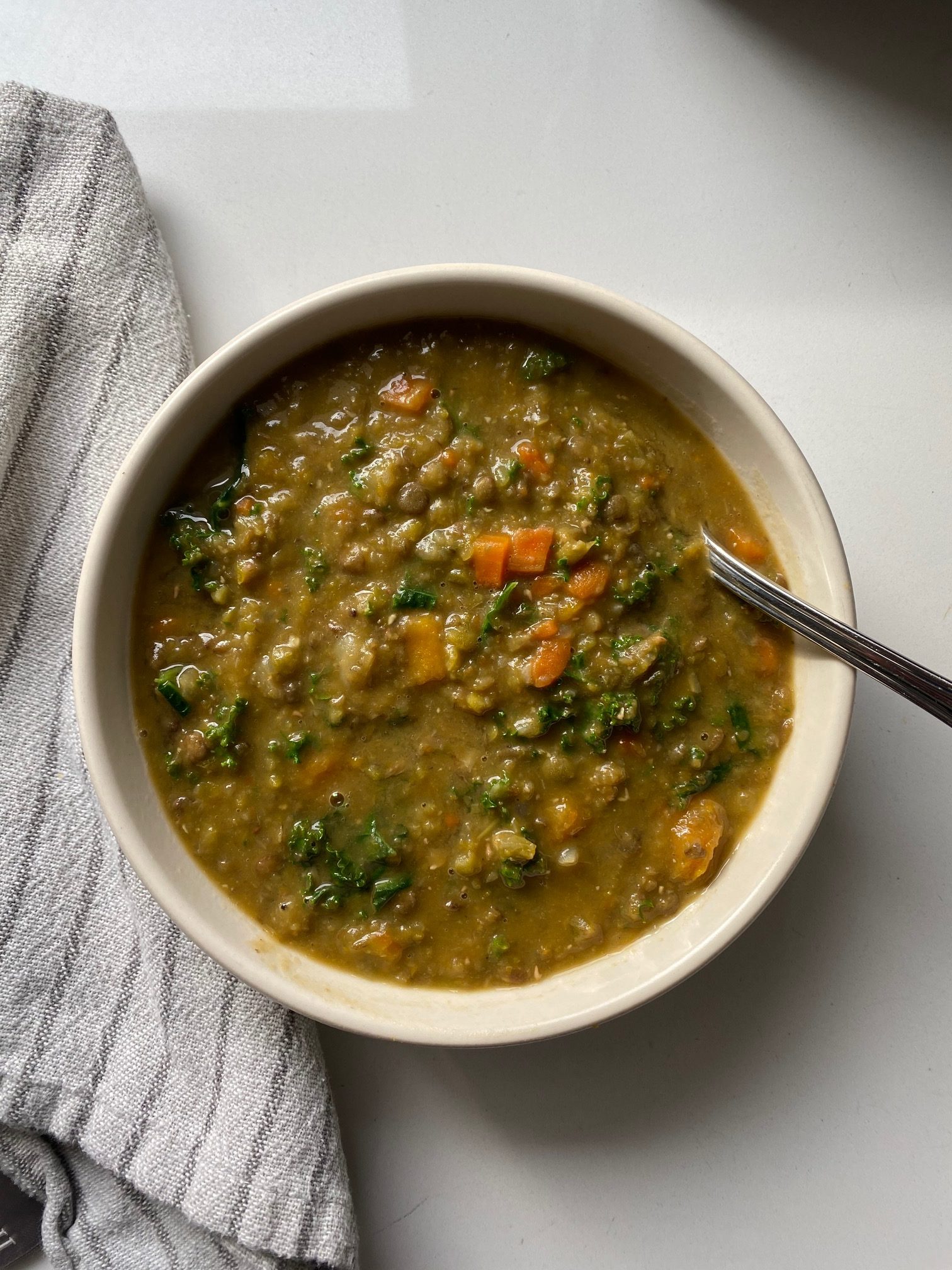 This soup has everything you need.  Full of vitamins and minerals from the veggies and protein and fiber from the legumes, it is truly the perfect nutrient-rich, detox soup.  Honestly, it will clean your body out!  I slightly adapted it from Pinch of Yum's "The Best Detox Crockpot Lentil Soup" and it can easily be made in a crockpot or pressure cooker.  Just transfer to slow cooker after sautéing the veggies and set to cook for 4 hours.  It is gluten-free, vegan (if you use veg broth) but I do like to eat mine with a little parmesan cheese 🙂  Enjoy!
the best detox crockpot lentil soup
Detox Lentil and Split Pea Soup
Author:
Three Hungry Boys, adapted from Pinch of Yum
Ingredients
2 tablespoons olive oil
2 cups butternut squash (peeled and cut into ½ inch cubes)
2 cups carrots (peeled and diced)
2 cups sweet potatos potatoes (peeled and cut into ½ inch cubes)
2 cups celery (diced)
1 cup green lentils
¾ cup yellow split peas (or just use more lentils)
1 onion, (chopped)
3 cloves garlic (minced)
8–10 cups vegetable or chicken broth
1 teaspoon salt (more to taste)
fresh ground pepper
2–3 cups kale (stems removed, chopped)
parmesan cheese for serving, optional
Instructions
Heat oil in a large soup pot over medium heat. Add onions and sauté until soft and translucent, about 5-7 minutes. Add garlic and cook for 2 more minutes. Add carrots, celery, squash and potatoes and cook, stirring often, until vegetables are soft, about 10 minutes.
Add lentils, split peas and broth, salt and pepper and bring to a boil, reduce to a simmer, partially cover and cook until legumes are soft, about 40 minutes.
Place about 4 cups of soup in a blender. Pulse gently until semi-smooth and creamy-looking and add back to the pot and stir to combine. Stir in the kale. Turn the heat off, adjust seasonings and let sit. The taste gets better with time and so does the texture.
Serve in bowls with a sprinkle of parmesan cheese.