I am definitely on a mushroom kick lately.  Whether it's shitakes, Hen of the Woods, Porchinis, Creminis, or buttons, they are all equally hearty and yummy and work in all sorts of recipes.  They are especially delicious in risotto.  This earthy and robust fall risotto is packed with wild mushrooms and roasted butternut squash.  It is silky and creamy and perfect for a vegetarian main or a hearty side.  Although it is slow to make and requires a lot of attention, I find that it is absolutely always worth it.   I also find it to be extremely nurturing.  Even though the base is nutritionally inferior white rice, it is slowly infused with hot mineral-rich broth, which releases the starch and makes it extremely nutritionally beneficial and immune supporting.  Through in a bunch of veggies and you have yourself a nutritional powerhouse!  Enjoy!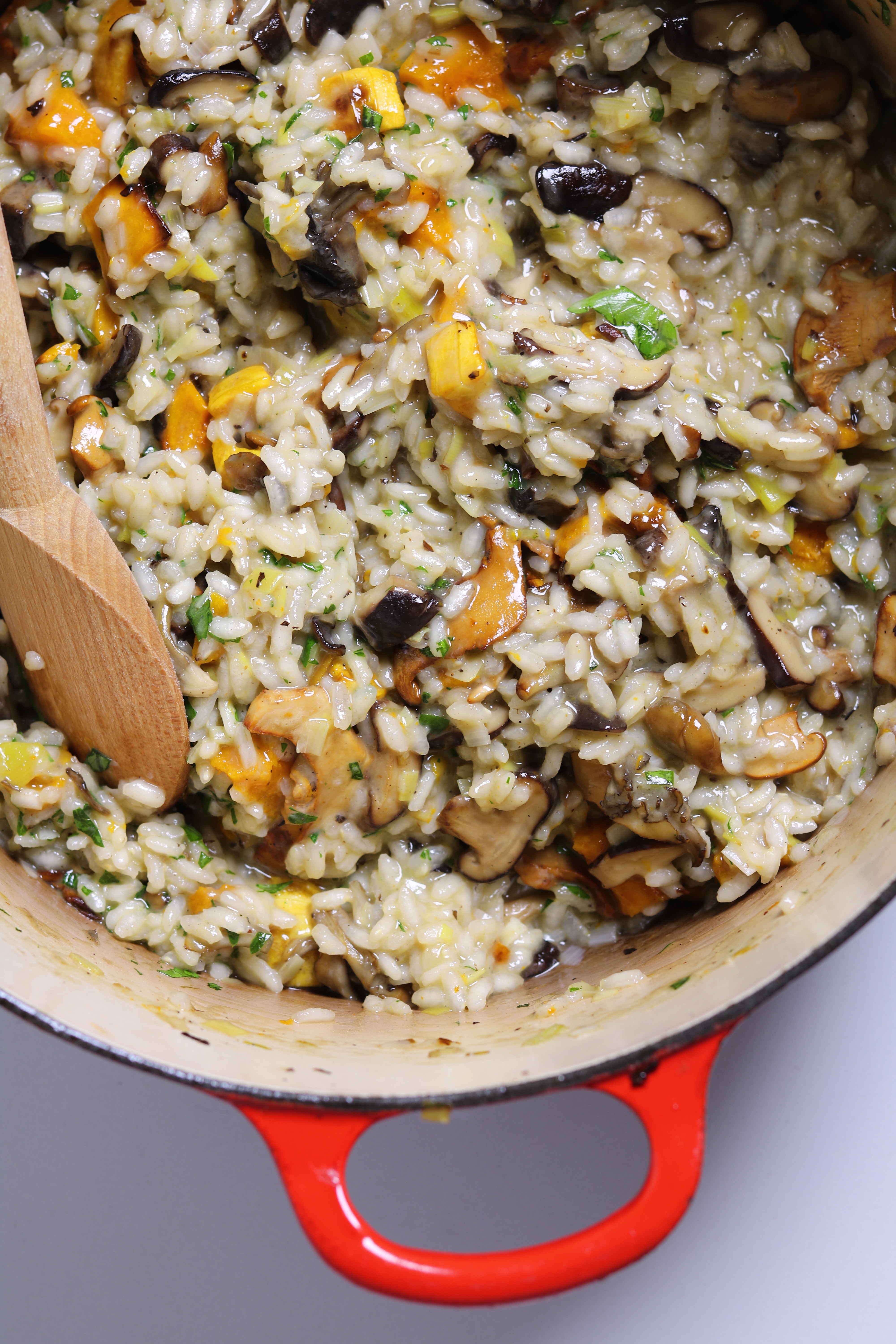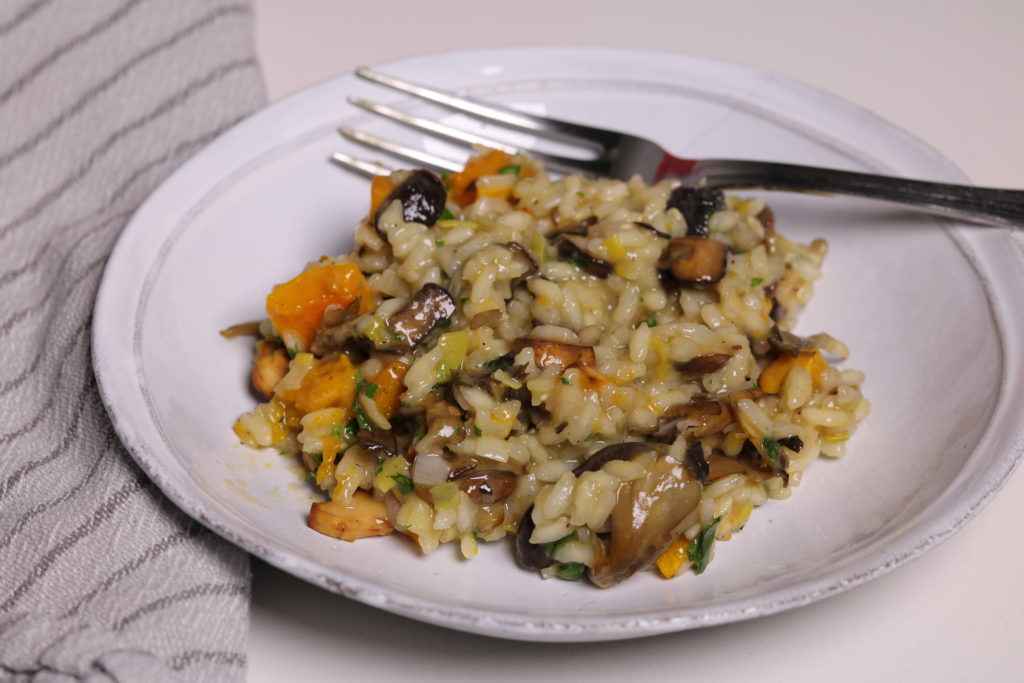 Wild Mushroom and Butternut Squash Risotto
Ingredients
2 cups (3/4-inch) cubed peeled butternut squash
3 tablespoons extra-virgin olive oil, divided
5-6 tablespoons butter, divided
¾ cup finely chopped leek (white and pale green parts only)
1½ pounds fresh wild mushrooms (shitake, cremini, hen of the woods, or chanterelle)
1¼ cup uncooked Arborio rice
¼ cup dry white wine
7 cups (about) vegetable or chicken broth (preferably homemade)
¼ cup grated Parmesan cheese plus additional for serving (optional)
2 tablespoons freshly chopped parsley
sea salt
fresh ground pepper
Instructions
Preheat oven to 450°. Line a baking sheet with parchment paper.
Place squash on the baking sheet, drizzle with 1½ tablespoon olive oil and ¼ teaspoon salt. Arrange in a single layer and bake for 20 minutes or until lightly browned and tender, stirring after 10 minutes. Set aside.
Heat 1 tablespoons butter in a large skillet over medium heat. Add ¼ of mushrooms and sprinkle with salt. Sauté mushrooms until tender and beginning to brown, 3 to 4 minutes. Transfer mushrooms to medium bowl. Working in batches, repeat with remaining mushrooms, until all mushrooms are sauteed.
Bring 7 cups chicken broth to simmer in medium saucepan; keep warm.
Melt remaining 1½ tablespoons butter and 1½ olive oil in a heavy, large saucepan over medium-low heat. Add leek, sprinkle with ½ teaspoon salt, and sauté until tender, 4 to 5 minutes. Add rice and increase heat to medium. Stir until edges of rice begin to look translucent, 3 to 4 minutes. Add white wine and stir until liquid is absorbed about 3 minutes. Add ¾ cup warm chicken broth; stir until almost all broth is absorbed, about 3 minutes. Continue adding broth by ¾ cupfuls, stirring until almost all broth is absorbed before adding more until rice is tender but still firm to bite and risotto is creamy about 30 minutes total. Stir in mushrooms, butternut squash, parsley, ¼ cup grated Parmesan cheese, and 1 tablespoon butter. Gently stir to mix well. Adjust seasonings if necessary.
Transfer risotto to a serving bowl and serve with grated Parmesan cheese.