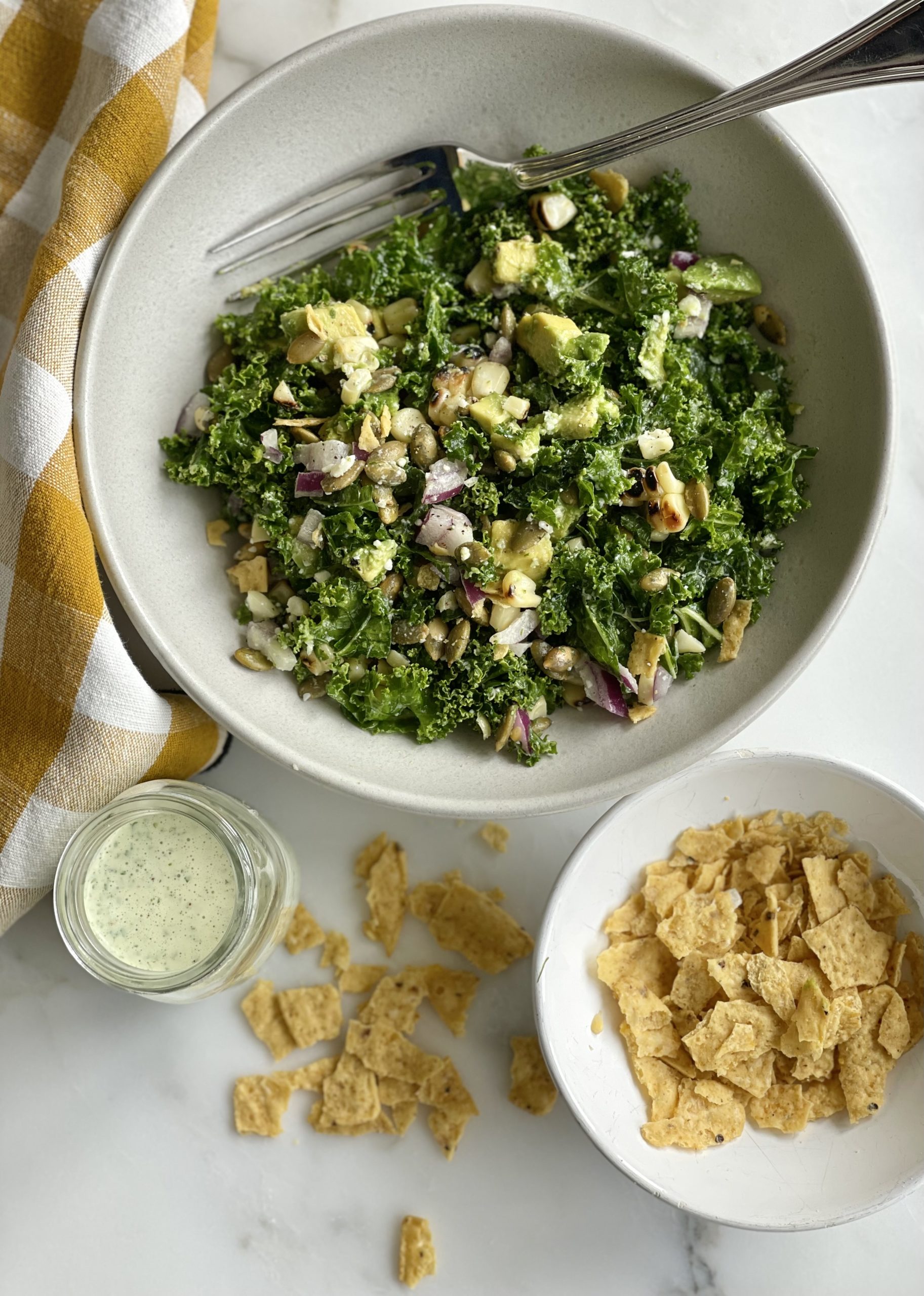 This vibrant, refreshing Mexican corn and kale salad is the perfect summer side dish! Made of tender massaged kale, charred corn, cotija cheese, onion, pepitas & avocado all tossed in a creamy cilantro lime dressing & topped with crushed tortilla chips. Serve it with your next taco night.
Mexican Corn and Kale Salad
Ingredients
1 bunch green kale, leaves torn from stem and chopped into bite-sized pieces
1 tsp olive oil (for massaging kale)
2 ears corn
½ cup cojita cheese, crumbled
¼ cup red onion, chopped
1 avocado, diced
½ roasted pepitas
crushed tortilla chips, optional
Cilantro lime dressing
½ cup plain Greek yogurt
juice of 2 limes
¼ cup cilantro leaves, chopped
2 garlic cloves
¼ teaspoon salt
¼ chipotle powder, optional for spice
Instructions
To make the dressing:
Place all of the ingredients in a food processor and blend until smooth. Set aside.
To make the salad:
Remove the husks from the corn cobs and place them directly over a gas burner on medium heat. Watching closely, turn and re-position the cobs every minute or so until the kernels are charred in various places all around and the corn is fully cooked, about 10 minutes. Remove the corn from the burner and let the cobs cool completely before cutting off the kernels.
Next, place the kale leaves in a large bowl and drizzle them with oil and lime juice. Massage with clean hands for about 3 minutes to break down the tough, fibrous characteristics of kale. This makes it softer and easier to chew and digest. Season with a pinch of salt, massage/toss once more.
Add corn kernels, red onion, cotija cheese, avocado and pepitas to the bowl and toss with your desired amount of dressing.
Top with crushed tortilla chips right before serving.