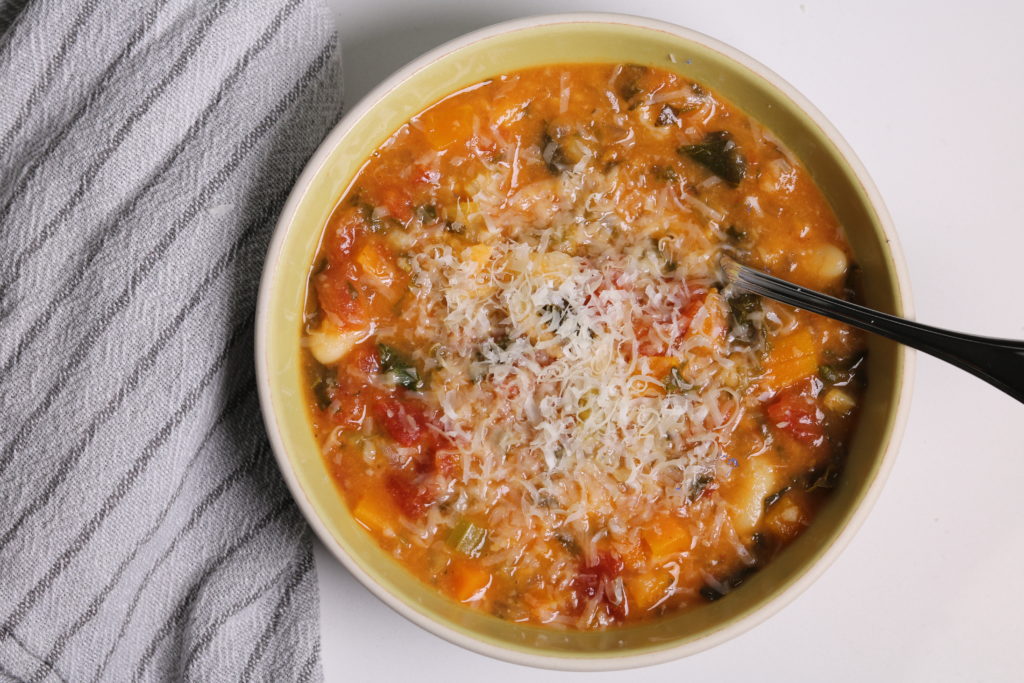 Ribollita is by far my favorite soup.  It's nourishing, comforting and so so satisfying.  This recipe, slightly adapted from Ina Garten's is really the best one I have found.  Make sure to make a double batch, it just gets better the next day.
Ribollita
Author:
Adapted from Ina Garten's Ribollita Recipe
Ingredients
¼ cup good olive oil
1 large yellow onion, diced
3 carrots, diced
3 celery stalks, diced
3 cloves garlic, minced
2 teaspoons sea salt
1 teaspoon fresh ground pepper
¼ teaspoon red pepper flakes
1 (28-ounce) can Italian plum tomatoes in puree, chopped
1 bunch Tuscan kale (about 10 ounces), stems and tough center ribs removed, leaves chopped
4 sprigs thyme
1 bay leaf
6 cups chicken stock, preferably homemade
1 Parmesan rind
3 cups cooked white beans (cannellini beans or great northern) – or use 2 cans cannellini beans (drained, rinsed) plus 1 cup cooking
2-3 cups cubed day-old or stale bread
½ cup freshly grated Parmesan, for serving
Instructions
Heat the oil in a large stockpot over medium heat. Add onions and cook over medium-low heat for 8 minutes, until the onions are soft and translucent. Add the carrots, celery, garlic, salt, pepper and pepper flakes. Cook over medium-low heat for 8 minutes, until the vegetables are tender. Add the tomatoes with their puree, kale, herbs, stock, Parmesan rind if using and cook over medium-low heat, stirring occasionally, for another 8 minutes.
In the bowl of a food processor or vitamix, combine about 1 cup of the liquid tomato mixture and 1 cup of the white beans. Puree.
Pour the bean puree and the remaining whole beans into the soup and stir to combine. Bring the mixture to a boil, reduce the heat and simmer for 20 minutes.
Add the bread to the soup and simmer for 10 more minutes. Taste for seasoning and serve hot in large bowls sprinkled with Parmesan and drizzled with olive oil.